Two weeks ago saw the opening ceremony for the 2022 freestyle kayaking world championships being held at Holme Pierrepont (HPP) in Nottingham, UK. Following the opening ceremony, there were 6 days of fierce competition, incredible performances and a whole lot of cheering!
As a local paddler to HPP, I was fortunate to be able to experience these world championships myself! I've never been to a kayaking competition on this scale before so was absolutely delighted to be able to attend a world championship in my home city of Nottingham! I am not an athlete or a coach instead I am just a very enthusiastic local who couldn't believe she was lucky enough to experience a world championship right on her doorstep! This is my account.
Pre worlds and the opening ceremony
As someone who is down at HPP most days, there has definitely been a build-up of excitement around the world championships. The months leading up to the worlds saw a gradual influx of international visitors which absolutely exploded in the final two weeks before the worlds started. It has been wonderful to see HPP so busy and with such a high level of talent on display! I've met so many lovely paddlers from all over the world and everyone has been very friendly. HPP has always had such a community feel to the place and this has massively increased in recent weeks!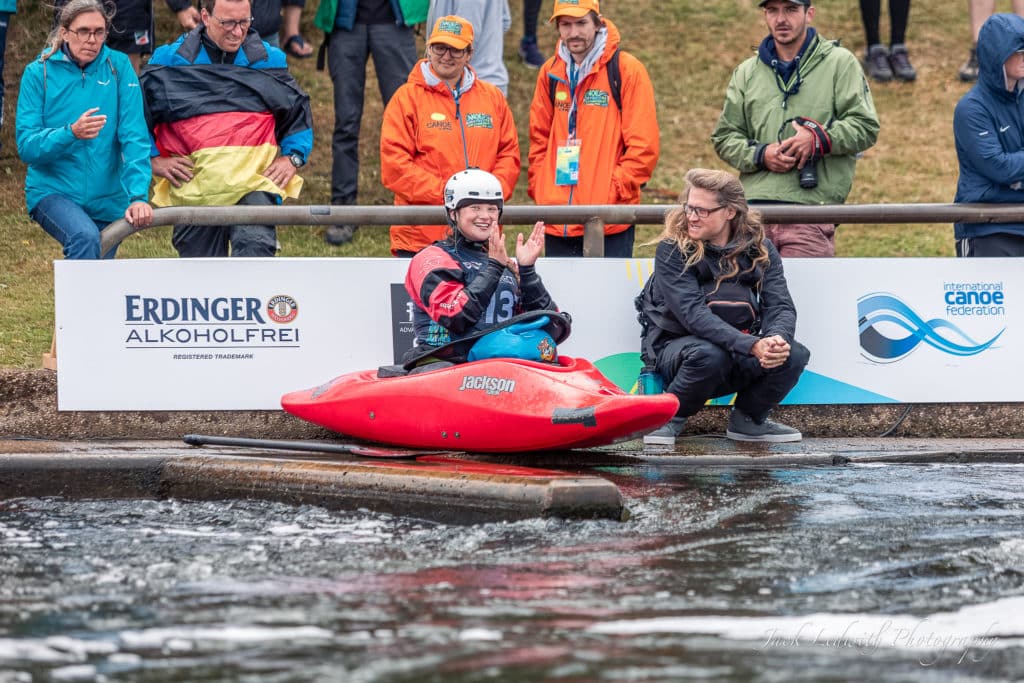 In the week before worlds started, there was also the ICF development camp. It was fantastic to see the brilliant work going on to grow freestyle kayaking further. You can read more about the development camp here.
The week kicked off with the opening ceremony at the infamous Nottingham castle. It was a brilliant evening of welcoming the athletes from all competing countries and it felt so special to be able to be there to support friends competing. We were also treated to a show by the castle's medieval actors and as a very excited GB Matt Stephenson said 'They have people in costumes sword fighting – this is the BEST opening ceremony ever!'
Day 1
After a month of gloriously sunny weather to train in – the worlds began with a pretty soggy start. It rained the entire morning but this didn't stop the crowds from appearing to support the first event which was the squirt boating prelims. If you have never seen squirt boating before – it is quite something to behold!
I had brought my school for the day to see some of the events and try out kayaking on the lake. They were very enthused by the squirt boating although did seem very concerned by the mystery moves 'Miss – are you sure they are not drowning?!' Watching the 4x squirt world champion Clay Wright do his mystery moves was a particular highlight for them! Although they were very a little nervous about getting on the lake for our introduction to kayaking session and I did have to explain that we wouldn't be disappearing under the water in quite the same manner!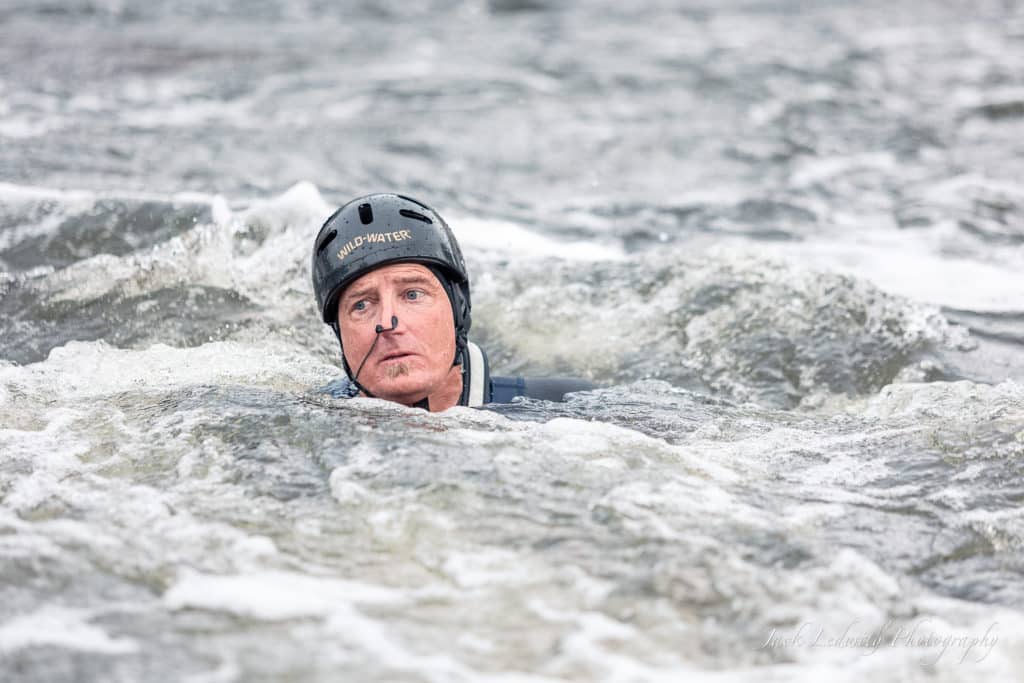 The afternoon brought with it some sunshine and we were treated to women's c1, oc1 and junior women's k1 prelims. The atmosphere was incredible and the crowds that had gathered impressive. (Hundreds of local school children did help with this!) Watching my friends absolute nail their rides and sail through prelims was so inspiring. Watching my friends Ottie, Tamsyn and Becky from team GB sail through c1 prelims in first, second and third places then Niamh & Issie do the same for the juniors was delightful.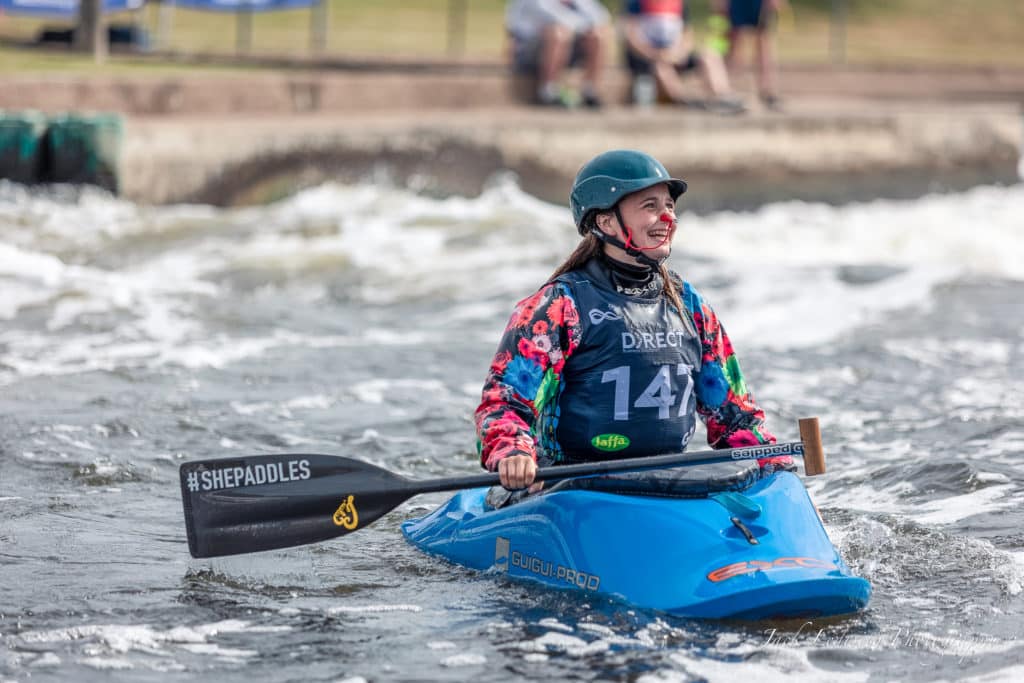 It was an incredible first day and everyone was delighted that the week had started so well. My students left in high spirits and keen to take up kayaking. And my friends left with well earned smiles on their faces. What more could you ask for!
Day 2
Day 2 saw the men's k1 prelims and the squirt semi-finals. It was clear from the men's prelims that the level of paddling in k1 this year was unbelievable and it was going to be a fierce competition.
It was in the squirt semi-finals where things got really exciting though. Ottilie Robinson-Shaw showed that she was here not just to win but to annihilate the competition. She got a squirt ride of 1920 points!! This was 736 points higher than the second highest scoring woman – fellow GB paddler Tamsyn McConchie. But it was also 687 points ahead of the highest scoring man of the night – GB's Alex Edwards. An ICF record and a night to remember both for squirt boating and women in paddle sports!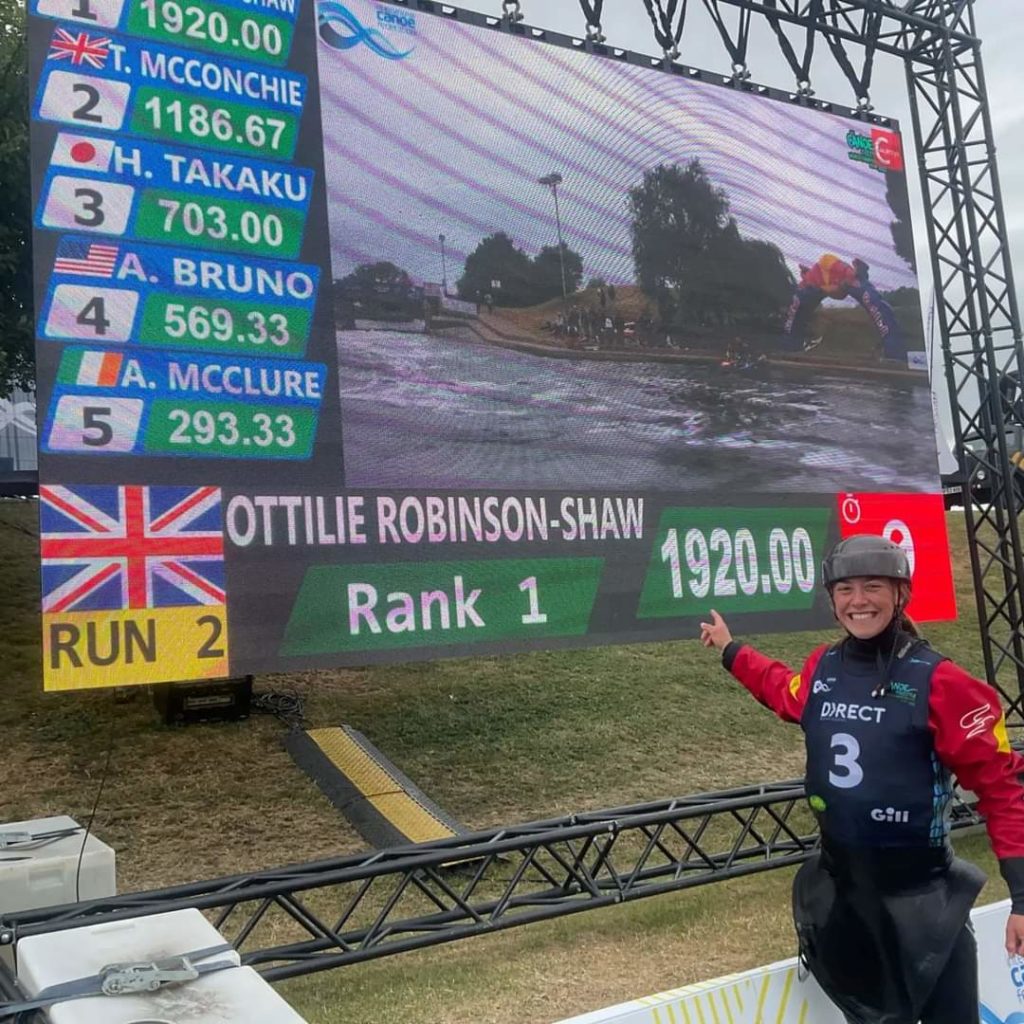 Day 3 – Squirt Finals
Wednesday saw the competition really ramp up with men's c1 prelims, women's k1 prelims, oc1 semi finals and the first finals of the week in squirt boating. Again the atmosphere was phenomenal. Yes, people cheered for their teams and their friends the loudest. But the crowd support for all athletes was second to none.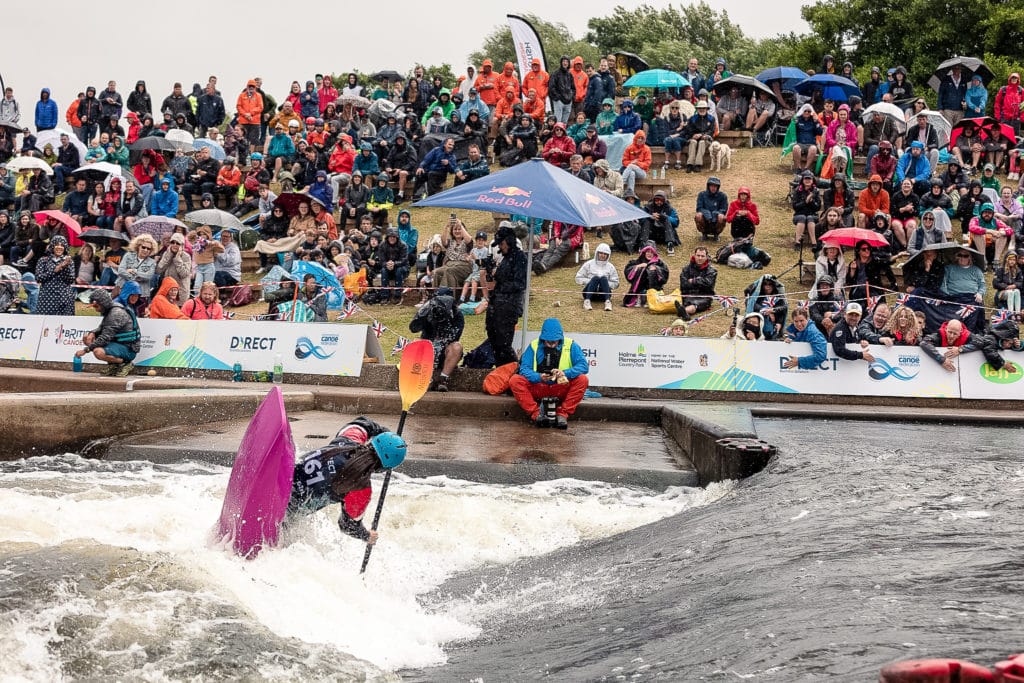 Whilst there were some impressively complicated rides taking place this day – it remains that the biggest crowd cheer will always follow a loop with air! Every time a paddler got air on a move, you could tell from the screams of appreciation that resounded around HPP. Equally every time someone flushed from the feature – the screams of support to get that paddler back up the eddy and into the hole were deafening. Everyone wanted to see success and the support given to each and every athlete was amazing.
I was particularly proud of my lovely friend James Ibbotson who came through the c1 men's prelims in first place! It was no surprise that Ottie topped the women's k1 prelims but still, she should be congratulated. A special congratulations to Lowri Davies who came through very closely behind Ottie in second place of the women's k1 prelims – a phenomenal couple of rides for her!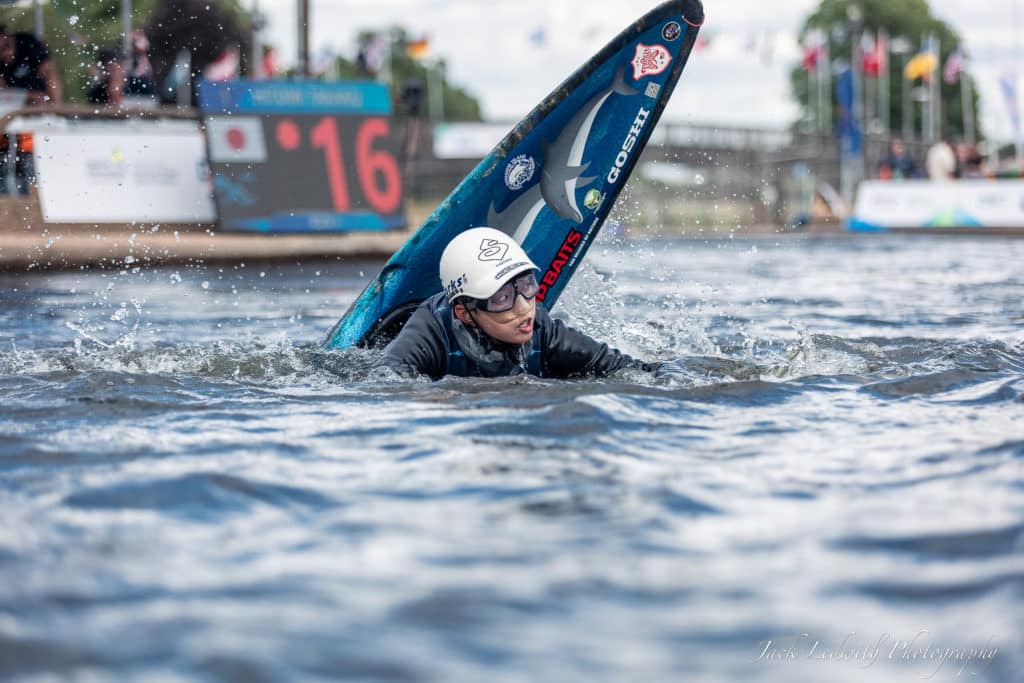 The evening saw the first of the finals. It was brilliant to see 5 incredible men and women in each final battle it out. Ottie of course took the win in the women's final, with fellow team mate Tamsyn coming in silver and freestyle legend from Japan, Hitomi, coming in bronze. Another legend in the form of Anna Bruno (US) came in fourth and my lovely Irish friend Alex McClure came in fifth. This was Alex's first world championships and she had only started squirt a few months previously. She didn't stop smiling the entire final and clearly loved every minute!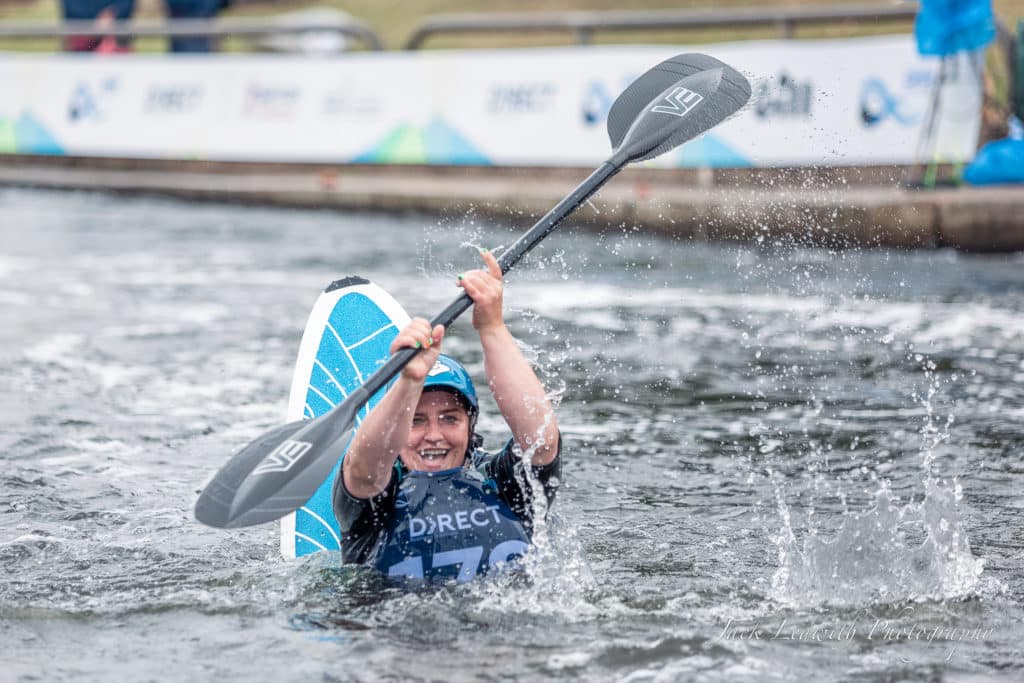 Clay Wright (US) came got gold for the men's final, with GB Alex Edwards getting silver and Taft Sibley (US) claiming bronze. Special mention to GB Sam Wilson and GB Jamie Austen for incredible performances in that final as well.
Day 4 – Oc1 finals
Day 4 saw the k1 junior men prelims, the women's & men's k1 quarter finals and the oc1 final.
Up until this point in the week the atmosphere had been overwhelmingly positive and conversations with friends who had been competing were mostly to congratulate them on getting through to the next round. Thursday was the start of the real emotional rollercoaster. Whilst there was a huge number of things to celebrate, it was also a day in which some of my friend's worlds journey came to an end.
Most people after a few days of reflection will be able to see the positives of what they have achieved. But in the moment when you have just found out that you didn't quite make it, the emotion is so raw and it can be hard to see those positives. It was generally best to give people their space and allow them to process either by themselves or with their special people. Only once people had time to process could you congratulate them for how amazing they all are.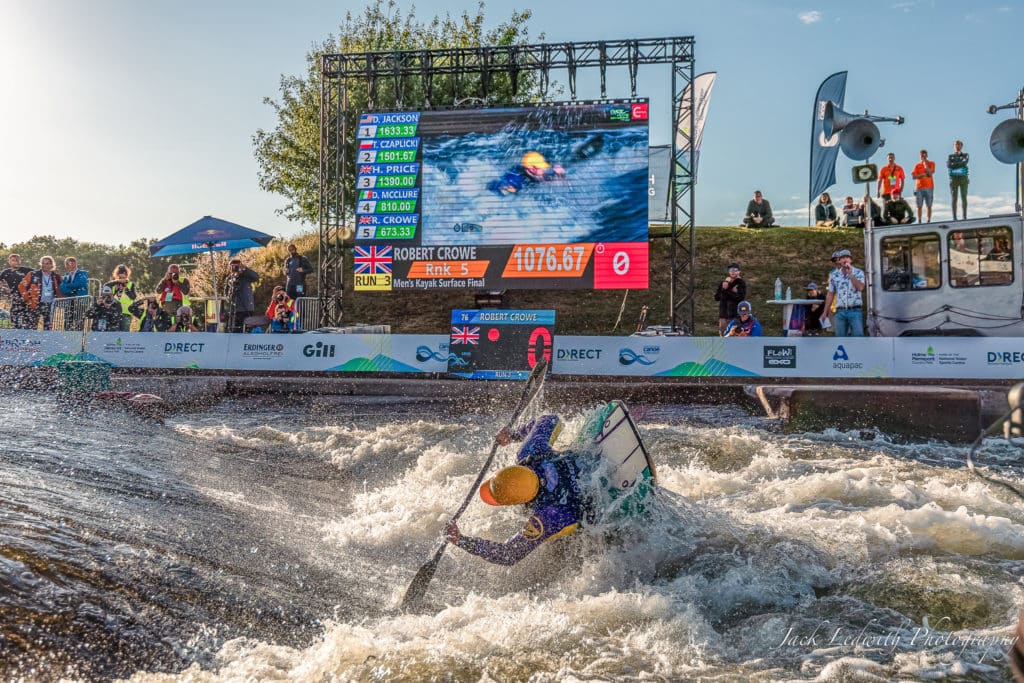 The k1 junior men's prelims saw GB's Ben Higson and Germany's Tim Rees battle it out for top place. Both are incredibly talented and it is nice to see the friendly rivalry between them which was spurring them both on to achieve.
My fabulous friend James Ward, who is one of the GB juniors, finished his final ride in 11th place. (10 go through to the semi finals). In this ride, the timer didn't start however. An accident but still a stressful situation to be in. James was allowed to redo his ride if he wanted and he choose to go again. He didn't quite score high enough to make the top 10 but I am so proud of him for going for it again. So much courage and he is only 16! James was thrilled to make it to the top 15 overall and we were thrilled for him!
K1 women quarter finals saw three GB women in the top 5! Well done to Ottie, Lowri and Emma Witherford! For the quarter finals, it is a combination of your best two rides out of three which take you through. What was really impressive is that Ottie scored high enough (over 1000 points) in one single ride to safely go through to the semis. Wow oh wow!
The k1 men's quarter finals saw GB's Rob Crowe, Harry Price and Toby Marlow go through to the semis. Rob was the first freestyle paddler I ever saw. I went to HPP for the first time and spent 5 minutes watching him in Troll hole. I couldn't believe anyone could be so talented! This was 6 years ago and yet and the feeling still holds every time I watch Rob paddle – it is an absolute pleasure.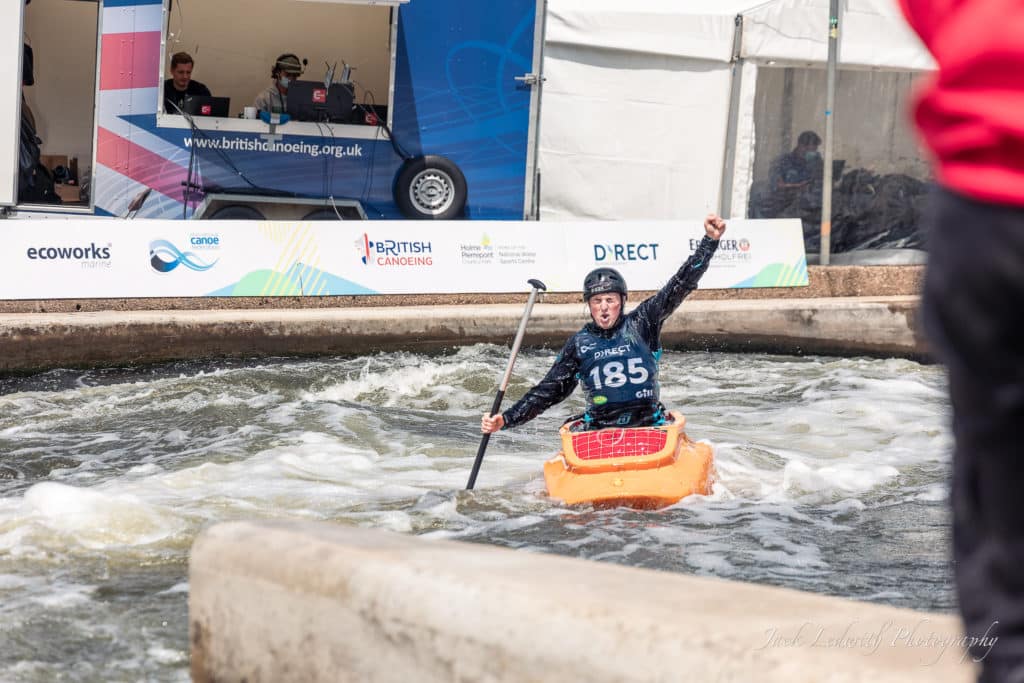 The real excitement came in the evening with the oc1 final. Oc1 is a bit like c1 apart from your boat sinks as you paddle. There were no GB paddlers in this final but Eoghan Kelly (Ireland) lives in Nottingham and it was clear that the crowd were rooting for him! With the combined efforts of the Irish and the Nottingham locals, the oc1 finals were loud! Congratulations to Philip Josef (Germany) who got the gold, Zachary Zwanenburg (Canada) who got the silver and Adria Bosch (Spain) who got the bronze.
Day 5 – C1 Finals
Day 5 was another full on day with the c1 men's semi finals and the c1 finals for men and women. It was also the semi finals for k1 for senior and junior men and women.
The day started with the c1 men's semi finals and I couldn't be more proud of my wonderful friend Matt Stephenson for scoring over 1000 points and coming first in those. Matt is a wonderful human being (too good for us!) and it filled me with joy to see him achieve a ride like that!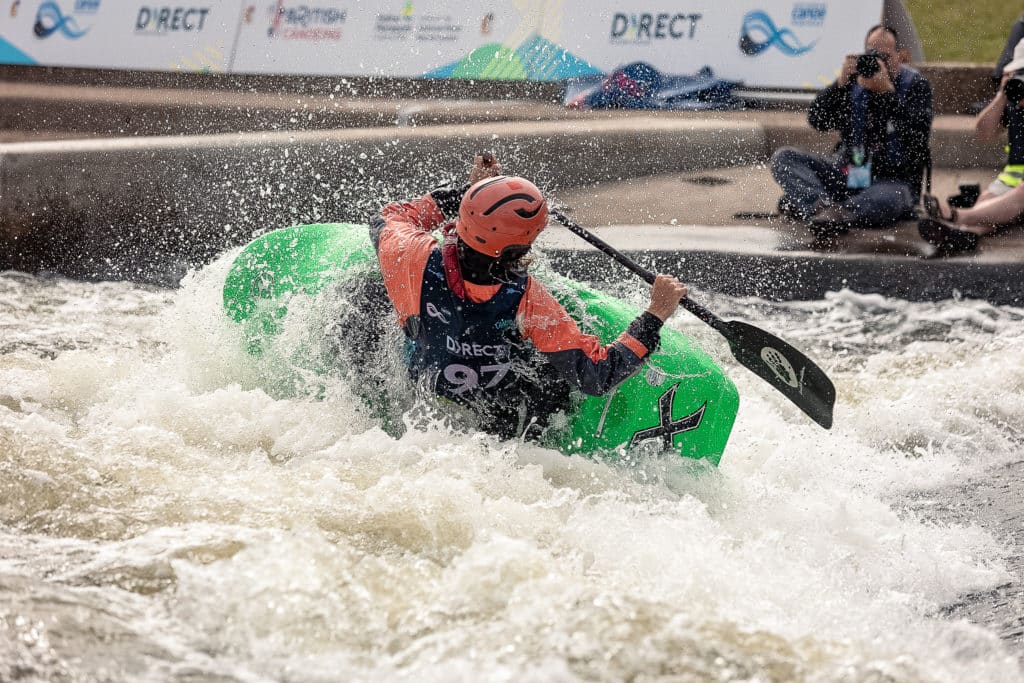 The semis came next and were an absolute emotional rollercoaster. I am so proud of all my friends who competed in these – whether they got through to the finals or not. To compete in a world championships is such an achievement and the pressure at this point was so high.
Big well done to Ottie, Harry and Rob for getting through to the finals for seniors. And to Niamh and Ben for getting through to the junior finals. I had spent a lot of time with Niamh's family this week and consider myself fully part of 'team Macken'! Every time Niamh has achieved her next goal, I was bursting with pride but couldn't look at her Dad in case he started crying and set me off! It was an honour to see and be part of that kind of supporting behind the scenes moments though.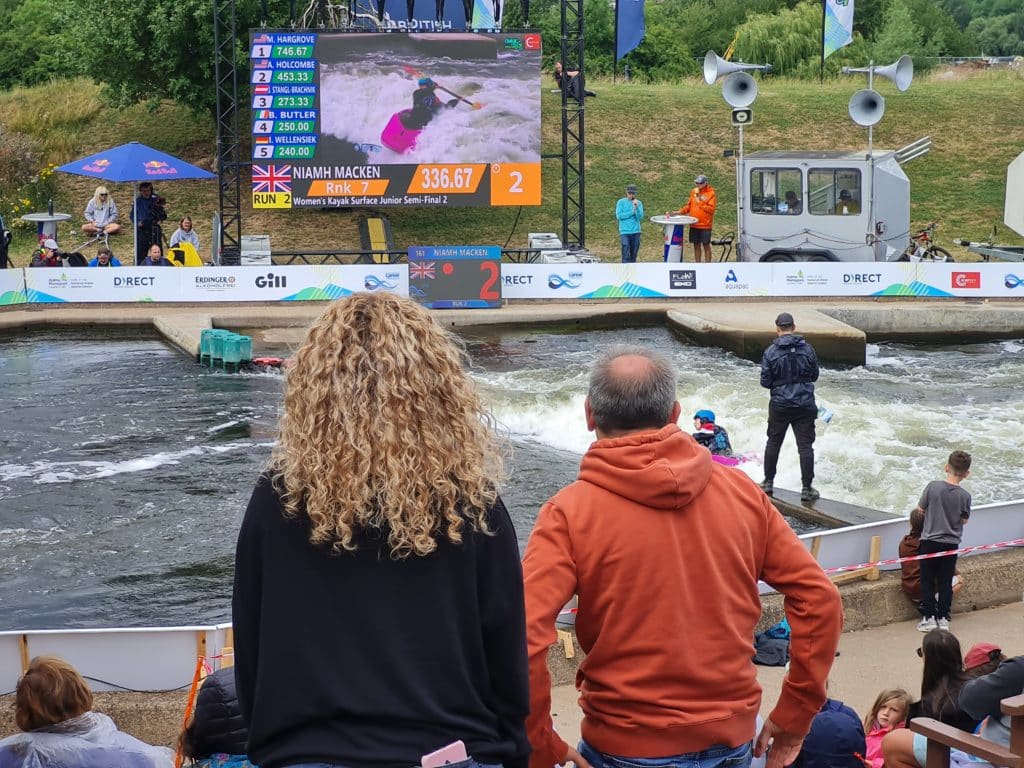 The evening saw the c1 finals. 5 women and 5 men competing and 5 out of the 10 for GB! So so so proud of Ibbo, Matt, Ottie, Becky and Tamsyn for getting to the c1 finals and representing their country! Especially proud of Ottie and Becky for getting gold and silver in the women's first ever c1 final! Anica Schacher (Germany) got bronze. Beibhin Butler (Ireland) came fourth and Tamsyn from GB came fifth. Watching these women make history and take the sport forwards was an absolute honour.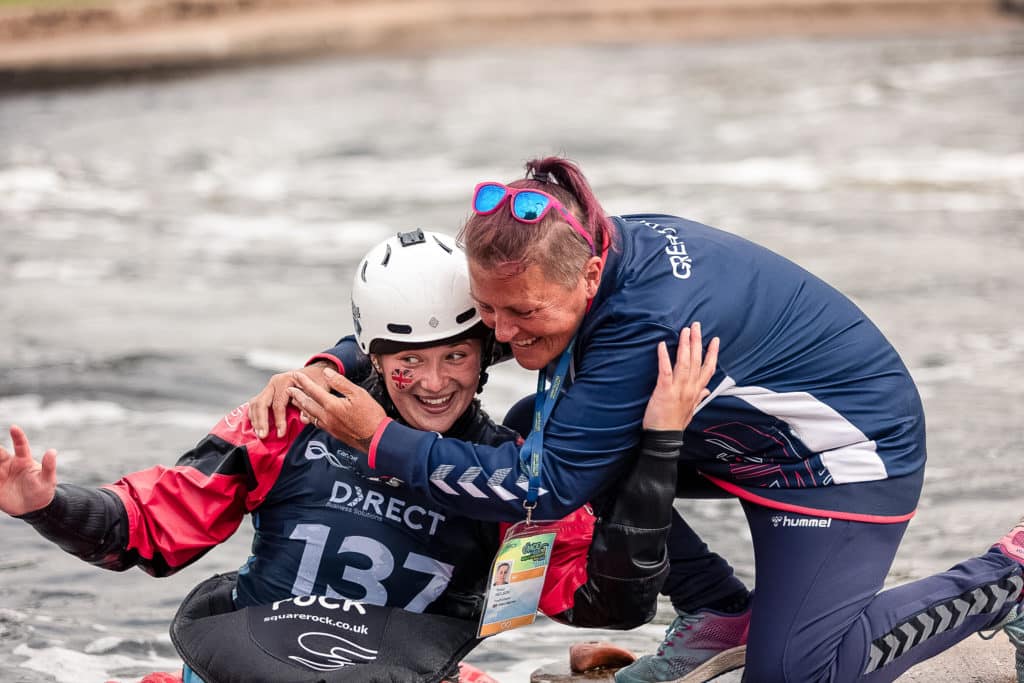 Matt and Ibbo came fourth and fifth respectively in the men's final and I am so proud of them! In Bronze was Tom Dolle (France), Dane Jackson (US) in silver and Landon Miller (US) achieved gold. I picked up Landon and two of his friends hitchhiking from the supermarket prior to the start of worlds and have had a special fondness for them since. Landon has an energy, enthusiasm (and a special talent for getting into trouble) that is unmatched. Whilst I really wanted my friends to get a medal in this – I cannot deny what an impressive athlete Landon is and how much he deserved this gold. So well done Landon!
Day 6 – Last day and the k1 finals!
Before we knew it Super Saturday was upon us! It was the last day of worlds and a full on day! Day 6 saw the k1 finals for men and women, seniors and juniors. It also saw many of the festival of paddling events occur.
Over the week a variety of water based activities and friendly competitions were being run as part of the festival of paddling. The festival included the masters competition, the world's biggest loop, synchronised freestyle, the world's backyard freestyle, flatwater freestyle and rough water SUP. The festival of paddling events were some of my favourite of the whole week. They allowed amateurs such as myself to get involved on the water as well as competitors to get involved in some more light hearted events.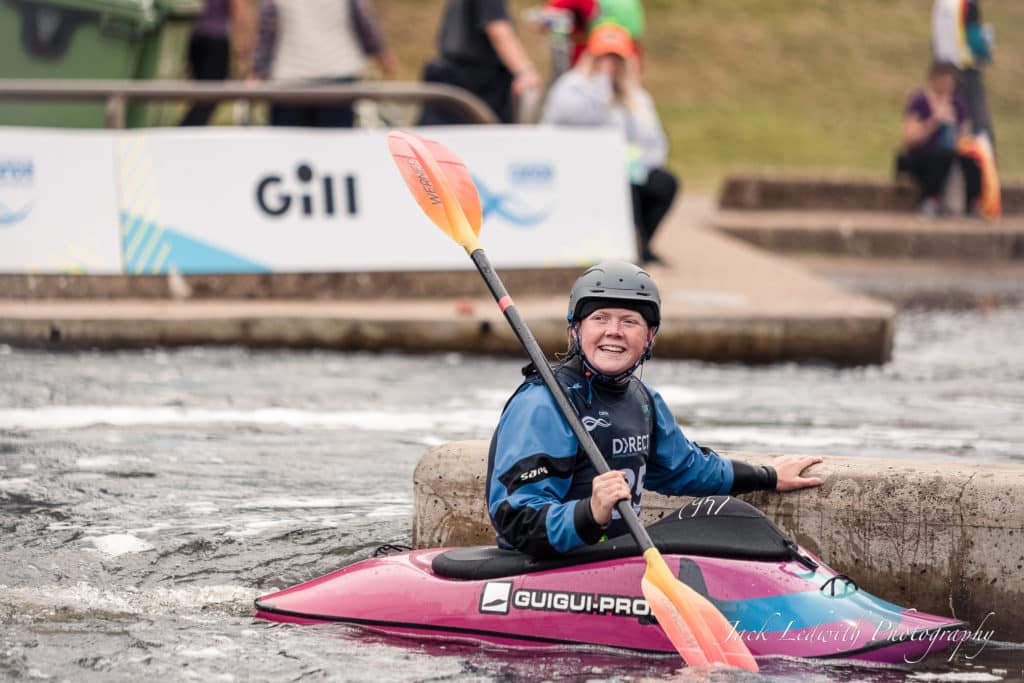 I personally took part in the world backyard freestyle competition and the rough waters SUP. Myself and Beth Kirby made a synchronised SUP freestyle video which came third in the backyard freestyle competition. I also came second (with Beth first!) in the rough waters SUP. I even got some of my students to sign up to some of the festival events! It sounds so silly but I honestly ecstatic to get to stand on a podium on Saturday and receive my second place plaque. I may be a very long way from 'team GB' but to share that moment (in the pouring rain!) with so many of my paddling friends was really special to me.
But onto the finals! The juniors finals were amazing! Ben Higson and Niamh Macken both got a silver medal in their finals! The joy I felt when Niamh got her medal was pretty overwhelming. Niamh is very special to me and I have watched her grow into the most amazing young woman and athlete. Sharing the moment we realised she had achieved a medal with her family and coaches Lowri and Nathan was one of my highlights of the week. I was so close to crying and couldn't be prouder of her!
Gold for junior women was won by the amazing Abby Holcombe (US), bronze by Makinley Hargrove (US), Jasmin Stangl-Brachnik (Austria) came in fourth and Beibhin Butler (Ireland) came in fifth. For Beibhin it was her second finals in 24 hours and she was brilliant. Definitely a paddler to watch out for in the future!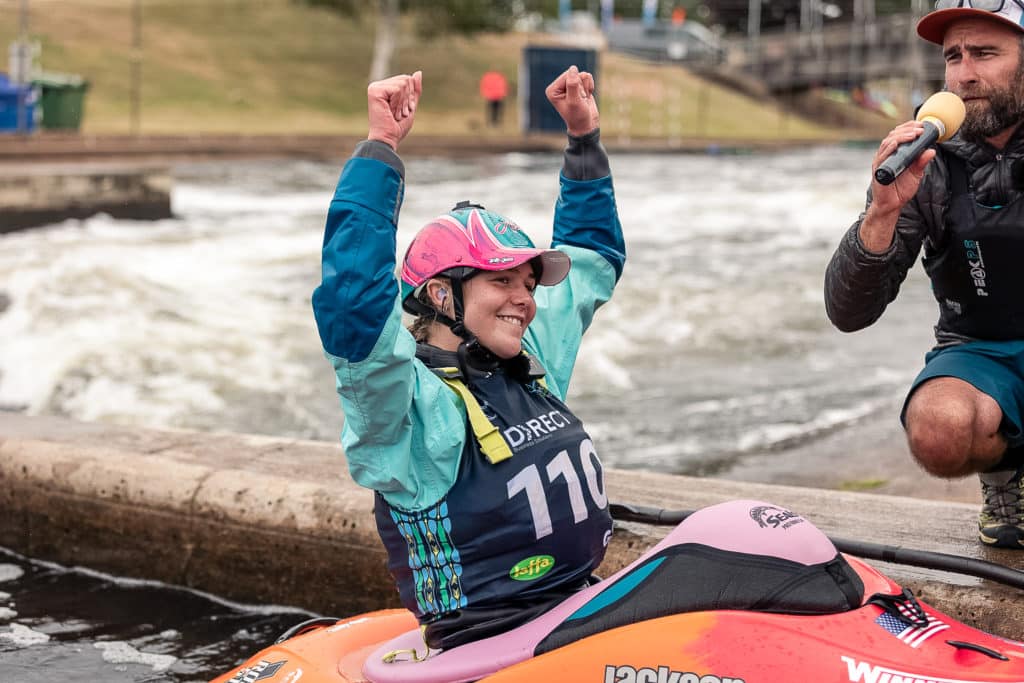 Gold for junior men was Tim Rees (Germany) and I am sure the seniors are equally excited and nervous for when he joins them! Bronze was won by Nanase Okazaki (Japan). Max Martinez Barriere (Spain) came in fourth and Matteo Williams (NZ) came in fifth. It was hard not to be rooting for Matteo as he had the biggest smile of the whole world championships! Even going into that final he was beaming from ear to ear and had the full (and very loud) support of his friends on the US team!
The senior finals came next and were intense to say the least! I had three GB friends in those finals and I wanted more than anything for them to do well and be happy with their rides. Women's finals came first and in just one run Ottie absolutely smashed her ride out and it was clear she would be receiving three gold medals in this worlds! As we crouched at the side of twin wave, banging the boards and screaming her name – myself and Becky just looked at each other. We were both in absolute awe of what Ottie had just achieved and could not believe we had been there to witness it first hand! Ottie, who is always the MOST composed person and focused athlete even allowed herself a little smile following that ride. She knew what she had achieved and the next two rides were just victory rides.
Ottie had given it 110% and has dedicated her life over the last couple of years to this world championships. She has lived in her van at HPP and sacrificed so much to train for this. Witnessing history as she became a triple gold medallist in her very first senior worlds was incredible. What an athlete! Later (perhaps after a beer or two) I absolutely fangirled her. I didn't mean to but the Mackens & Matt Stephenson encouraged me and I just needed to tell her what a legend she was.
In the senior women's k1 finals, Hitomi Takaku (Japan) claimed silver and Marlene Devilliez (France) claimed bronze. Emily Jackson (US) came in fourth and Denise Liane (Austria) came in fifth.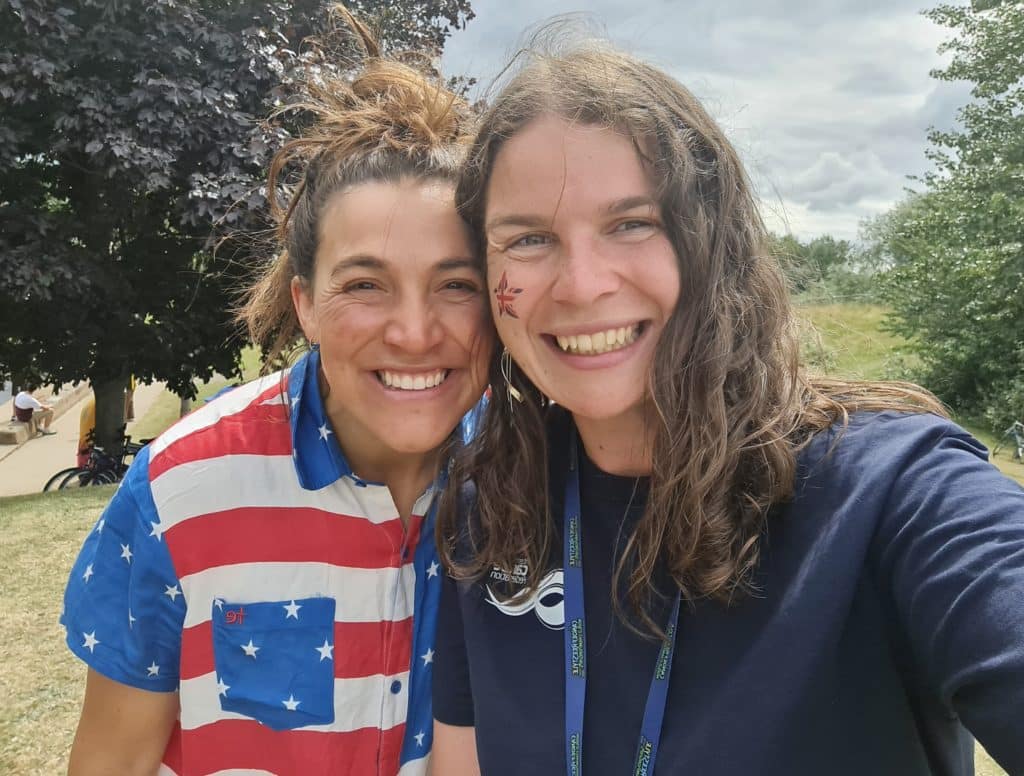 Onto the senior men's finals and this was perhaps the most tense final of the week! All 5 of the men in this final could have won it and watching each men take their rides was incredibly emotional. In the end Dane Jackson (US) pulled out an incredible ride and took gold medal. Tomas Czaplincki (Poland) took silver and Harry Price (GB) told bronze. David McClure (Ireland) came in fourth and Rob Crowe (GB) came in fifth.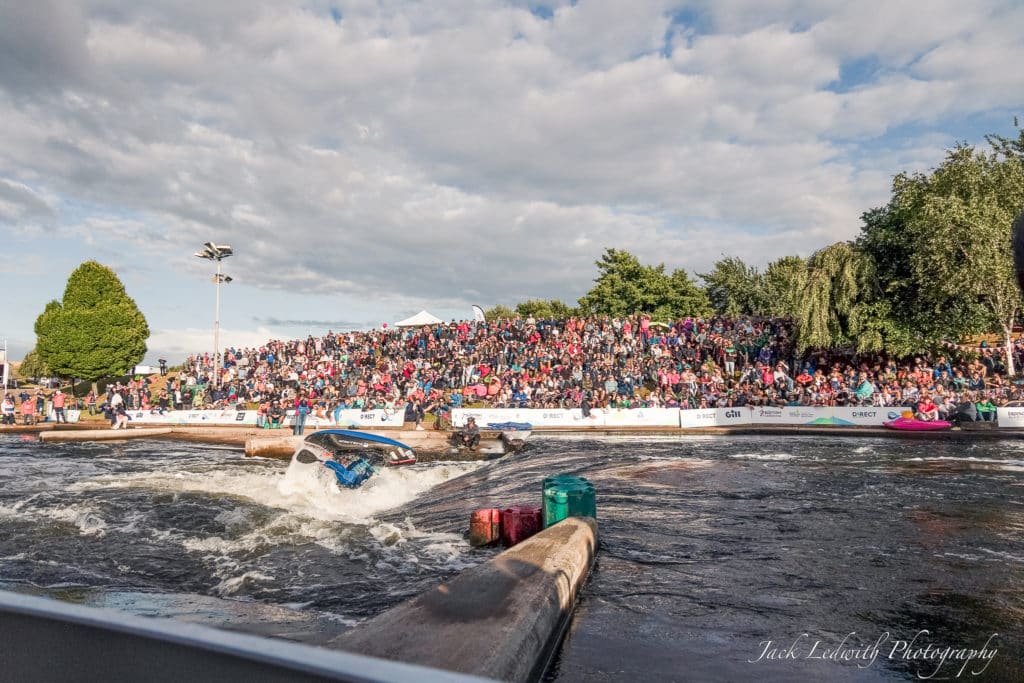 I don't think I have ever shouted, clapped and cheered as much as I did in those Saturday finals. I wanted my friends to achieve their dreams more than anything and could not have been prouder.
The after party was emotional and perhaps best to leave it at that!
Overall thoughts
I did not expect to be quite so emotional during this week. I may not have competed or been there to coach but to get to be there in person to support my many friends competing was such an honour. I felt their successes and their heartbreaks and I am so so so proud of every single one of them. To compete under that kind of pressure and achieve what they did is inspirational.
There are now hundreds of local school children or families who attended the events over the week who have been left inspired. There are children (and adults!) who will now go away and take up freestyle kayaking. And if that isn't the biggest achievement of all – then I don't know what is.
Sorry this has been a bit of a longer article but I was left so inspired from these and I wanted to share that with others. Happy paddling!
Most of the photos in this article were taken by the talented photographer Jack Ledwith who very kindly has let me use them for this blog! Go follow his Instagram as a thank you please!