I recently wrote an article about the upcoming freestyle world championships to highlight what an exciting event that will soon be coming to Nottingham! Whilst this article was a great way to give people an overview of the event, I didn't get the chance to go into detail about each of the different freestyle categories. With some help from a few well-known faces in kayaking, this article is going to do just that!
K1 (Kayak) – Ottie Robinson-Shaw
If you've ever been down to Holme Pierrepoint whitewater course, the chances are you will have seen Ottie paddle before as she pretty much lives there! Ottie is on the GB women's freestyle teams for K1, C1 and Squirt and is the current British champion in both K1 and squirt! In the last world championships, Ottie won the junior category and all eyes are on Ottie as she competes in her first worlds as a senior. Ottie. She continues to push all boundaries of what is possible in freestyle kayaking and it is my absolute honour to let her tell you about K1 below.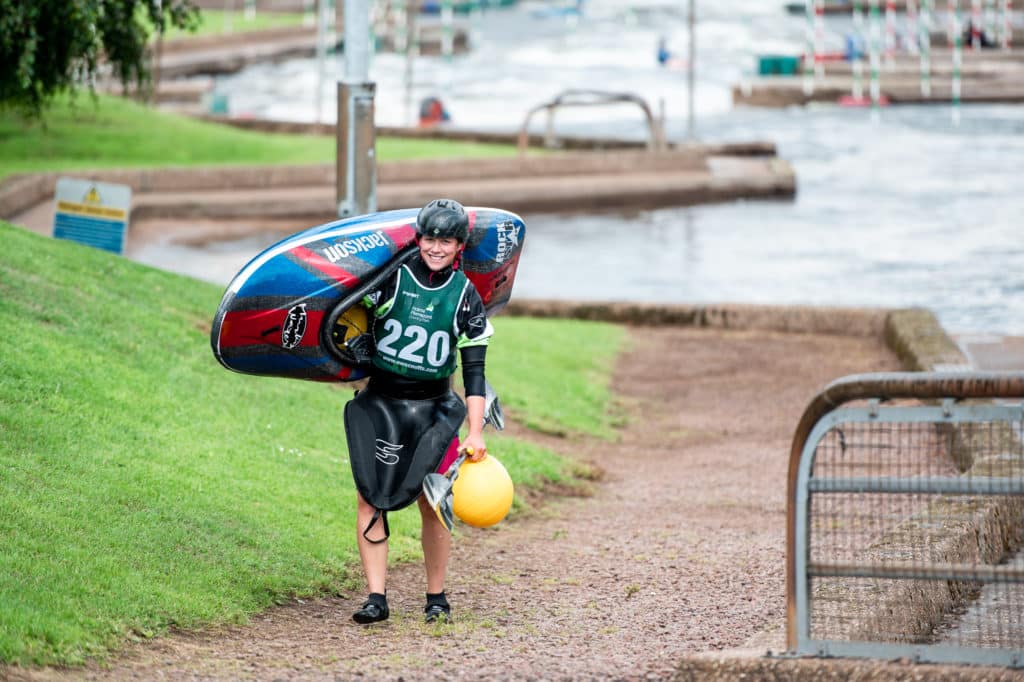 How would you describe freestyle kayaking? Freestyle is just like gymnastics in the water. You use the waves, the holes and the water to help you fly in the air and rotate your boat and your body as fast as you can. The aim is to hopefully perform really beautiful tricks that just feel incredible. That is how I would summarise it!
Can you talk us through your favourite move in your K1? My favourite K1 trick is a tricky loop. For reasons including that it has taken me so long to grasp and really understand the feeling of it. Essentially what you are doing is a split wheel where you rotate on the tail of the kayak whilst feathering one blade and pulling it to then land perfectly on your nose and then throw a really big snappy powerful loop.
I find it challenging to explain to someone who doesn't have a background in freestyle. But I will just say that when you get it right it is such an incredible feeling. It just floats! For me, I really love the tricky loop because it is about mastery of the ends and about finding the perfect balance between what your body is doing, what your boat is doing and what your blade is doing. Which I think is very cool!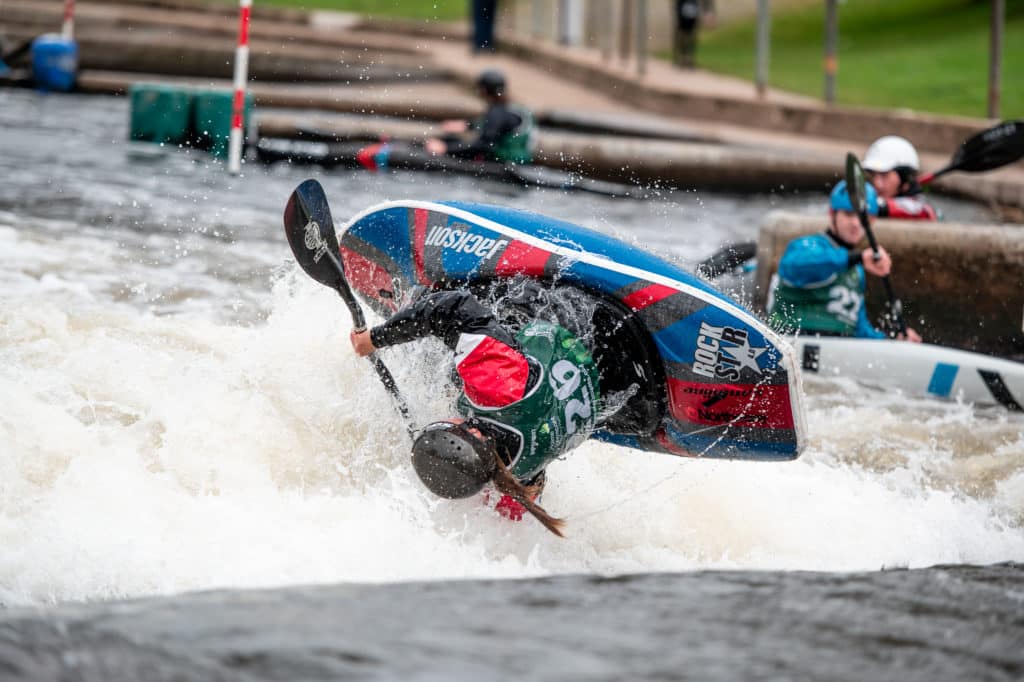 What are you most excited about for worlds? A home world championships is super duper exciting. I think we are lucky in a way because of Covid in that we have had an extra year to prepare for this. Because it has had a really long run in, the whole team feels extremely well prepared. We've learnt the feature. It is just going to be so nice to be able to share with family, friends and other supporters there who might not normally be able to afford to come to events to cheer us on. I am hoping that the event will have quite a special feel to it. Especially as this is where I have learnt to do 99% of my tricks. And if I was able to get my dream ride here – it would be even more special to have all my friends and family there to watch!
Is there anything else you wanted to say to paddlers who are just starting out in freestyle? If you are just starting out in freestyle, providing you enjoy being out on the water, you never know how far this sport can take you. It could continue to be a recreational hobby you do in your spare time or it could become your entire life and without realising you could become one of the best paddlers in the world. I think that is really special.
All of the team are just normal people who love spending time on the water doing tricks. The community is so friendly that you never need to be afraid to ask questions or ask for help or even just go and have a chat with someone.
C1 (Canoe) – Matt Stephenson
Matt Stephenson might just be the most enthusiastic paddler you will ever meet and is a master of all trades when it comes to paddling. Matt is an immensely talented and well-rounded paddler as well as just being a really friendly happy guy. He has paddled on class 5 rivers around the world, as well as competed in international competitions for freestyle. He is a phenomenal white water SUP paddler and a well-loved raft guide. But it is his C1 freestyle paddling that I have invited Matt to share his love for today.
What exactly is C1? C1 paddlers typically use the same boats as kayakers. However, these boats have saddles as opposed to the seats you find in kayaks. The paddler is in a kneeling position around this saddle. And they will only use a single blade or canoe paddle.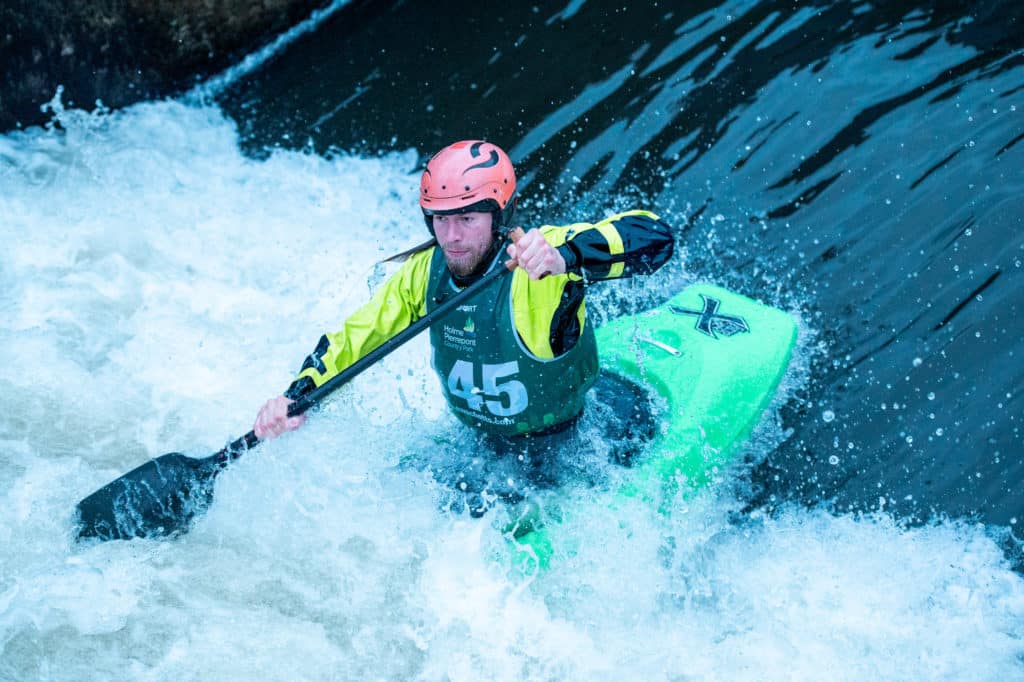 Are there additional challenges with paddling a C1? The main challenges for C1 compared to kayaking are that you are sat slightly higher up which makes you slightly more unstable and gives you a little bit less control over your trim – the forward and backwards tilt of your boat. This can make learning to C1 slightly more unstable and upside-down experience!
Also, you only have one blade which means that stabilising yourself on one side is hard. A lot of the moves in freestyle will involve a move with a blade on one side which is harder to do in C1. You can use straps to hold you in which give you a lot more control over the boat. Straps are necessary if you are doing more advanced freestyle moves but if you are just going out playboating in a C1 playboat, you don't necessarily need them. You should learn to roll first and then think about straps.! Once you have mastered a C1 roll, it makes introducing straps and falling over and surfing waves a lot easier.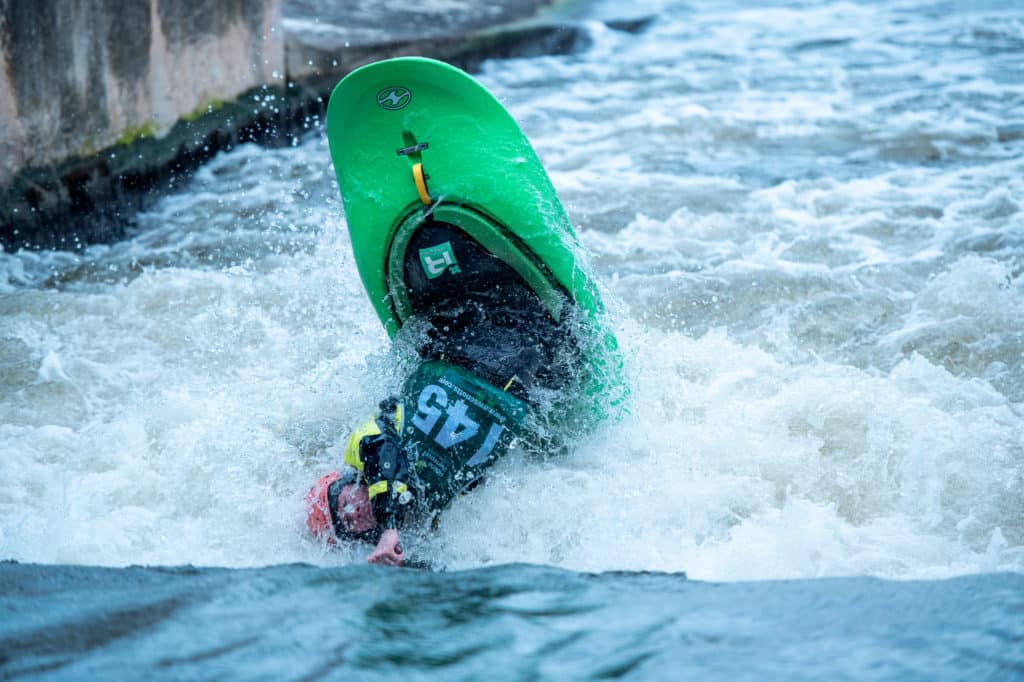 What about the benefits? There are lots of benefits of C1 paddling – it is not all bad and gloomy! The challenges of only having one paddle blade present a really cool and exciting opportunity. It is a real pleasure to relearn and get a lot better at the simple things like edging, coming in and out of eddys and spins. I do find myself having a lovely time perfecting the little things in freestyle – it is very enjoyable! There are also twice the number of moves for you to learn – on your left side and on the right then swap the paddle and do it again but with the other hand.
What about the world championships? At this year's world championships, there is a very exciting development in C1 which is the introduction of a women's C1 category. It will be really exciting to see a whole bunch of new C1 paddlers taking to the stage. Hopefully, it will provide a nice inspiration for more women to get out and try C1 boats because they are really fun.
OC1 (Open Canoe) – Connor Proud
What is OC1 and how is it different from C1? OC1 is a separate discipline of C1 where the paddler is kneeling with a single-bladed paddle. However, unlike C1 there is no spray deck covering the cockpit so water is free to move in and out.
OC1 is scored in much the same way as the other disciplines of K1 and C1 where the paddler has to perform different manoeuvres to score points. The paddler can receive additional points through performing these moves in a particular way, such as without a paddle stroke, or for the amount of air that the paddler gets.
There is also a couple of rules differing the boats from oc1 and c1, one is that an oc1 must be able to hold 40l of water 'with the paddler inside' and another that bow and stern airbags must be used rather than bulkheads.
What moves should we look out for at the worlds? At the worlds I'll be planning to hopefully pull off some loops and possibly a mcnasty. Mostly I will be aiming to do a whole load of spins! The picture above is Connor going for a loop in his OC1!
What is the biggest challenge of OC1? The hardest challenge of oc1 in my opinion is getting the thing to move around when you are full of water. But that is also half the fun of it!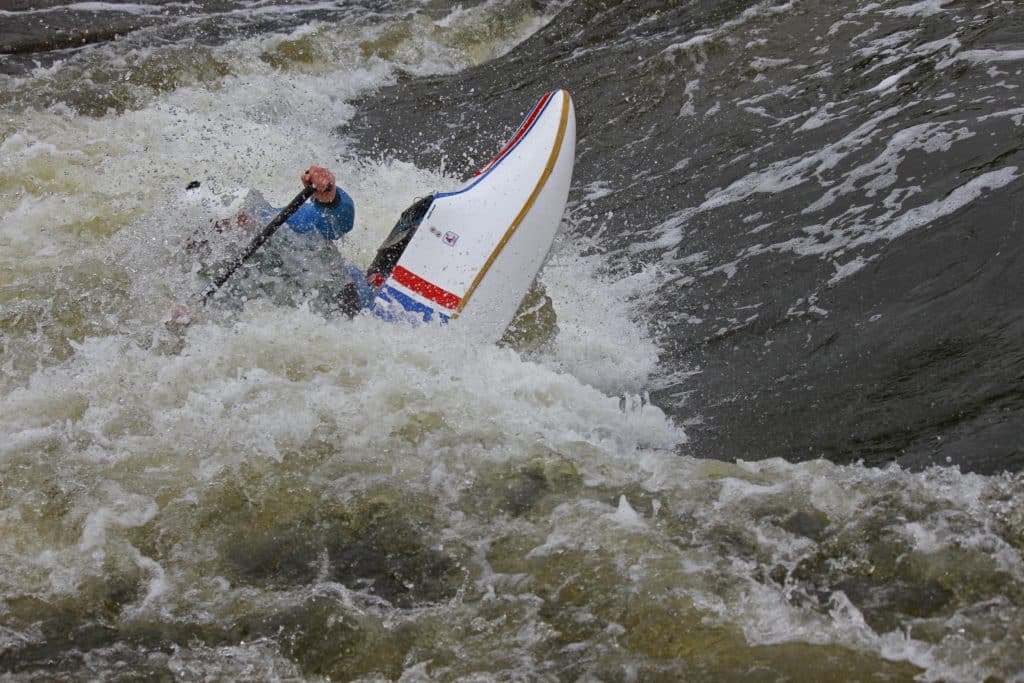 K1Sqrt (Squirt) – Tamsyn McConchie
Tamsyn is another all-round paddling enthusiast. Tamsyn is on three of the women's GB freestyle teams this year. She is on both the C1 and squirt women's teams as well as being a reserve for women's K1. When she is not training for all that freestyle though, you will find Tamsyn down at the canoe polo pitches or out paddling rivers of the UK. Here Tamsyn is sharing the elusive world of squirt kayaking with us!
What is squirt boating? Squirt boating is probably the only discipline where you don't want your boat to float. It's a type of freestyle kayaking and in competition, you get marked on both the tricks you can do and the depth and duration of your mystery move (going underwater).
Sometimes you need to see something to truly understand – check out this awesome video of Tamsyn in her squirt boat below!
What are the challenges and benefits of squirt boating? Squirt boating was a new challenge for me which I found really appealing. I really enjoyed the steep learning curve that came with taking up a new sport. It can take new paddlers take some time to get used to the balance and also to become accustomed to being underwater. But with squirt boating, it's really easy to see the difference that little changes to your paddling make. Instant gratification for the hard work that you put in!
The community in squirt boating is also one of the best I have encountered. The people I've met squirt boating are the absolute bomb! Also when you get a really solid mystery move – it is incredible. The feeling you get when you drop underwater and are surrounded by little bubbles is something I really don't know how to put into words!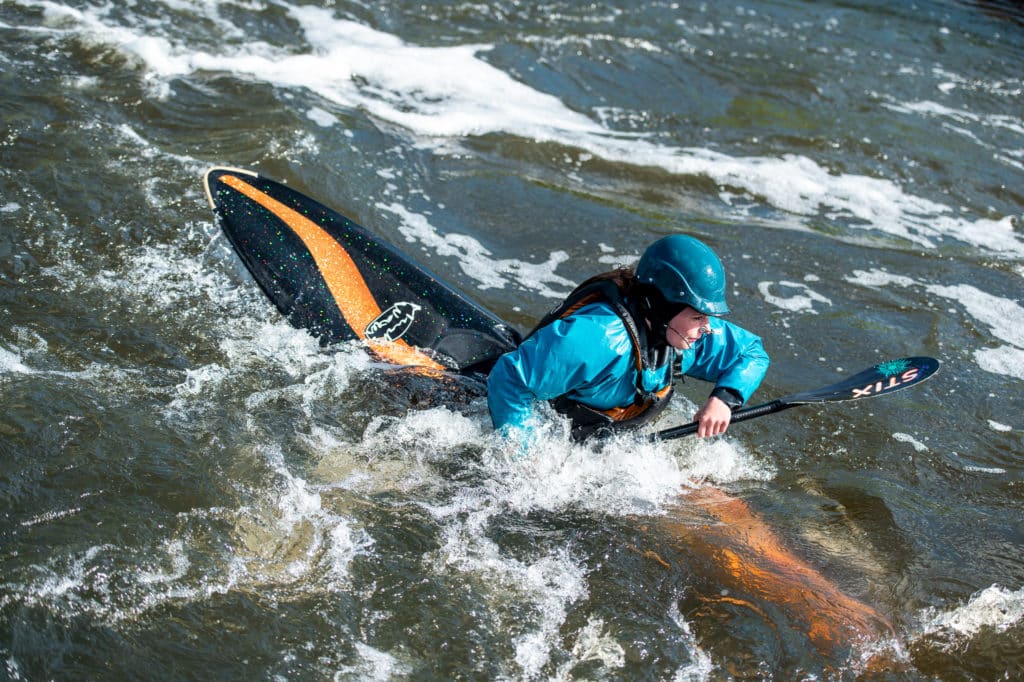 Tell us a bit more about the mystery move! Ahh, good question! It's still a bit of a mystery to me, to be honest, but one of the big things to look at is your charging arc, or 'Charc', which is how you approach a seam line to go in for a drop. This is variable on so many factors; spot to spot, day to day, and person to person, so it's really a case of trying out a few things and seeing what works best for you. Then once you've got your initiation it becomes all about edge control and rotation. You basically become like a big aeroplane wing under the water so you have to consider how the water is moving over your boat and use that to your advantage to keep you down for the ride!
Thank you!
Thanks to Ottie, Matt, Connor and Tamsyn for telling us about their freestyle disciplines. If you are interested in seeing them at the world championships – don't forget to read my last article with all the details! And if you want to take up freestyle yourself – check out the GB freestyle webpage.