Recently I have completed a trilogy of articles around the upcoming freestyle kayaking world championships in Nottingham. I chose to write these articles to help raise awareness of what the freestyle kayaking worlds are, what the different categories are and the profiles of some of the junior GB athletes competing.
Following these articles, Alex McClure, who is an Irish squirt paddler, got in contact with me. She wanted to know whether I would be keen to do a piece about the Irish team. Of course, with the Irish team being such an awesome group of lovely people and phenomenal paddlers, I said yes! With Alex's help, I've recruited a few of the Irish paddlers to let them tell you about their team!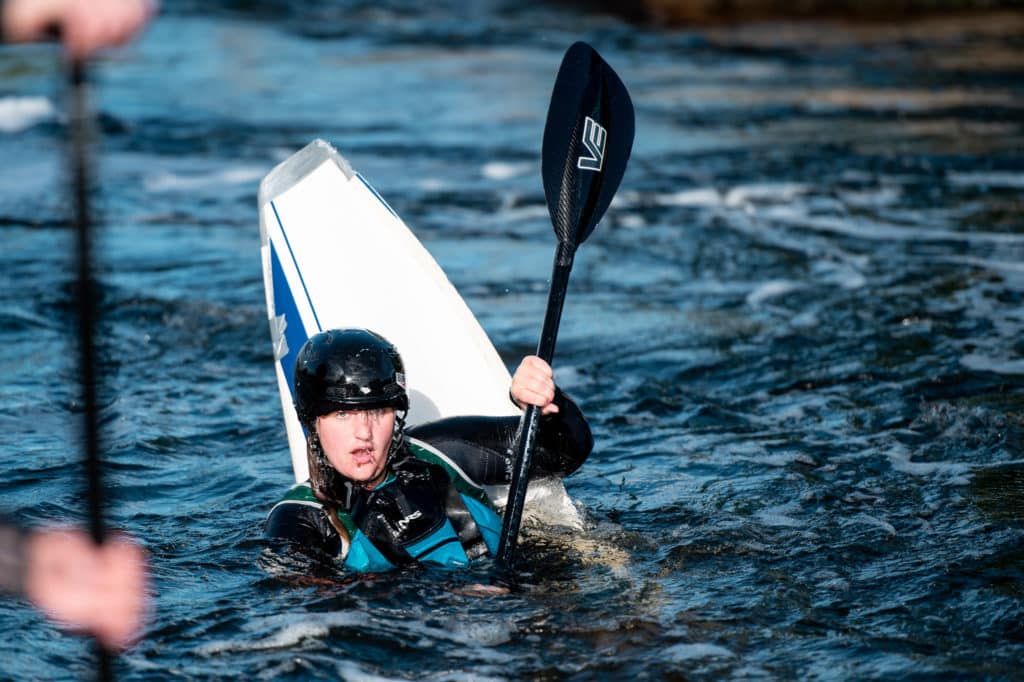 Tell us about the freestyle kayaking scene in Ireland?
There was no better person to ask to answer this question than David McClure! David is the European champion for k1 freestyle kayaking and is well respected in the freestyle kayaking world. Not only is David a talented and dedicated athlete but he is also a committed coach to his fellow freestyle paddlers and has been fundamental to the development of many paddlers. David shares with us a glimpse into the freestyle kayaking scene in Ireland.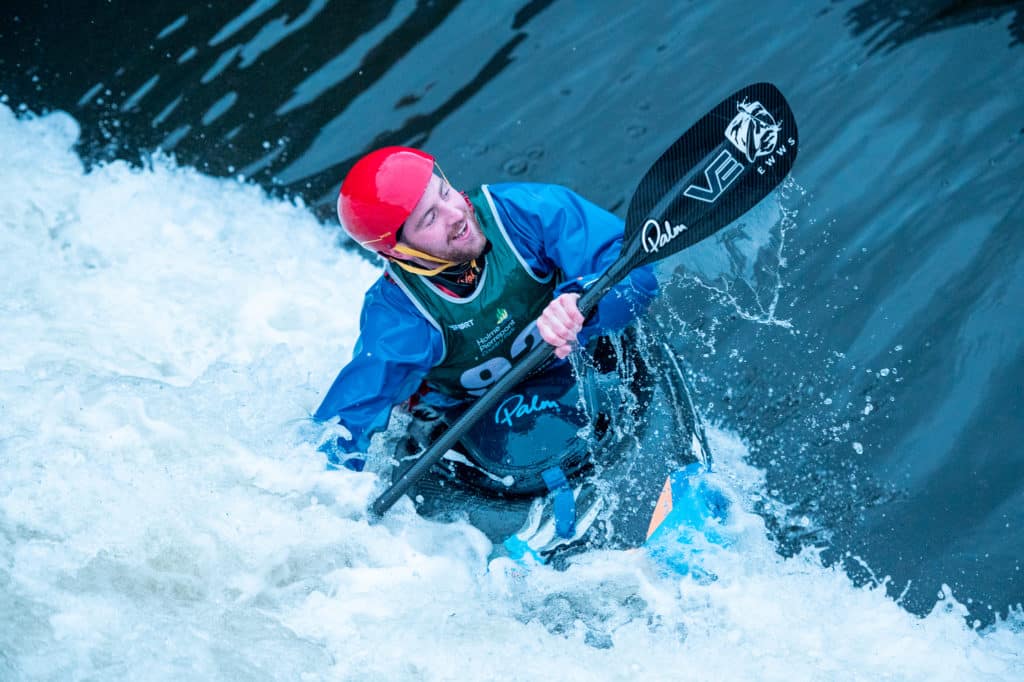 "The Irish freestyle scene right now is without doubt, in one of the best places it's been in a long, long time. We have a growing community with more juniors and women involved than ever before and at our high-performance end, our team is the strongest it's ever been.
"Leading the development of the sport is the Southeast Freestyle, which was set up as a freestyle club recently and records over 3 junior squads with waves of beginners entering freestyle each summer and over 20 women attending freestyle sessions. Alongside that, we host multiple summer freestyle events around the country that gathers all walks of paddler.
"Results wise, Aoife Hanrahan's 3rd place finish at the European's in Paris is the highest female freestyle achievement we've ever earned and it only looks to be getting better as both Aoife and Anais O'Donovan push themselves to challenge for places at the Nottingham Worlds this summer.
"To continue with women, our junior women's team is the fullest and winningest team Irish freestyle has seen. Leah Hough had an outstanding result at the Euro's while Beibhin Butler appears to be coming into her own on the world stage. Both are strong contenders for medals. Something we haven't seen before, only able to watch from the side-lines as the Americans, Brits and Germans challenge for medals.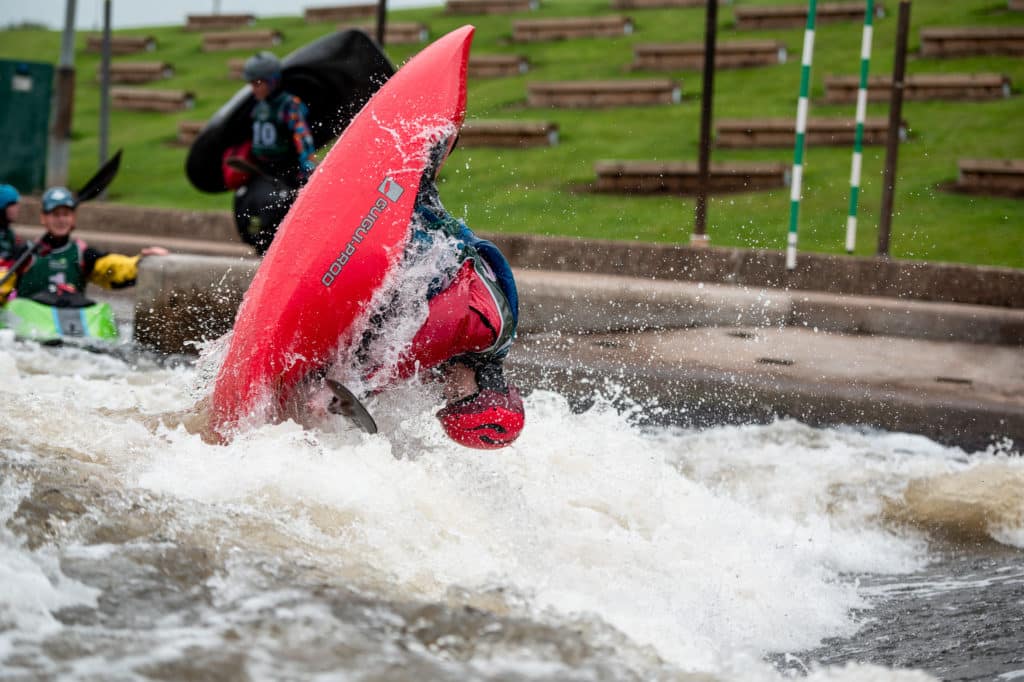 "We've had some decent junior men's teams in the past, most notably Billy Brett's 9th place at the 2013 NOC Worlds, but it seems like this team is set to burst past previous teams to challenge for finals and medals at this words. Rory Kearney is leading that charge. (See video below!)
"Our senior men's team isn't the worst either with Rory O' Reilly and David McClure contenders for medals. Rory placed 11th at the Europeans, with his first run one of the highest-scoring runs of the whole comp. He's become a Nottingham local and is definitely in the potential medal crowd. David is the reigning European champ and is looking to add a worlds medal to his tally.
"So all in all, the Irish team this year and the Irish Freestyle scene is in an undisputedly brilliant place and we're only getting better! We run loads of local events like Southeast Freestyle Festival, Parmhole, Clifden Freestyle Series and the notorious Galwayfest!"
Thanks for that David! It sounds like the Irish freestyle scene is thriving at the moment. What David didn't emphasise however is how instrumental he has been involved in supporting that to happen! So on behalf of everyone that David has ever helped to coach – thank you!
Tell us about the Irish team itself?
Theo Baker was suggested to me by Alex to answer this question as he is seen by many paddlers within the Irish team as a good friend and a mentor. Theo has really encouraged and mentored many of the more junior members of the team and is well respected for this. He is quite modest though and didn't want to dwell too much about what an impact he has had personally on the team. Instead, Theo talks below about the team culture.
"The Irish team is made up of some of the best and most seasoned freestyle kayakers in the scene. Athletes who are new to the international competition scene, athletes who are just being introduced into the wonderful world of freestyle kayaking. Although the team is made up of this mix everyone has the mindset to be the best person for the team rather than the best person on the team. Being part of team Ireland allows all of us to be the best kayakers we can be."
Certainly, a team that works together from the sounds of it! Theo is also to thank for the excellent positioning of his team members for the group photo on the cover of this article!
Tell us about training for the worlds?
With less than a month until worlds, a significant number of the Irish team have arrived in Nottingham and are training hard at HPP. One paddler in particular though has spent more time than most athletes training on the world's feature and that is Rory O'Reilly. Rory is going to tell you about his training experience for the worlds below.
"My preparation for Nottingham Worlds started in June 2017. For 2 years, I visited the city's white water centre every second weekend. I was fortunate to live in Dublin – only a 45-minute flight away. Ultimately, in September 2019, my training became my full-time occupation. I moved into my motorhome and travelled around Europe, spending time in some of the world's best freestyle spots. Cumulatively, I have spent well over 12 months basically living at the course in Nottingham.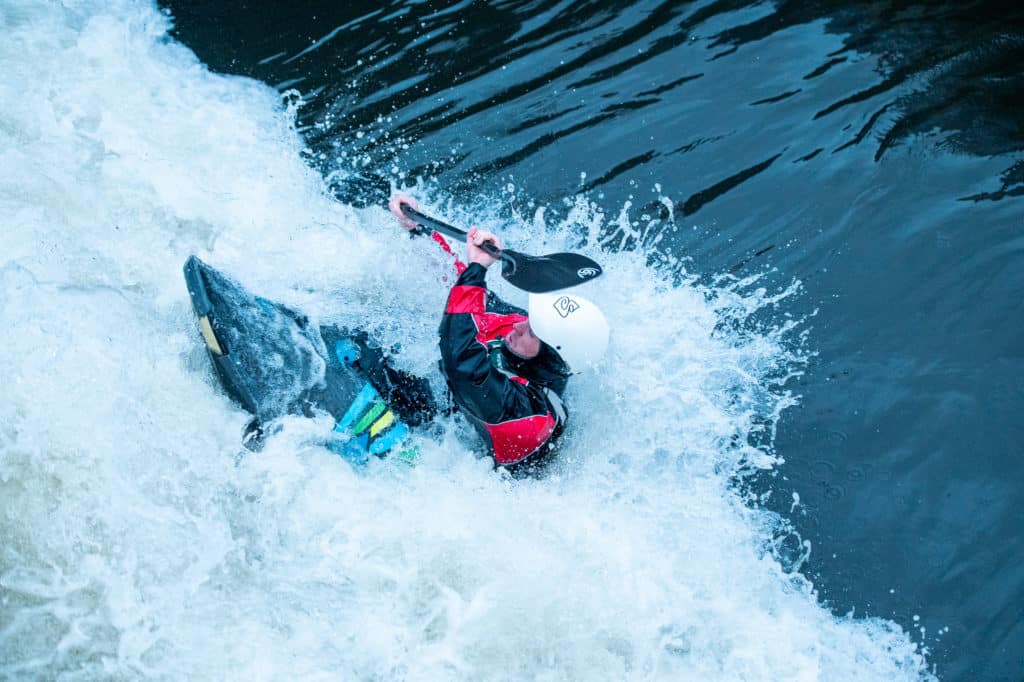 "While Covid made things a bit trickier, there were many highlights. Picking fresh peppers out of the canal at Makinito, beating David at C.O.D in our farmhouse AirBnB in Tuam, and watching the team in Nottingham build the World's hole back in October 2020 were some of the high points.
"Throughout the project, I was supported by some of Ireland's best sports professionals. Their cumulative expertise in strength and conditioning, sport psychology, nutrition, and physiotherapy were invaluable. I was also fortunate enough to have Jacko Jackson come on board as my kayaking coach in May 2020. His patience, persistence and decades of experience working with the best in the sport have served me well."
I am sure that Jacko has loved working with you too Rory and is looking forward to watching you compete in just a couple of weeks time!
Finally… Who should we be watching out for during the worlds?
The paddler who offered to answer this question is a name you have probably heard of before and that is Aoife Hanrahan. Aoife is a kayaking goddess and a long term inspiration of mine. She is without a doubt both a phenomenal freestyle paddler and creek boater. Here she tells us who to look out for during the worlds – you'll probably recognise quite a few of the names from David's answer earlier!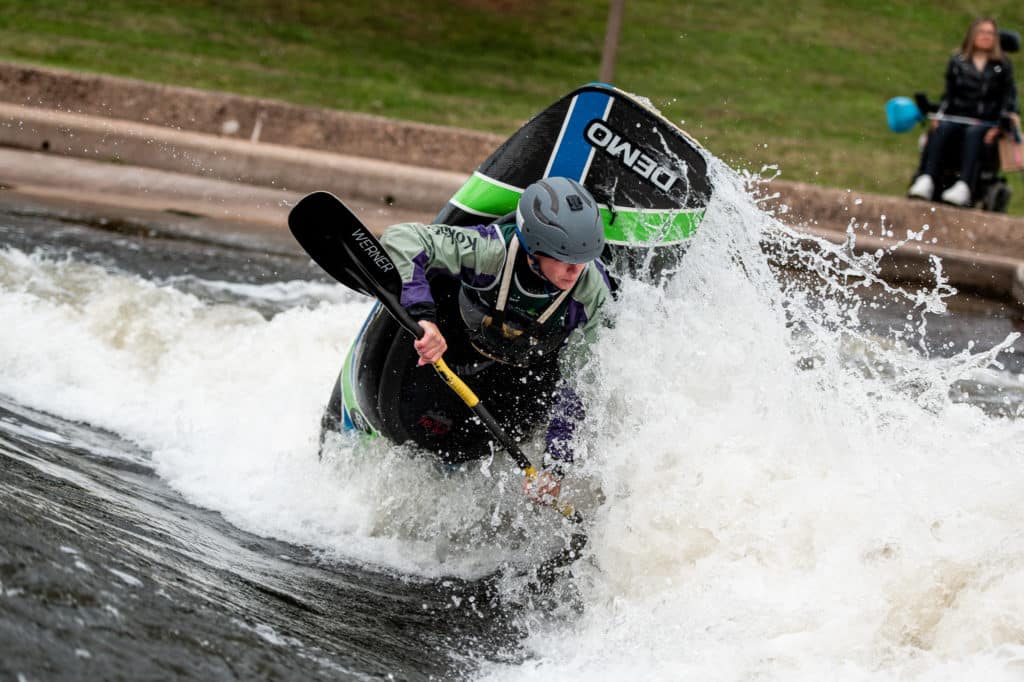 "The Irish team is the strongest team yet to come to a World Championships. The team hosts a European Gold medallist in the men's category, David McClure and a European Bronze medallist, Aoife Hanrahan. Not only these two but the team had an athlete in each categories semi final at the European Championships.
"David is one of the favourites for this year world championships following his success as European champion, alongside him Rory O'Reilly has made Nottingham a home away from home over the past two years and will be a prominent athlete to watch out for!
"In the women Aoife holds the European Bronze medal and will have her eyes set on podium, alongside her Anais O Donovan is an upcoming Irish athlete, having caught one of the highest rides in the European prelim rounds, she will be up there challenging the best and one to watch out for!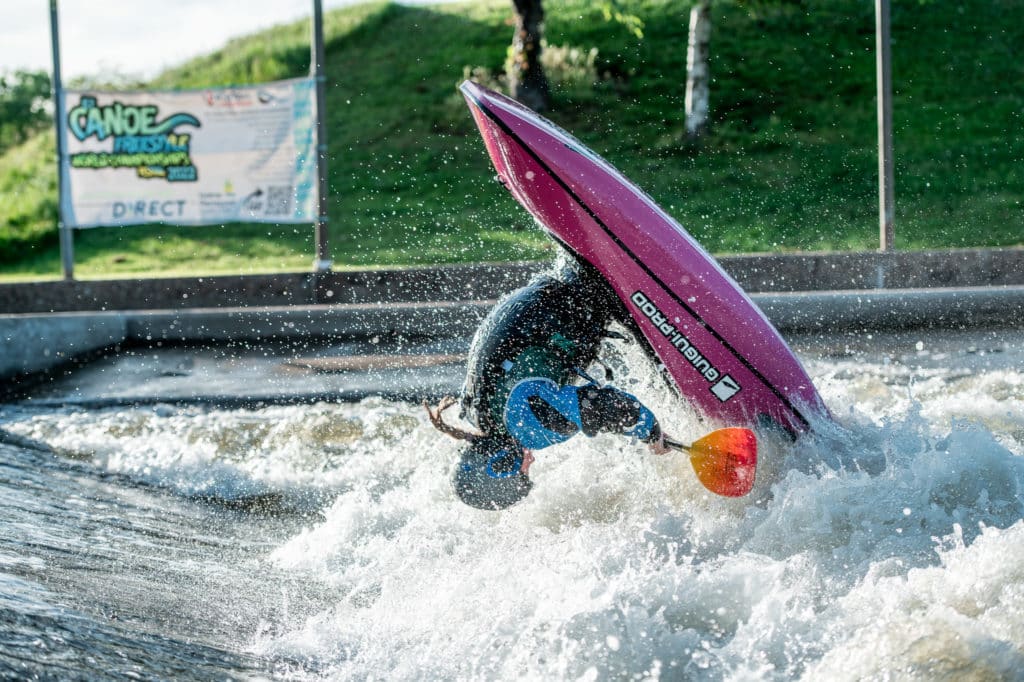 "Our juniors are on fire and their progression over the past 4 years has be insane, they are one of the strongest teams in the world right now! With Beibhin Butler and Leah Hough fronting the junior women, they will be aiming for that top 5 position As well as our junior men with Rory Kearney out here a month early! Exciting times for team Ireland!"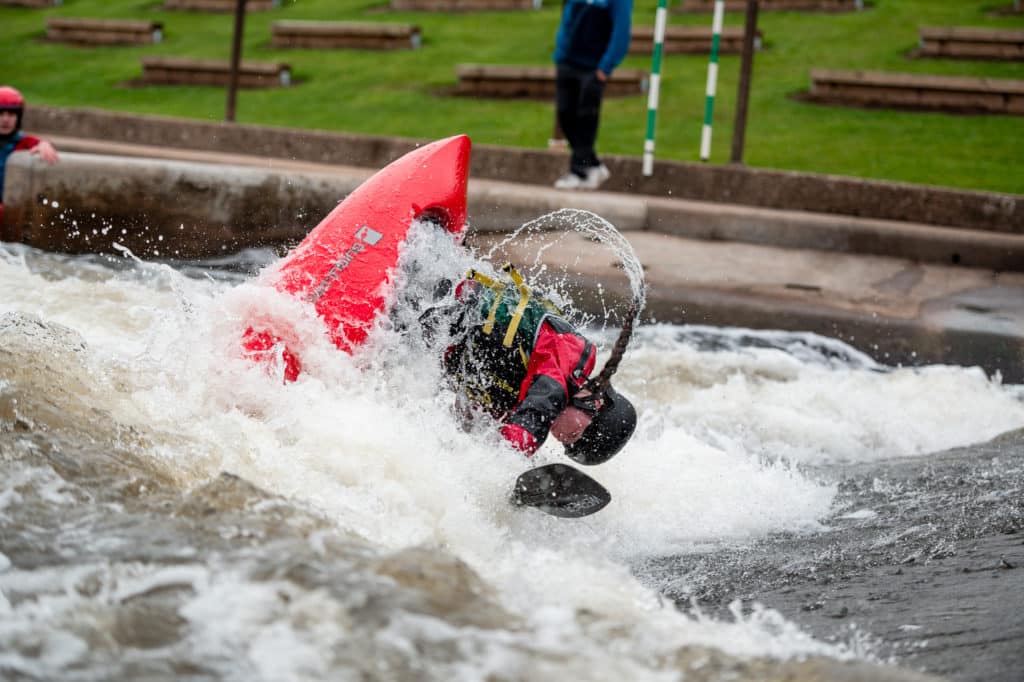 Thank you to all of the Irish team who offered to get involved with this article. Don't forget you can come and support them in person during the worlds which kick off on Monday 27th June. In the meantime, good luck with the training and we wish you all the best for competition week. Go team Ireland!