With the freestyle kayaking world championships coming to Nottingham this June, I decided to write a trilogy of articles around freestyle. My first article was about the world championships themselves and all the details of how to get involved. My second article was explaining what the different disciplines are within freestyle – with some help from members of the senior GB freestyle team. But there is one group of individuals who I haven't yet mentioned and they are the juniors. This article will provide a chance to get to know four members of the GB junior freestyle kayaking as they prepare to represent their country next month!
I have no end of admiration for the junior freestyle kayakers out there. Going down HPP in a playboat can be intimidating at first no matter how old you are and yet these youngsters are absolutely smashing it! If you spend any time at HPP over the summer months when the development camps take place, you will see hoards of mini shredders not just surviving down the course but absolutely thriving. I am in genuine awe at the talent, dedication and enthusiasm of these paddlers. For many of the junior GB team this will be their first big international kayaking competition so let's support them both in the lead up to the worlds and during the competition week itself!
Niamh Macken
Tell us about yourself? I'm Niamh, I'm 16 and I am a freestyle kayaker who regularly paddles at Holme Pierrepont (HPP) in Nottingham. When I first started kayaking, I started by joining my local club PaddlePlus, which is based in Leicester. By the time I was 11, I began playboating at HPP. I have been freestyle kayaking for around 4 years but competitively for 3.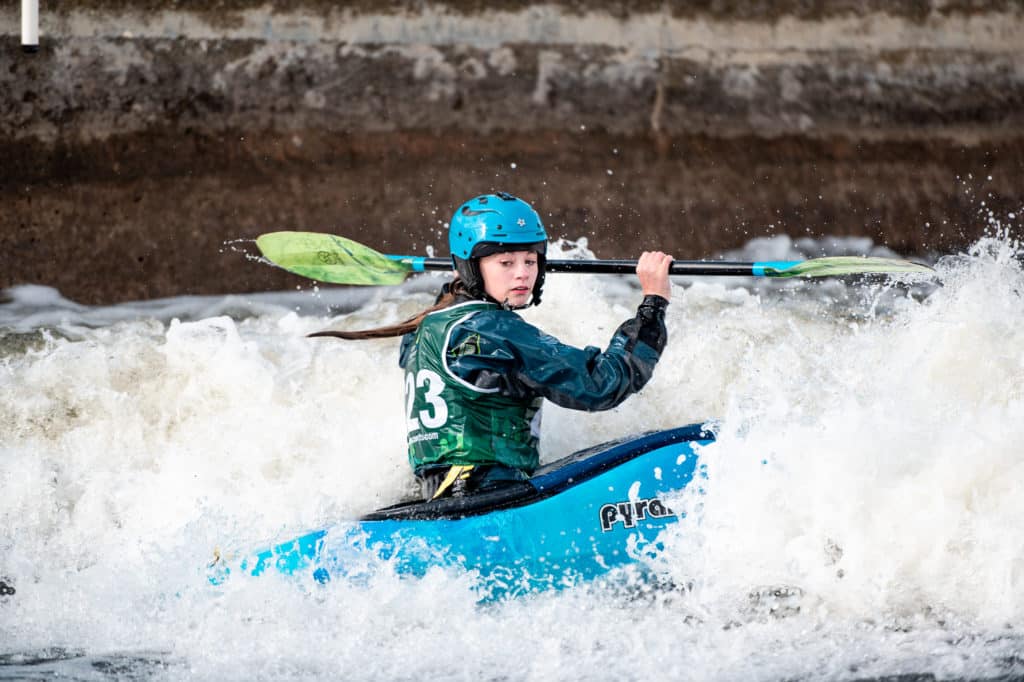 What does paddling mean to you? Paddling to me has always been a way of relaxing but I also very much enjoy the company that surrounds HPP and the communities of people that it brings in.
What I really love is the competitiveness it brings out in me, being able to set goals and plan my future moves as it shows progress in myself.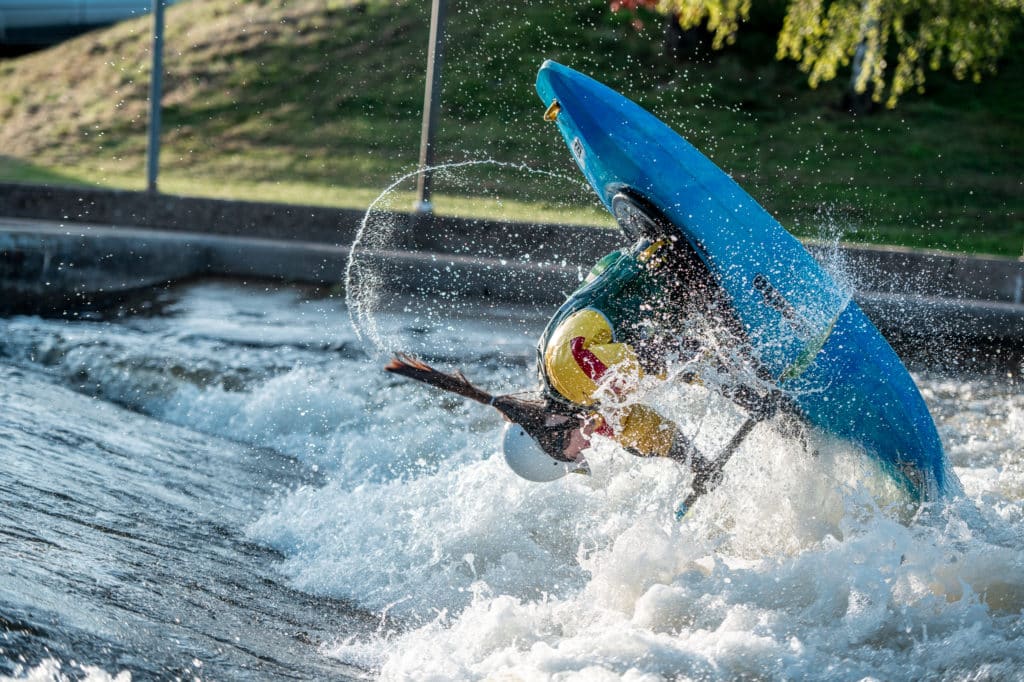 Thoughts about the worlds? Right now all my training is for the June 2022 world championships. This is very exciting but I am also very nervous as this will be my first international competition. I have my own goals for this event. Overall I really want to be able to enjoy the experience of a home worlds.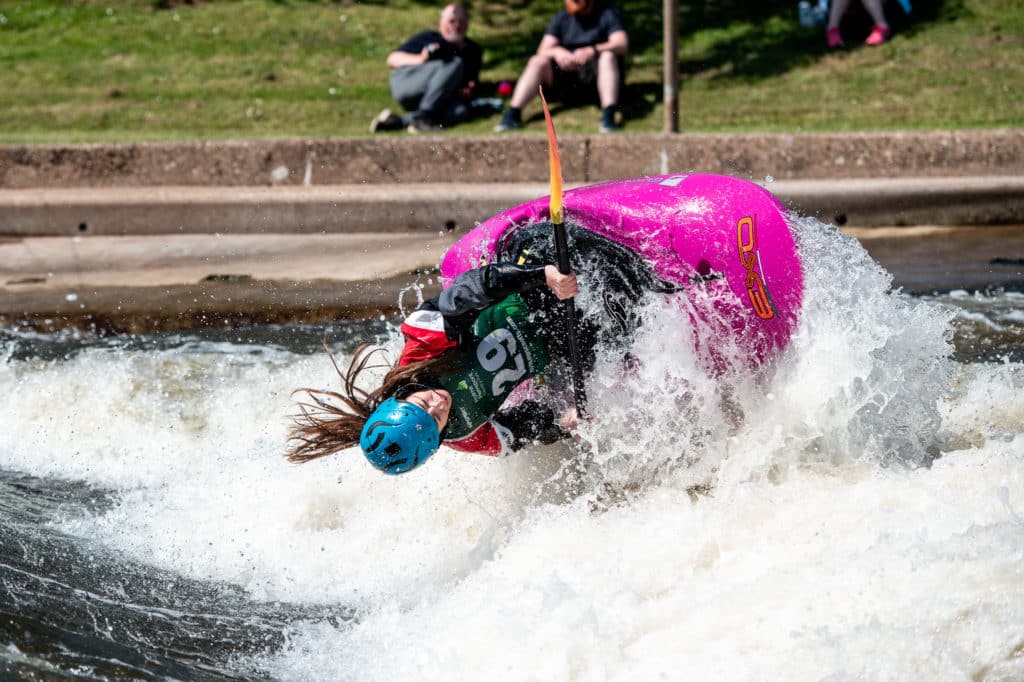 Future plans? My achievements and my plans for future paddling are mainly focused around the next big events in freestyle kayaking. After these world championships are done, there will be the Columbus championships in 2023 which I hope to compete in. There is also a Plattling world championships in 2025 in Germany which would be my first seniors event.
As much as I am focused on freestyle, I also really enjoy creek boating but I don't get as many chances to do this as there is rarely enough rain in the UK to paddle. Over the next few years, I would love to paddle around to well-known paddle spots and maybe spend a couple of months travelling around.
Thanks Niamh for sharing with us! If you want to keep up with how Niamh is getting on with her freestyle goals, you should follow her Instagram which can be found here. See one of Niamh's twin wave videos below!
James Ward
Tell us about yourself? My name is James Ward, I am 16 years old and come from Sudbury Suffolk. I have been kayaking for 7 years and have been doing freestyle since I very first started at Colchester Canoe club. I mostly paddle at Nottingham (HPP) and enjoy playing around in all the features which helps to gain progress quickly.
What does paddling mean to you? For me, paddling means family as I have met some of the most important people in my life through kayaking. Although I find the rush of competition extremely exciting I just love having fun and doing tricks with my friends, and the fact that having fun keeps me physically fit and also helps my mental health.
Thoughts about the worlds? Competing at the world championships has been a dream for me for so many years and now I have the opportunity I'm so happy but I'm also super nervous as it is my first international competition. My aim for the event is to basically do the best that I can as I have tried hard for many years to get to the point that I'm at now.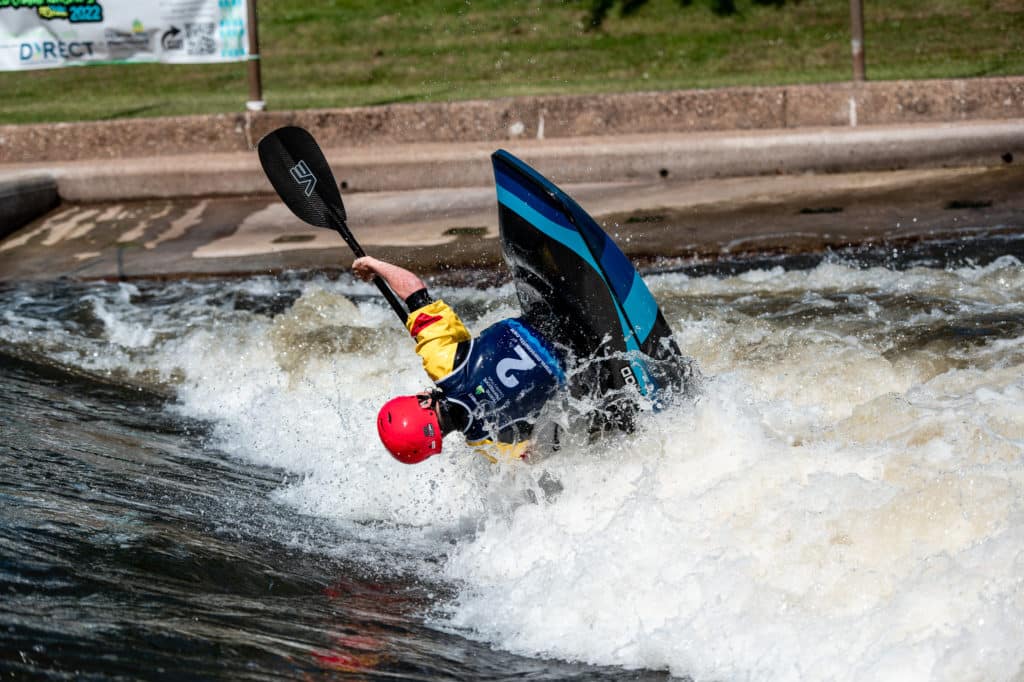 Future plans? My plans for the future are to go to Columbus in 2023 and I also want to paddle some big white water as it's so fun.
Thanks James! If you want to follow James' kayaking journey he can be found on Instagram. See one of his video's below!
Issie Wormall
Tell us about yourself? I am a 14-year-old British freestyle kayaker from London. I have been kayaking for 4 years now and have been paddling freestyle for 3. I had heard about kayaking through my dad who sailed and kayaked as a kid and had suggested for me to try it. My home spots are Lee Valley White Water Centre, Holme Pierrepont (HPP) and when the water levels allow the Thames weirs. Some of my favourite places to paddle are Inlet gate, Makinito, Hurley and Boulters. I have been a part of the GB freestyle academy since 2020 and I am coached by Mike Shaw and Jacko Jackson and have been part of the Burners programme since 2020. My favourite tricks to do are massive loops, mcnastys and back loops.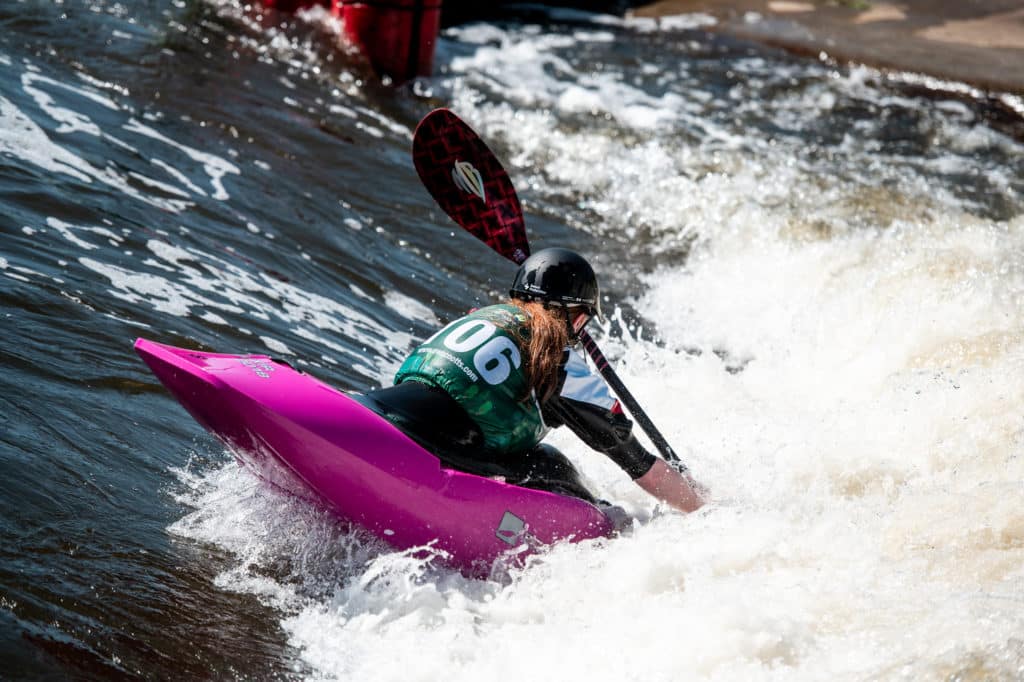 What does paddling mean to you? Kayaking has always been a big part of my life ever since I first started meeting loads of new people and forming some of my closest friendships. The atmosphere and thrill of competitions has always been one of the most enjoyable parts of kayaking for me as it helps to drive me on to improve throughout the sport and become the best paddler I can be. Being able to go to training and watch all my other teammates improve as well as improving my own skills has always elevated the drive to build my skills in freestyle kayaking by getting my tricks bigger, cleaner and scoring.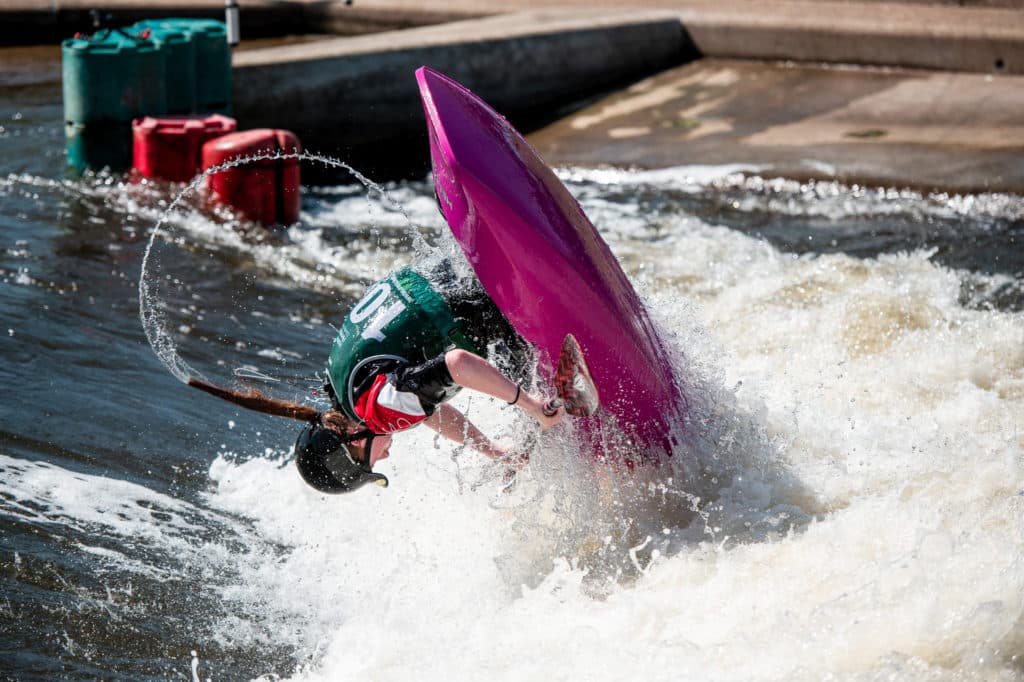 Thoughts about the worlds? For me, this worlds' is a very nerve wracking but exciting experience for me as it is my first international event and only my second ICF competition competing as a junior. As this year team GB are having a home worlds there is that extra eagerness to compete as we have all been training so hard for the event over the last couple of months. I am very excited to meet all the international paddlers this year and watch how everyone paddles. This worlds I am hoping to score at least a 400 point ride and make semi finals and maybe even finals.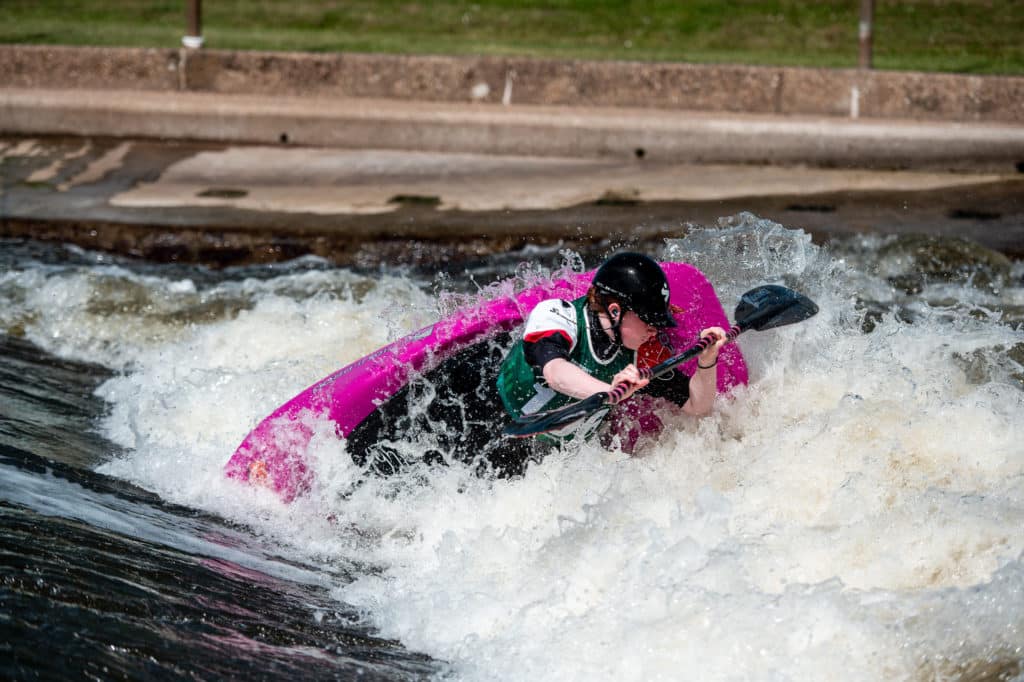 Future plans? In my kayaking I would like to compete in many competitions across the world and start squirt boating and c1 to broaden my skills and try different styles of kayaking. I am mostly focused on freestyle kayaking at the moment but would like to improve on my river-running skills sometime in the future.
Some of my ambitions and goals in freestyle kayaking are that I would like to get at least a 400 point ride at the world championships this year in Twin, Nottingham and make the semi-finals/Finals. To be able to score an over 1000-point ride in an ICF competition in Inlet, Nottingham, by the end of 2023. To be able to place in a podium position or win a world/European championships as a junior woman and to score at least 800 points in one ride under ICF scoring at the Plattling (Germany) World Championships in 2025 as a junior.
Wow – those are definitely some great goals to have! Thanks Issie for sharing with us! Check out Issie's Instagram if you want to follow her kayaking journey!
Timmy Hill
Tell us about yourself? I am a 15 year old freestyle kayaker from the south-west of London. I began paddling when I was 9 years old, I started white water kayaking in a Dagger Dynamo kayak with my dad on my 12th birthday. We took a trip to Wales (Cardiff White Water Centre), where other than nearly giving a raft guide stitches, I had an amazing time. This was where I caught the bug for white water kayaking.
Later I found Westminster boating base which is where I met Mike Shaw who introduced me to freestyle. From there I slowly progressed until I joined Burners which is when I really started to take freestyle seriously. This is when Issie persuaded me to try for the GB team.
From this point on Jacko, Mike and Mayo have coached me and helped me to prepare for the British Championship, which was like a trial run for GB selections. At this event I came 5th and from then on I realised I could actually go somewhere in freestyle. So I went up to Nottingham every weekend and trained as hard as I could. At selections I came third and qualified for the GB team.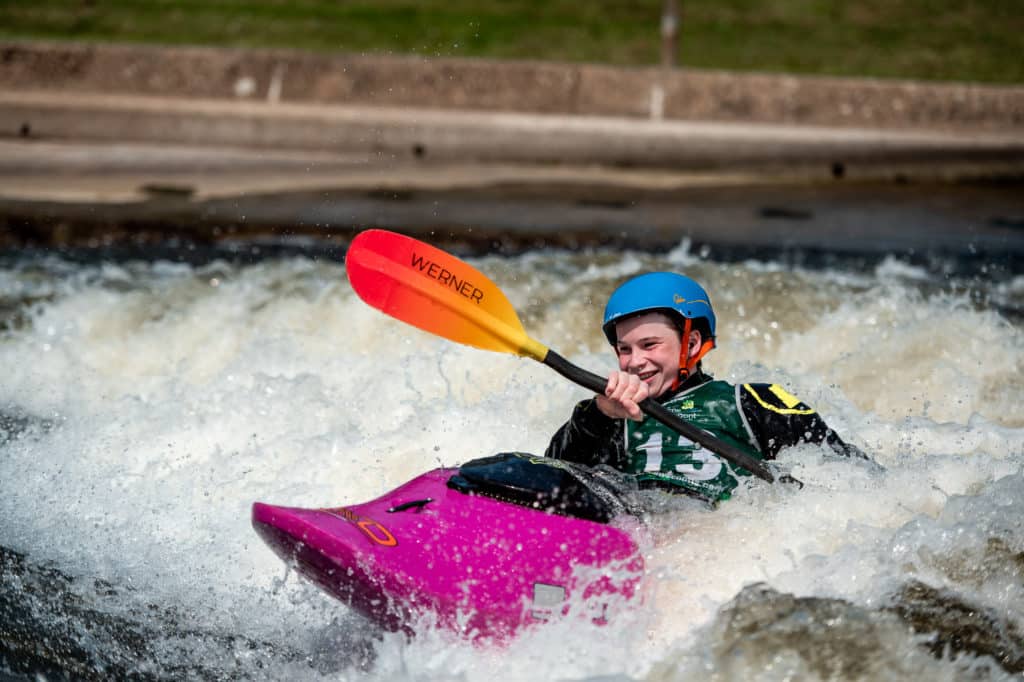 What does paddling mean to you? I love freestyle because of the amazing people and places I get to meet and go. I love being outside and especially in the water. And the feeling of flying through the air is like nothing else. Part of the reason I love freestyle so much is how forever progressive it is as there is always something to try or learn. When the water levels allow, I love to paddle on the Thames weirs and of course at Nottingham.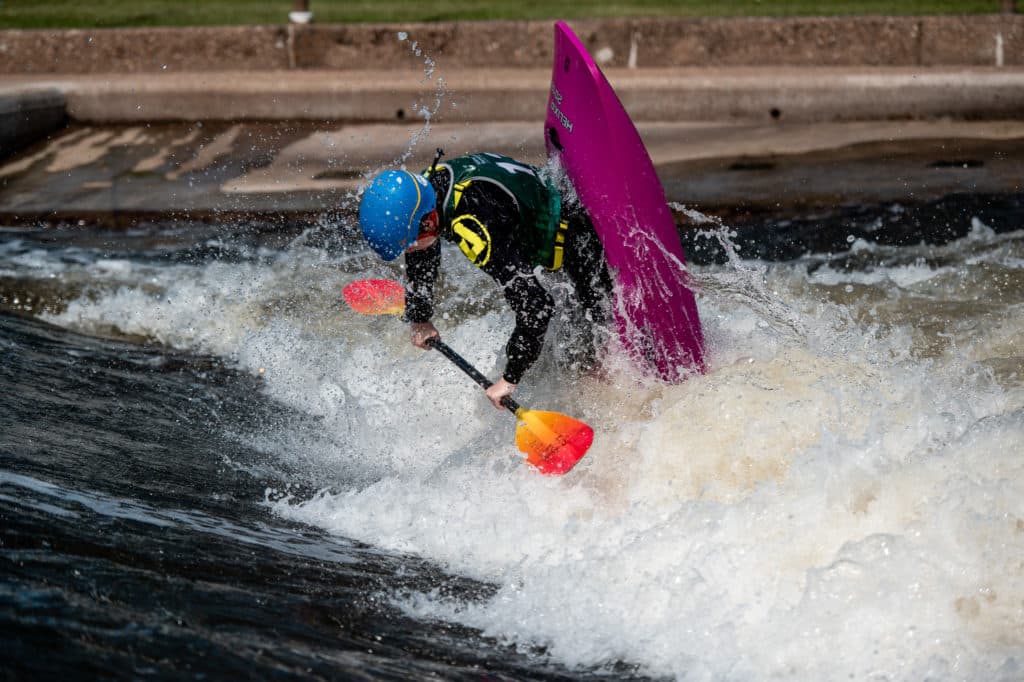 Thoughts about the worlds? I'm super excited for the world championships this year although I am slightly nervous for the actual competition. I am really enjoying the challenge of preparing and training though. I'm hoping to meet a bunch of new people and catch up with some old friends and really enjoy the entire festival and make some unforgettable memories!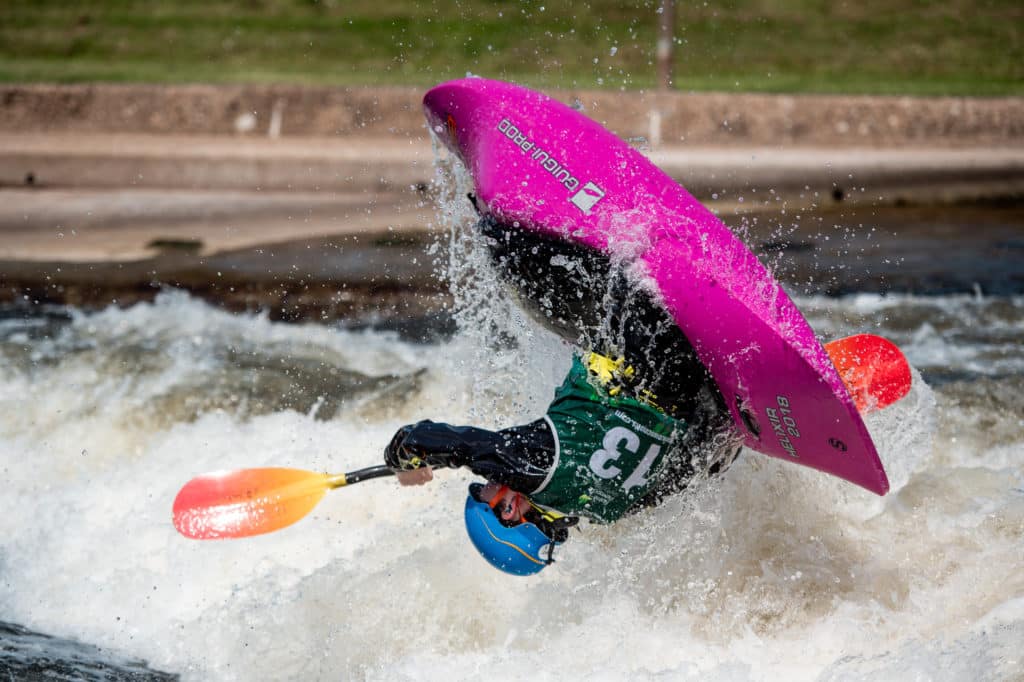 Future plans? My short term goal is to break the 1000 point barrier as this will push me to train hard and develop my skills. Being a UK paddler I am slightly daunted for the wave worlds next year but am enthusiastic to learn more about wave paddling. I am super excited for worlds this year and for all that is to come with competing internationally throughout the foreseeable future. If you'd like to follow me pursue my paddling dreams follow me on Instagram!
Thanks Timmy!
Hopefully, this article has given you a little glimpse into the lives of some of the members of the GB junior freestyle team. If you would like to follow the progress of all the athletes competing in the worlds, it is worth following the ICF freestyle page for updates before and during the event.
Good luck in particular to Niamh, James, Issie, Timmy and the rest of the GB team!