Why do people take part in freestyle kayaking? Quite simply because it is fun. As the 2022 freestyle kayaking world championships are kicking off, there is a huge amount of excitement in the paddling world about freestyle kayaking right now. With such a strong focus on the championships and the talented athletes who are competing, it would be easy to forget that this is just one layer of the freestyle kayaking community. But freestyle kayaking is for everyone, no matter your ability. It is a sport for anyone who wants to have fun.
Prior to the start of the world championships, the International Canoe Federation (ICF) organise a development freestyle camp. This development camp is a fantastic 6-day camp aimed at developing aspiring freestyle paddlers. In this article, I want to share with you what happens during the development camp and why it is so important for the growth of freestyle kayaking in the wider community.
What is the freestyle development camp?
The development camp is run by the ICF every freestyle world championships. It is a coaching camp which runs the week before the main competition week. The aim is to develop the participants paddling and to help them to build confidence. The camp allows them to gain experience in a supportive environment. Hopefully, the skills and confidence they gain over the week can then be transferred when in a future competition setting or when paddling for fun!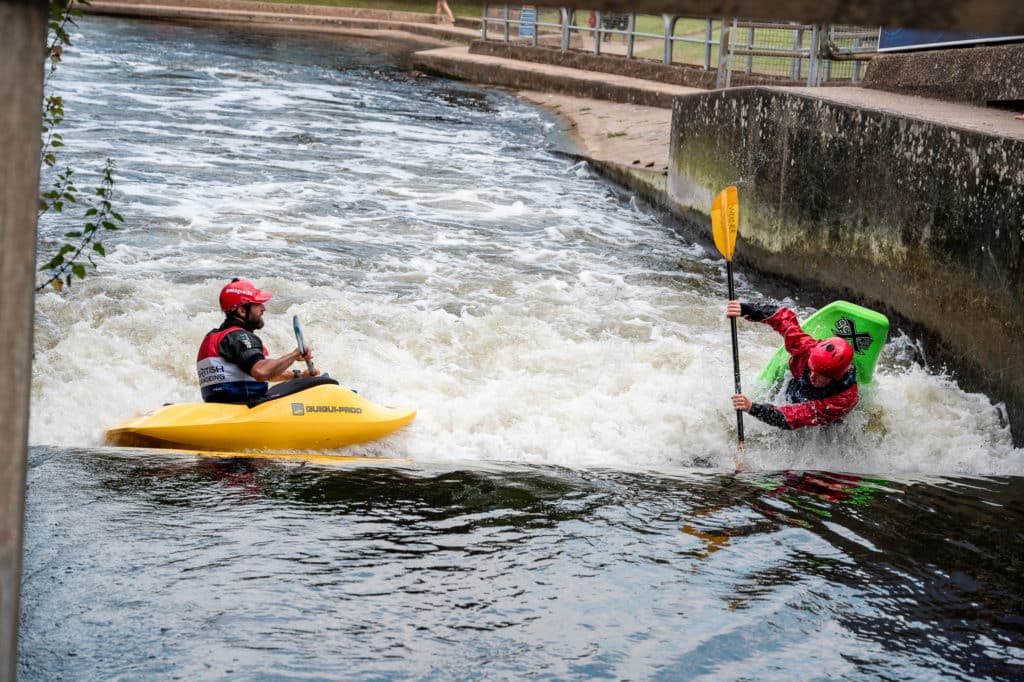 This year the focus of the development camp has been on the development of juniors and of women's c1. As this is the first year that c1 has been split into men's and women's categories there has been a real focus on the development of women's c1. There is a growing interest from female paddlers from both freestyle and non-freestyle backgrounds in paddling c1. It is clear that this is an area where there is plenty of room for growth both in terms of participation and development of current c1 paddlers.
This year on the camp there were 7 junior women, 9 junior men and 8 c1 senior women involved in the development camp. 24 paddlers from 11 different countries!
Why run it?
Every athlete competing at this world championships started off as a beginner. And if you ask them why they paddle – most of them will tell you they kayak because it is fun or they will tell you about the brilliant community that surrounds freestyle kayaking.
As with any sport, participation is like a pyramid. Yes, there is that top elite layer of paddlers who are pushing the boundaries of what can be achieved. But underneath that top layer, they are many more layers. These layers cover a whole range of abilities and in order to sustain a sport, you need participation and development at every layer of the pyramid. And for those two things to happen, you want people to experience the joy of freestyle kayaking.
The ICF care about participation and they care about growing freestyle kayaking. They run the development camp to share the love of freestyle with aspiring paddlers and to help those paddlers develop. Over the 6 days, the aim is that every participant involved will feel that they have made progress and enjoyed their time on the water.
The ripples of positive effects following the camp are huge. Each paddler who has been involved has been given the opportunity to form close friendships within the freestyle community, many of which span internationally. Helping paddlers to access that community is vital to keeping paddlers engaged in the sport.
It also inspires others. Both for existing paddlers to inspire them to either try freestyle or to wish to develop freestyle. Or for people who have never paddled before to give it a go! After all – freestyle looks cool!
The coaches
The development camp this year was delivered by three main coaches; Jon Best from Rapid Horizons, Dan Daley from Rock The Boat Activities and Chris Brain from Chris Brain Coaching. There were also a number of guest coaches who deliver individual sessions across the week including well-known names on the international paddling scene such as Eric Jackson (EJ), Lowri Davies, Bartosz Czauderna, Jordan Poffengerger and Mike Shaw!
Each of the coaches mentioned above are well known and highly respected in the paddling community. Importantly each of the coaches is hugely enthusiastic both about kayaking and getting people into kayaking! They want to give back to the sport and this is a testament to the amazing community and culture there is around freestyle.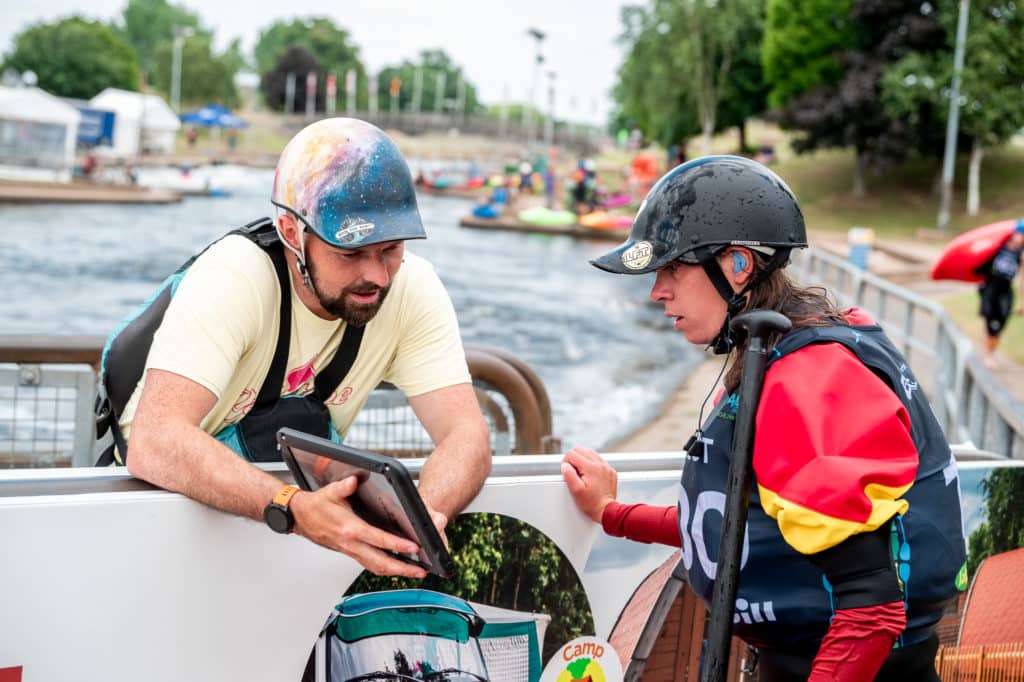 Here is what EJ had to say about his experience as a guest coach.
'I had 2 coaching sessions starting with a group of kids. The cool thing is that all the kids were keen, eager and super fired up. We did flat water and they could have been like 'flat water – we are freestyle kayakers and we want to go on the white water'. But we worked on the basics and they were super fired up. These kids are definitely going to be amazing paddlers – you can tell. The most fun for me was the fact that they were so eager to do the flat water training with me. It's kind of like saying you got to eat your vegetables before you get your dessert. That was super cool.
'Then I had a c1 ladies class which was on the other end of the spectrum. They were all adult ladies but super fired up to learn new stuff and it's just so much fun to have people who are that fired up to learn stuff!'
Thanks EJ! Think that summarises how keen and 'fired up' all the paddlers were all week! And no doubt were very excited to be coached by such a fantastic group of coaches!
The participants
I caught up with some of the participants in the development camp to hear from them what their experiences of being involved in the camp were like. Their thoughts are shared below.
Sophie Macken – Junior women
If Sophie looks familiar to you, it might be because she is the younger sister of Niamh Macken who is on the junior women's team. With her older sister as a role model, it is no wonder that Sophie has found a love for freestyle kayaking. At 12 years old, she is the youngest member of the development camp this week and here are her experiences.
'I was quite nervous at the start of the week as I didn't know anyone. But as soon as I met other people who were involved I felt much better! This week has been amazing and I think I have progressed a lot. At the start of the week, I was struggling to stay in Inlet as I kept flushing. And now I am going for loops in Inlet!
'I have also taken part in all 3 of the world freestyle league events which were run by Ibbo. I was in the 200 points category and I won each of the events. I ended up winning overall which was amazing. It was really cool to compete alongside people like Hitomi who is an amazing Japanese paddler.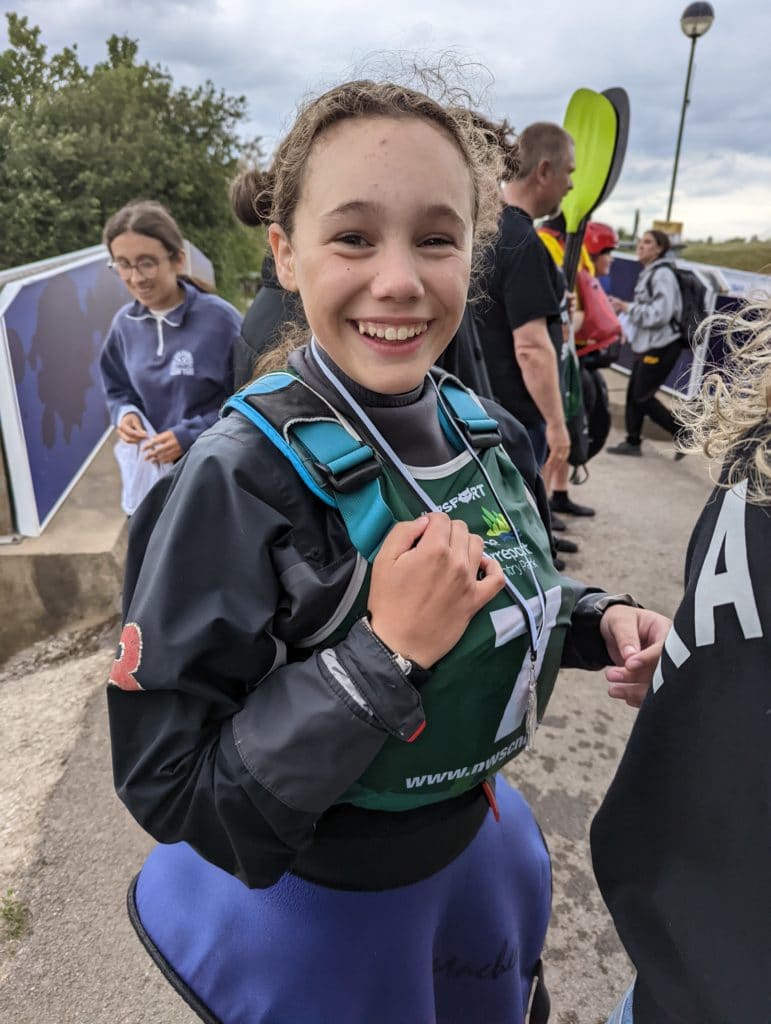 'I think I have made loads of friends this week and I've just enjoyed it so much. I do a lot of swimming (in a pool – not out of her boat!) as well but I now feel really committed to keep doing freestyle kayaking. My aim is to join Niamh on the team.'
Luci Ha – Women's C1
Watching Luci paddle really is a glorious thing! Luci is part of the German team and paddles both c1 and k1. She has been part of the development camp focusing on ladies c1 and here are some of her thoughts about the week.
'The best thing about this week has been the coaching, particularly on the water. The most useful thing has been working on fundamental skills such as spin and how to move around in the feature. There are lots of little tricks for how to do this in a c1 and those have been really useful to learn.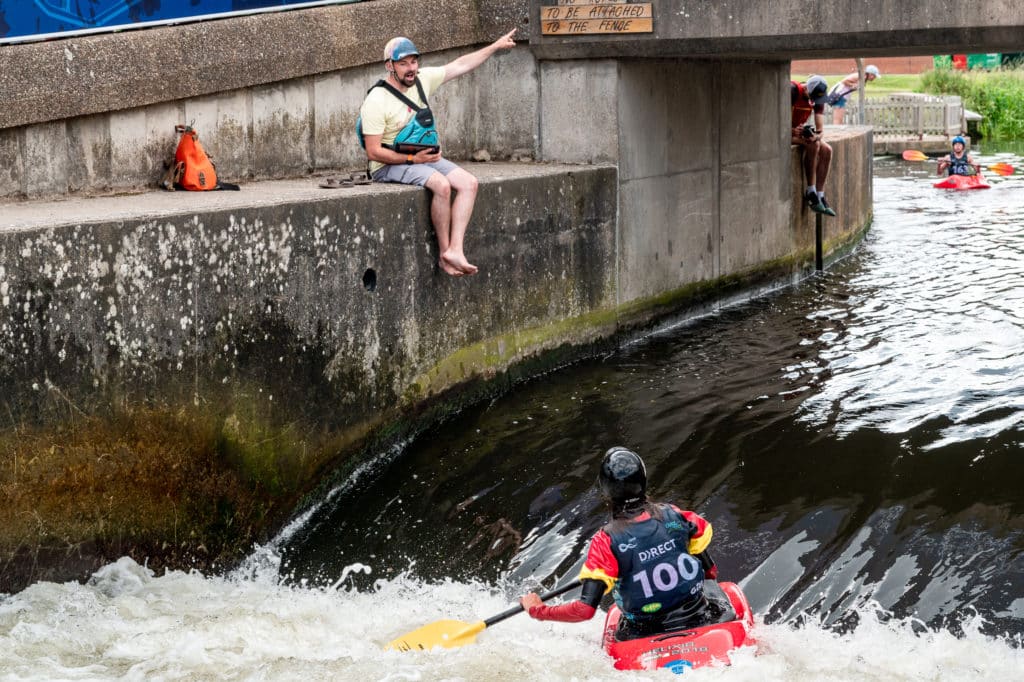 'I feel I have made progress this week and I am happy to have learned a nice loop! Not just falling over my boat. We have also worked on wave moves and it is nice to have learned how to do spins and shuvits in waves and not just do them in the holes.
'I started c1 for the new challenge that it would give me. I enjoy kayaking and I wanted to learn the tricks in a c1. I found the progress in my c1 was actually a lot faster than in my k1 and I really enjoyed making that progress.'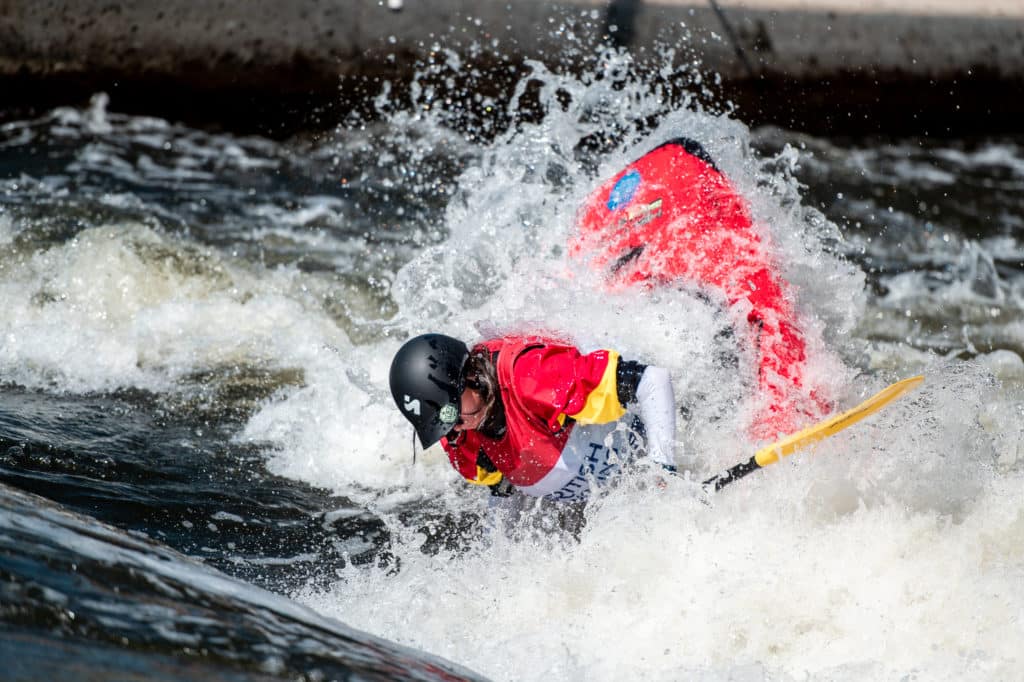 Holly Reppert – Women's C1
Upon meeting Holly this week, who is a member of the US team, I was completely taken back by what a happy enthusiastic soul she was! I said to Chris Brain after I met her – she is like a US equivalent of Sal! All of the energy and all of the smiles! Here is what Holly had to say:
'We spent some time outfitting our c1s this week and it was really cool to see a group of people get together and nerd out over outfitting. Everybody outfits their boat so different and we could all bring different aspects to the conversation, particularly around the safest way to do it. It was good for people to learn about a quick release and make their boats safer.
'I also didn't think I could add more to my boat to give me more boat control. But it made such a difference the next time I got in the hole and I was able to throw tricks that I didn't think were possible. The amount of women who were willing to give all of this foam so that everybody could have the best boat possible was amazing. Instead of women competing against each other, women were coming together. C1 women freestyle I never thought would be a thing. Now it is a thing and we are all friends!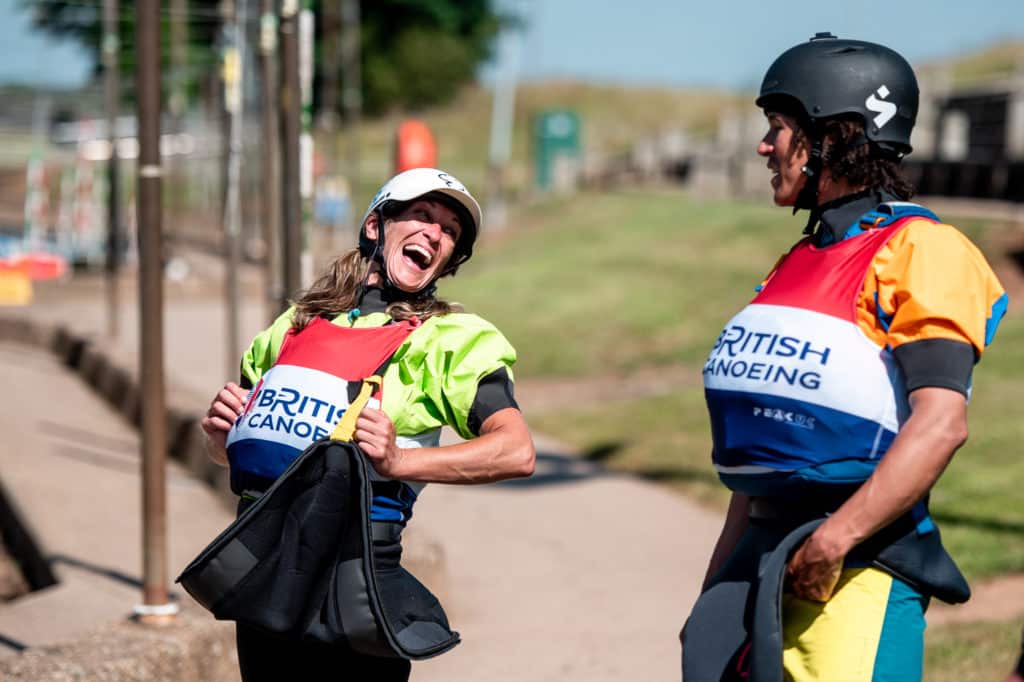 'I was attracted to c1 because it was one of those things where they said if you want to make this happen you have to get people who are willing to do it. Once I realised that all of these women were stepping up to make it happen and if I wanted to see the sport grow, I also had to give it a try. I never in a million years thought I would enjoy it as much as I do.'
Mads Barwich- Junior Men
Mads is a 14 year old German paddler who has already established himself as being one of the most enthusiastic paddlers this week at HPP. He has been fully committed to his paddling and made the most of his time at the development camp. Here is what he had to say:
'I came to the development camp because I wanted to become better at paddling and also to make new friends. The people here have been great and the paddling as well. Paddling is always good! I am most happy with getting a mcnasty in Inlet which I had never done before. I also took part in the world freestyle league and won 2 out of 3 of the events. Overall I won the 500 points category which I was happy about. I have had a very good week here!'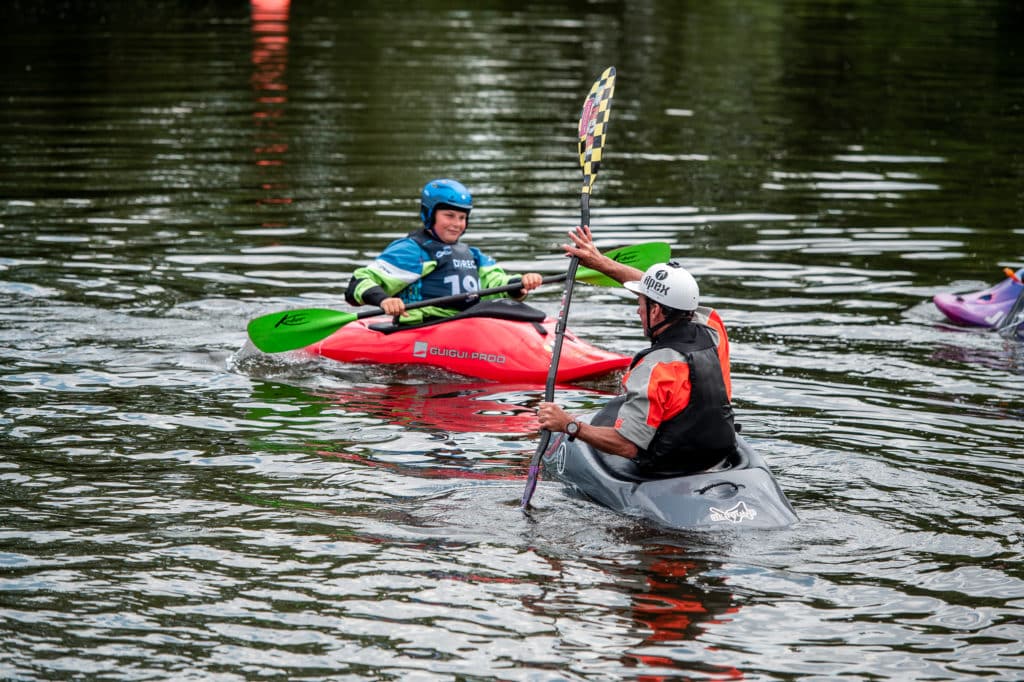 Final thoughts
Despite some additional challenges, the development camp was a great success this year. It was clear talking to the participants that they had all had fun, made progress and made friends. For a sport to grow and to flourish, these are three fundamental things you want to be happening. It was an absolute pleasure to see so much of the brilliant coaching and development of these paddlers happening both on and off the water over the course of the week.
Big thank you to Dan, Jon & Chris in particular for leading the camp as well as all of the guest coaches who got involved. Their passion for developing the sport that they love was so evident. A huge thank you to everyone at the ICF who was involved in organising the camp – especially Ciaran "kipper" Maguire. And a colossal thank you to all the participants for being fantastic and giving it 100% all week!