Anyone who has visited Holme Pierrepont (HPP) in Nottingham recently will be aware that there is an increasing presence of members of the freestyle community, both from the UK and from around the world. HPP is a world-class freestyle training ground and it is not unusual to find an abundance of playboaters here, especially during the warmer months. But you may be wondering why there is such a high level of activity and growing excitement at HPP right now. If you haven't already heard, at the end of June, the 2022 ICF Canoe Freestyle World Championships are coming to Nottingham!!
The live schedule and results can be found here.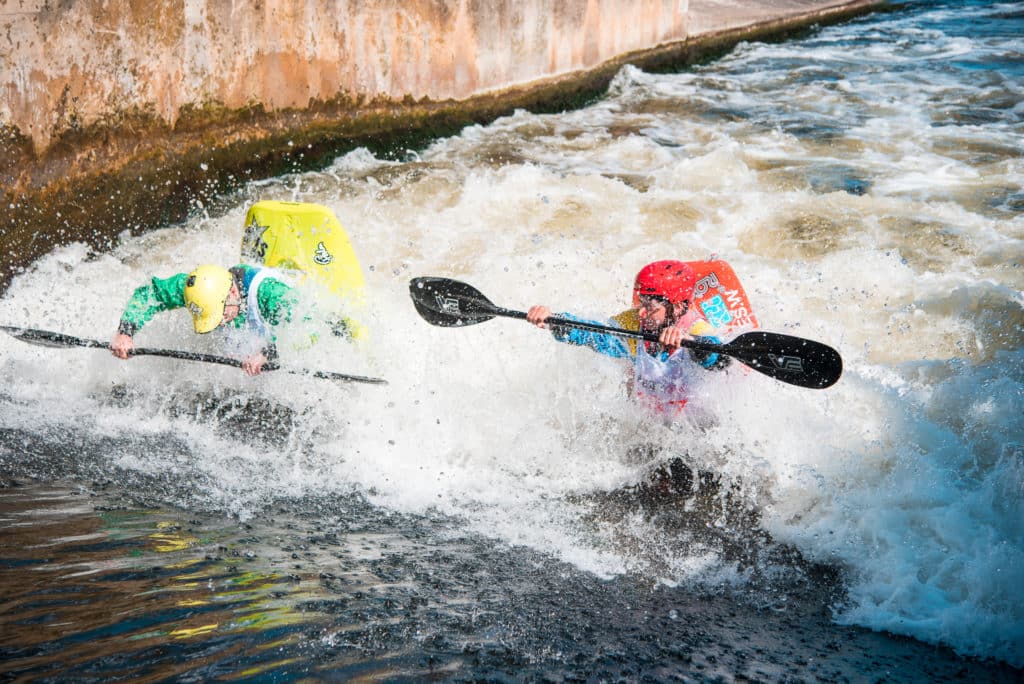 What is the freestyle world championships?
The freestyle world championships occur every two years in a different location. It is the biggest event in freestyle kayaking and a chance for freestyle paddlers to compete at an international level. It was first run in 1991 at the Bitches in Wales and has been running bi-annually ever since!
In freestyle competitions, athletes compete within various categories depending on their age, sex, and discipline. Paddlers have to get through the various heats and stages of the competition and all are aiming to reach the finals of their categories!
The competition is set in one set feature on a river or white water course. During the competition, paddlers have 45 seconds per run. During this run, they are trying to successfully complete as many freestyle moves as possible in order to score as many points as possible. The harder the move or the more challenging the combination of moves, the more points that the paddler can get. In the finals, each paddler gets three runs. Their best single score is taken and used to determine where the paddler is placed.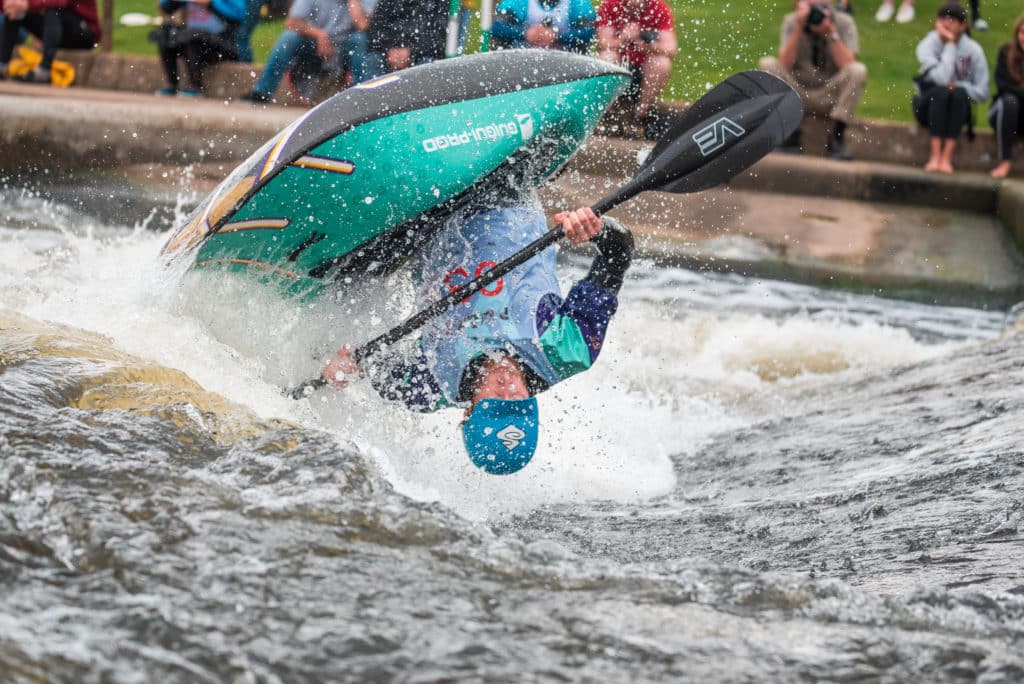 The world's feature for Nottingham is twin wave and you can read a lovely article about this feature written by Rory O'Reilly who will be competing for Ireland this Summer. If you are not familiar with the names of the features at HPP, it is currently the feature with an eddy always full of waiting playboaters!
All the details you need to know
Firstly you can come and spectate if you would like! It is free! The first competition day is on Monday 27th June and the last day is on Saturday 2nd July.
Full Schedule
Mon 27 June 2022 Competition Day 1 (9am-6pm)
Prelims – Women's Squirt (9am), Men's Squirt (10am), Women's C1 (12pm), Open Canoe (1.45pm), Junior Women's K1 (2.55pm)
Tues 28 June 2022 Competition Day 2 (9am-7.30pm)
Prelims – Men's K1 (10.10am-3.30pm)
Semi Finals – Women's C1 (9am), Women's Squirt (4.40pm), Men's Squirt (5.40pm)
Wed 29 June 2022 Competition Day 3 (9am-7.30pm)
Prelims – Men's C1 (9am), Women's K1 (11am-2pm)
Semi Finals – Open Canoe (2.35pm)
Finals – Women's Squirt (4pm), Men's Squirt (4.50pm)
Thurs 30 June 2022 Competition Day 4 (9am-7.30pm)
Prelims – Junior Men's K1 (9am)
Quarter Finals – Women's K1 (12.15pm), Men's K1 (3.25pm)
Finals – Open Canoe (6.45pm)
Masters World Championships
Fri 1 July 2022 Competition Day 5 (9am-6pm)
Semi Finals – Men's C1 (9am), Women's K1 (12pm), Men's K1 (1.15pm), Junior Women's K1 (2.30pm), Junior Men's K1 (3.45pm)
Finals – Women's C1 (5pm), Men's C1 (5.40pm), Masters World Championships
Sat 2 July 2022 Competition Day 6
Finals – Junior Women's K1 (1pm), Junior Men's K1 (1.50pm), Women's K1 (6.10pm), Men's K1 (7.10pm), Masters World Championships
Keep an eye out here if there are any changes to this schedule.
There is also an opening ceremony on Sunday 26th June to start off the week and a closing ceremony the following weekend to end it.
New for this year
Without a doubt, the most exciting change for this year is the introduction of women's C1. In previous years C1 has been a mixed category but with more women taking up C1 freestyle there is the demand to have two separate categories within C1 for women and men. We are all excited to see who will take the first win in this category! Have a look at GB paddler Ottie training for C1 in her video below.
Other events you should be aware of
As well as being able to watch the world's best freestyle paddlers competing it out over the course of the week, there are a number of events being run. Perhaps most excitingly is the festival of paddling which is a whole bunch of water-based activities and friendly competitions being run during the main competition week. Let me tell you about a few of them!
First is the introduction of the Masters category which is aimed at the over 40s. This is an additional event that will be running alongside the main freestyle competition. There are three categories within this; 40-49 year olds, 50-59 years olds, and 60+ year olds. Winning paddlers from each category will then compete in a super final in which the ultimate freestyle master will be crowned.
One event that will definitely draw a crowd is the world's biggest loop which will be held in Inlet gate. There is nothing that gets a crowd going like a big loop and is a favourite amongst spectators. See the video of GB paddler Sam Wilson below if you are not sure what a loop is.
What is better than someone looping you may ask? Two people looping! On the Saturday there will be a synchronised freestyle competition in which two paddlers will need to perform freestyle moves in time with each other in order to score points. You know it is going to be big!
One last event specifically aimed at paddlers that I want to highlight is the world backyard freestyle competition. This is an event that can be entered by anyone from around the world. It is a chance for you to show off your flat water moves on your home play spot. You need to submit a video before the 17th of June and videos should be around 45 seconds. Entries will be based on skill and entertainment values!
Finally there are various events that all can get involved with. There are opportunities for school groups to try out kayaking all week and chances for companies to get involved in dragon boat racing. Just check out the festival webpage for all the details!
Hopefully, that has helped to get you excited for this event! So do get involved – whether that is on the water yourself or through supporting the competitors! Less than 2 months to go! If you would like to volunteer to help with the event do sign up here.