Today I took a playboat down my local white water course, HPP, and enjoyed every minute of it. That may not sound like much but it is a huge deal to me. A year ago, for a combination of reasons, I completely lost my confidence. Specifically my confidence whilst paddling a playboat at HPP. It has taken me a year to find that confidence again.
I wanted to share my experience through this blog. Perhaps this article will help someone else who is feeling the same. I hope at the very least that if future me ever gets myself into this situation again – reading this article will help me!
Why did I lose my confidence?
March 2020 I was paddling better than I ever had before. We had experienced an extremely wet UK winter and I had been out on the rivers chasing the rain pretty much every weekend. I felt confident and like I was absolutely smashing it.
Then the first lockdown came and with it no paddling at all. I did buy a playboat during this time from the lovely Jake at Flow Kayaks who was selling off his demos. A few months later I was able to try this playboat out as HPP reopened. I was so nervous getting back on the water again but after a few wobbly sessions I was feeling good. 2 months of regularly being in a playboat at HPP and I was feeling super confident. I then had a great summer of boating and one of the best Scotland paddling trips ever. I felt great.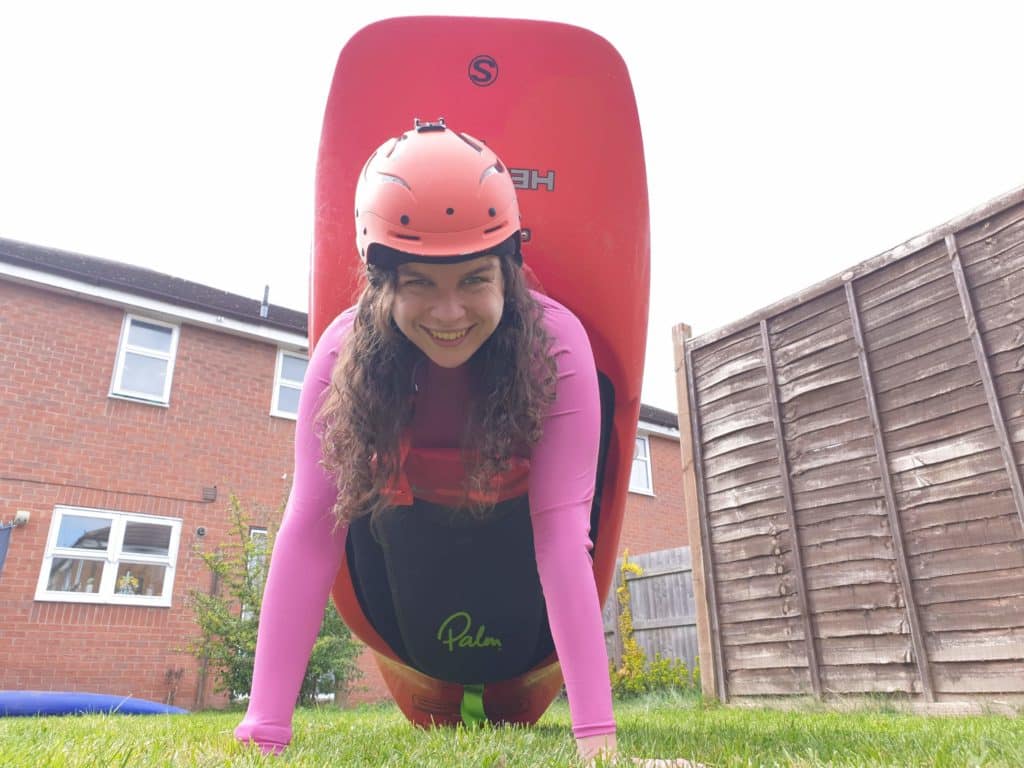 Then the big winter lockdown came in the UK. Whilst I was doing a huge amount of flat water paddling in preparation for a 24 hour charity challenge, it wasn't the same. I essentially lost a winter of paddling rivers and my white water skills reflected that. But when HPP reopened after Easter again, I made myself get back on it with my playboat and I felt good.
That is until I didn't. Early Summer 2021 and I was trying so hard to learn to loop. I have always been a slow learner and whilst I felt I was making progress, I just couldn't finish it. So close and yet so far! People were so encouraging but with every 'got that loop yet?' came a little bit of sadness that no, I hadn't.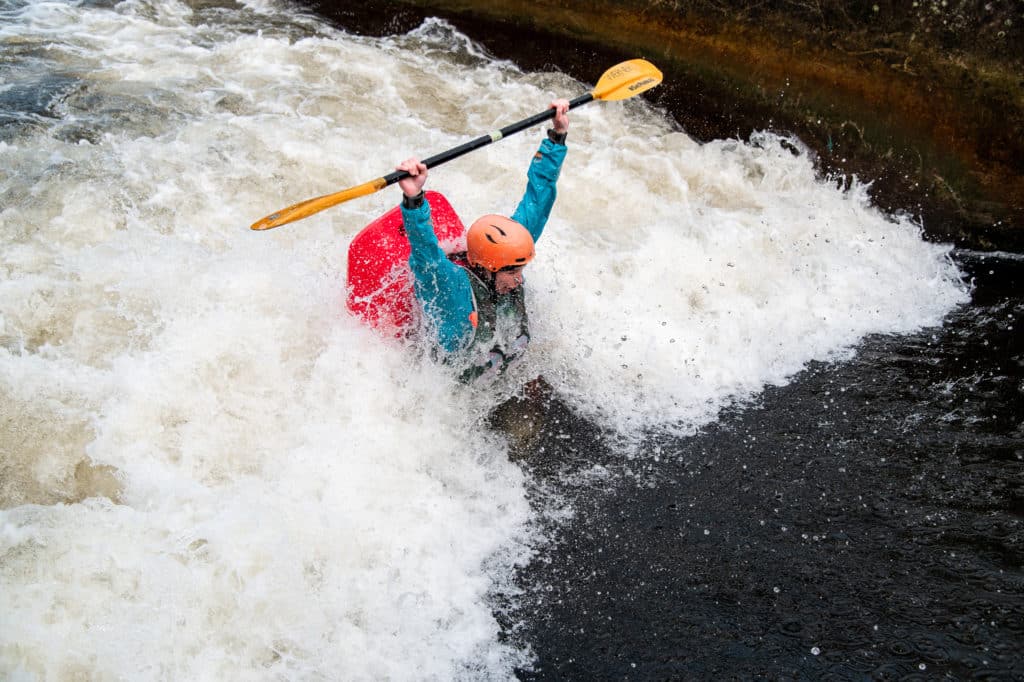 Usually I wouldn't be bothered by that kind of thing but I happened to also be having a massive confidence dip in my personal life. I was at the point of quitting my job and feeling pretty unhappy and lacking in confidence. I kept going kayaking because I felt that I should and not because it was making me happier. This was probably my first mistake. I was so stressed and distracted that I was struggling to enjoy my playboat sessions. Kayaking for me has also been a way to look after my mental health, so the fact that my life circumstances was negatively impacting on my kayaking was frustrating to say the least.
Then one session, following some big outfitting changes, I had a swim. It had been SO LONG since I swam at HPP that I forgot how to swim! I was so surprised and put it down to a fluke/being tired/changing my outfitting. I laughed it off – it genuinely didn't bother me.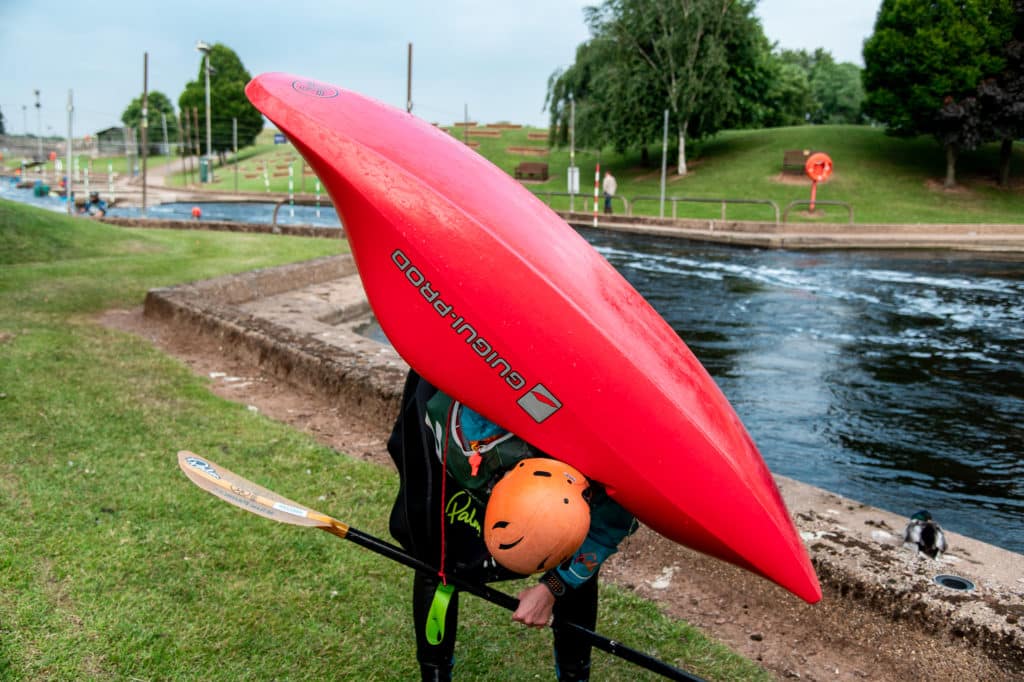 But then came the next session at HPP (where I still wasn't looping). I capsized and failed a roll. Normally this wouldn't bother me and I would just set up and try again. This time though, my first thought was 'you are going to swim'. That set in the panic and you can guess what happened next – I swam!
4 sessions and 5 swims later, I am not feeling great. Rather than look at it rationally and see just how tired and stressed I was and that this might be affecting my paddling – I took it as proof that not only was I terrible in every other aspect of my life but also the worst paddler in the world. It sounds ridiculous but in those few weeks I was convinced that I was a fraud and the last 5 years of kayaking had been a fluke. All those rolls and near loop attempts were imagined – all I was capable of was swimming. I was not in a good mindset and I didn't know how to get myself out of it.
I didn't go to HPP for 6 weeks.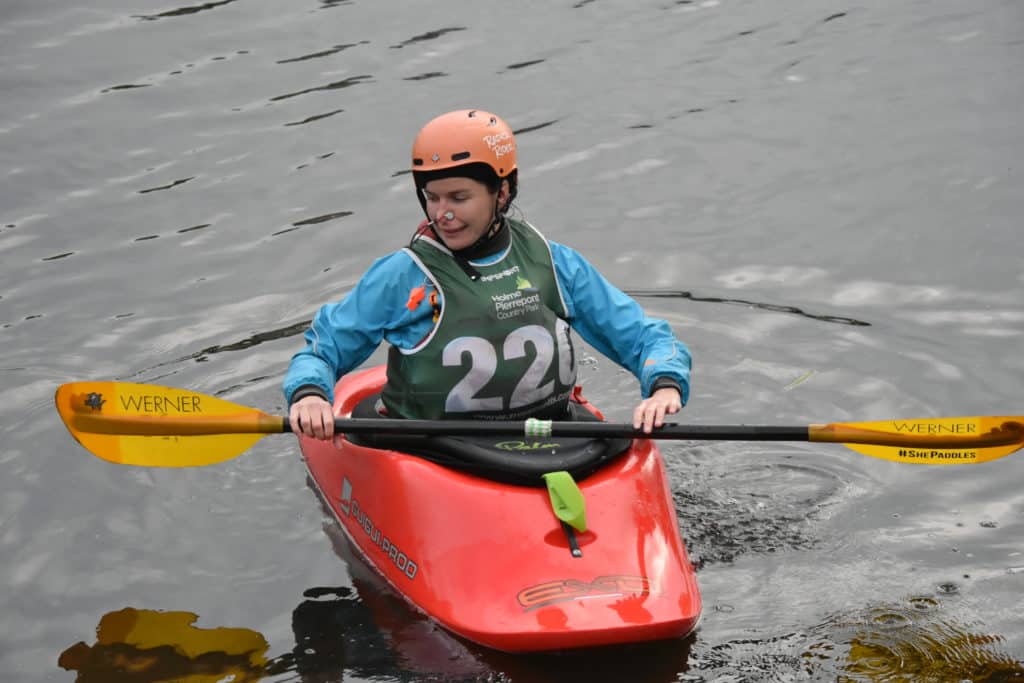 Getting back in a boat
The hardest thing after a fall is to get back on the horse or in the boat so to speak. I was in such a bad head space for HPP (and weirdly nowhere else! I was happy as anything at the Tryweryn!) that I decided I needed a break. I took 6 weeks off and paddled anything but HPP. I took some time to rethink my paddling and identify the barriers that were holding me back.
The biggest realisation I had was that I wasn't having fun when it came to HPP. Which is mad because I have always LOVED paddling and HPP! I could not tell you the session where I stopped having fun but at some point I had.
So the solution seemed simple – have fun at HPP in whatever way necessary. I realised that I had got it into my head that if I came to HPP then I had to be focused on freestyle. But actually I could come to HPP and treat it like a river if I wanted to – so I did! My first session back in September I took my beloved Pyranha Zone. I caught every eddy and boofed every wave/hole but strictly no surfing. And I enjoyed myself. I started coming to HPP again in a kayak and treated it like I would a river. I realised that I could enjoy being in a boat again. Eventually I even started surfing in my Zone again and remembered just how fun it was.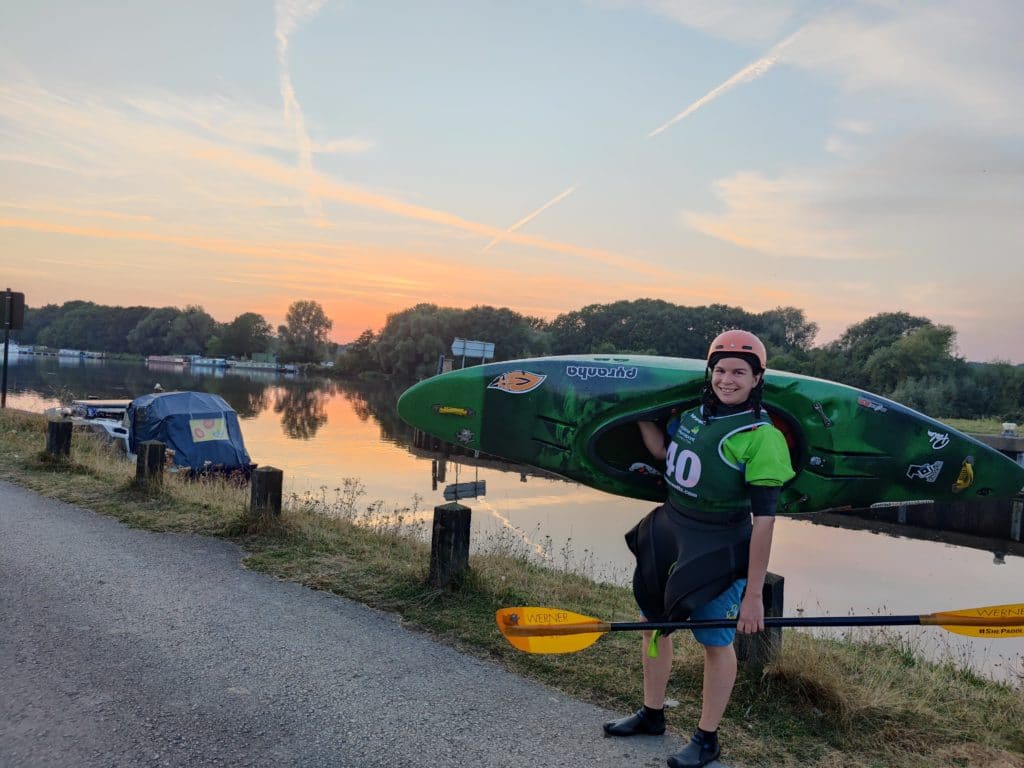 I took up other white water activities and found my love of white water again. I would go along to raft training and even brought myself a white water SUP. White water SUP in particular is really hard. And that means that EVERYONE swims ALL OF THE TIME! I wasn't scared of swimming at all when on a SUP and actually found a real love for white water again. I felt like I was making progress with my SUP and felt motivated to go to HPP as often as possible. Every session was fun and SUP has really helped me to find my love of HPP / white water again.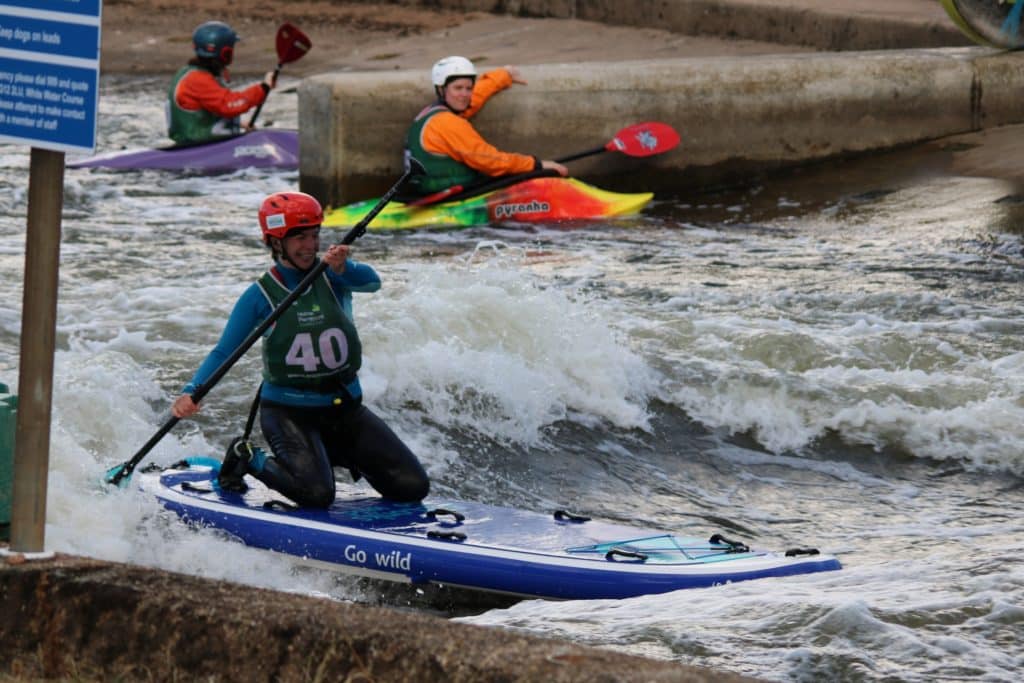 But when I did get back in a playboat again with some friends in April, I still couldn't relax. I got down the course, and even surfed a few things, but felt on edge and didn't enjoy it as much as I thought I should. I was happy to have paddled it again but found that the playboat stayed at home.
Inspired to get back in the playboat
Then the world freestyle kayaking championships came to Nottingham. For months HPP has been full of international athletes training for and then competing in the world championships. I had been asked to write a few articles for the ICF around the worlds and so spent a huge amount of time down at HPP. And do you know what I noticed the most during this time – how much FUN everyone was having in their playboats.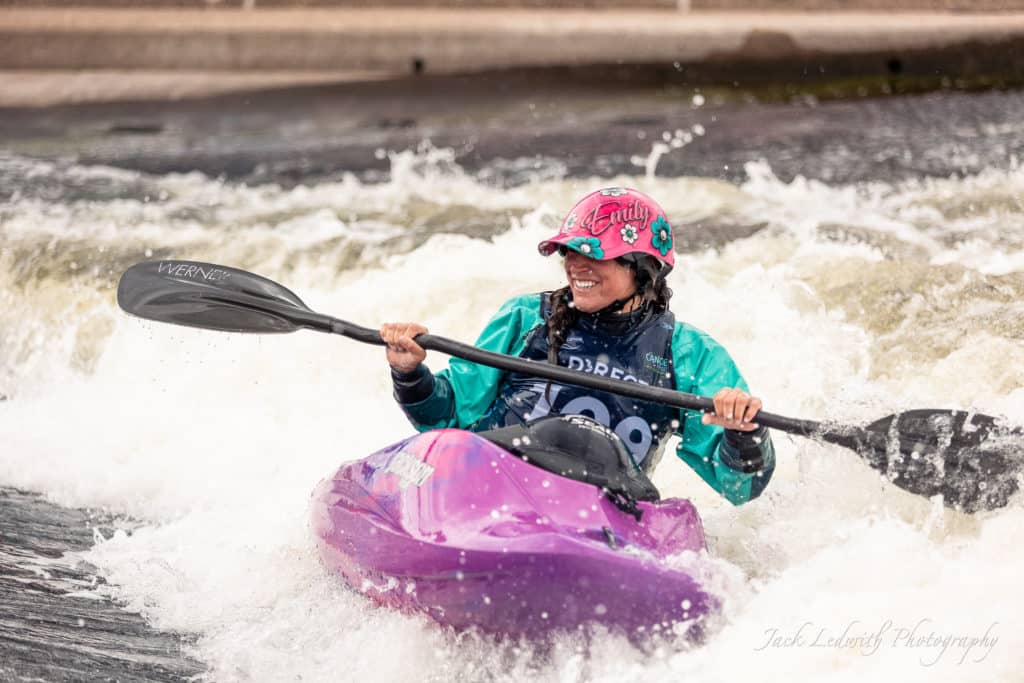 Yes, people were taking training and the competition seriously. But they were also having so much fun. Watching brilliant competitors laughing and smiling during the competition week was so refreshing. People were so encouraging of one another and the whole atmosphere was incredible. There was no judging of others when things didn't go to plan but instead an overwhelming sense of community support for everyone. I watched the worlds and remembered how much I had enjoyed being in my playboat and trying new things. I remembered how good it had felt when I had made just a tiny bit of progress. I wondered why I had allowed myself to stop going. And so I decided to do something about it.
That first session
Once worlds was over and I had caught up on some sleep – I decided it was time to get the playboat out and go down to HPP. Today, with the motivation of a heat wave, I paddled 3 times at HPP. In my scorch, in my playboat and on my SUP. I loved all 3 sessions.
Before I went down in my playboat I had made sure to let my lovely friend Nathan know just how nervous I was. He had agreed to be there for me because he is a lovely human being and a good friend. I had a quick roll check at the top – absolutely fine. Then down into inlet I went. Side surfing (and rolling) on both sides, pulling myself out and back into the hole when I chose to and a pretty decent loop attempt. I even got some cheers from a couple kids watching on the side. Nathan meanwhile was laughing and so supportive – 'you don't even need me – that was great!' We had another go in inlet then went down the rest of the course.
I wasn't at the point where I was a year ago. But I felt (mostly) in control, I was able to roll and not swim, and I got a couple of great surfs in. I had forgotten just how amazing surfing in a playboat on jaws/fairy wave felt! It was just so joyful.
'I would not have known you hadn't been in your playboat for a year if you hadn't of told me so many times today' Nathan commented at the end. And it's true – I felt absolutely fine. More than fine – I felt happy and confident! Realising I had never lost my skills – just my confidence felt both amazing and also sad today. I've not paddled my playboat for a year simply because I made such a mental wall against it in my head. But I am determined that that wall is thoroughly knocked down!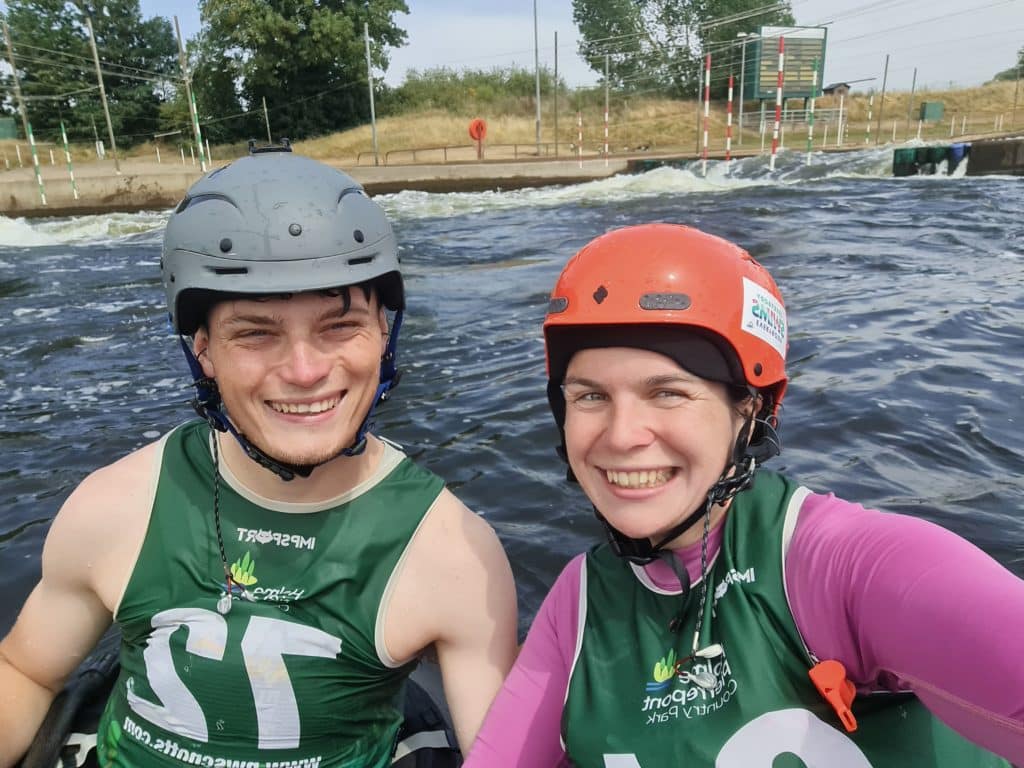 The future is bright
I know it has only been one session but I think this is the turning point. I stopped playboating a year ago because I was having a bad time in other aspects of my life and that was affecting my paddling. Once things in other areas of my life improved, I continued not to playboat because I had lost my confidence at HPP. It has taken me far too long to find it again but I am so glad to have done so.
I have always paddled because I enjoyed it and those feelings of joy in a playboat today were just so pure. So if the trick is to keep having fun then that is what I am going to do. I know I need to go with the right people and also with the right mindset. Only with those two things in place will I enjoy myself. And that is what it is all about. I love kayaking so much – I just needed to remind myself of that.
My aim is to keep it up – in my playboat, in my big boats, on a SUP, on a raft. So please do ask me to come paddling! And hopefully future me, unless she has a very good reason, will say yes.