If you were in Nottingham at Holme Pierrepont white water course at the end of August, you might be wondering why every eddy and every feature seemed to be full of teenagers in playboats. The reason is because the GB Freestyle Academy Camp was happening! This was a camp aimed to improve and inspire young paddlers in freestyle kayaking and something I was lucky enough to be involved in. This article is here to tell you all about it – enjoy!
What is the GB freestyle academy camp?
As you might be able to tell from the name, this was a week long camp run by GB Freestyle which focused on developing junior (11-17) paddlers in freestyle. The core purpose of the camp was for the paddlers who attended to have a great time, to develop their freestyle and other skills and to then leave and continue to grow both themselves as paddlers and freestyle as a sport.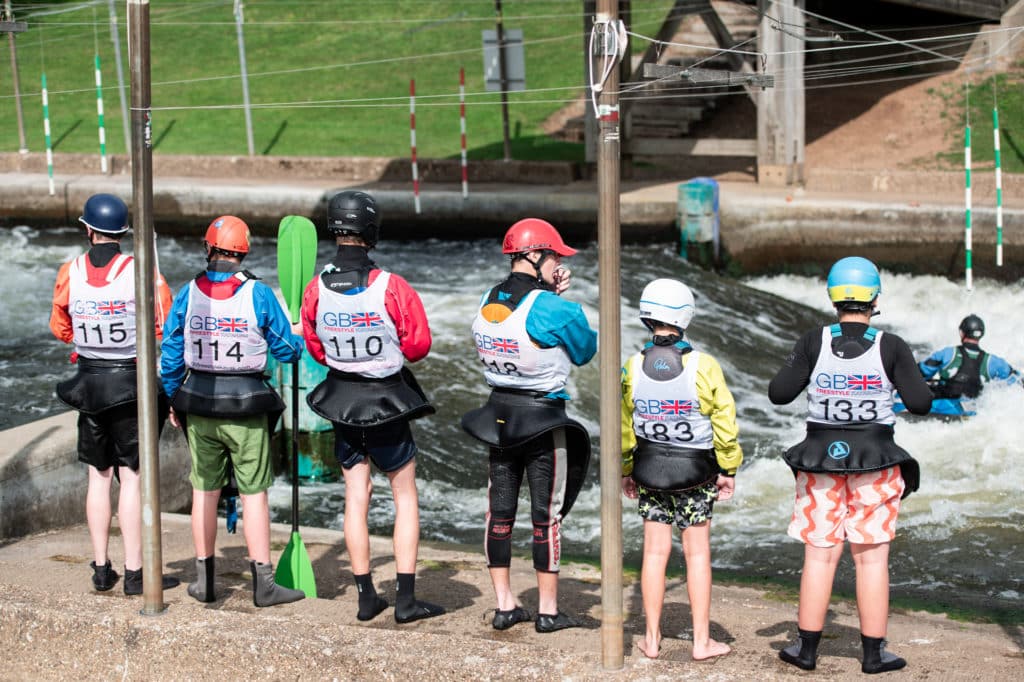 If you asked one of the juniors what the aim of the camp was, they would probably say to improve and develop freestyle skills. If you asked any of the adults, they would have said there are multiple aims such as;
1. For everyone to have fun.
2. To build self confidence.
3. To develop communication and teamwork skills.
Through having these 3 underpinning aims throughout the week, it then catalyses the overall aim of improving and developing freestyle skills.
The overriding goal of the camp is to spread the love of freestyle kayaking as a sport. By nurturing the enthusiasm of these junior paddlers, the hope is that they themselves are then in a position to encourage and inspire others that they know (parents, clubs, school friends etc) to get involved and give it a go!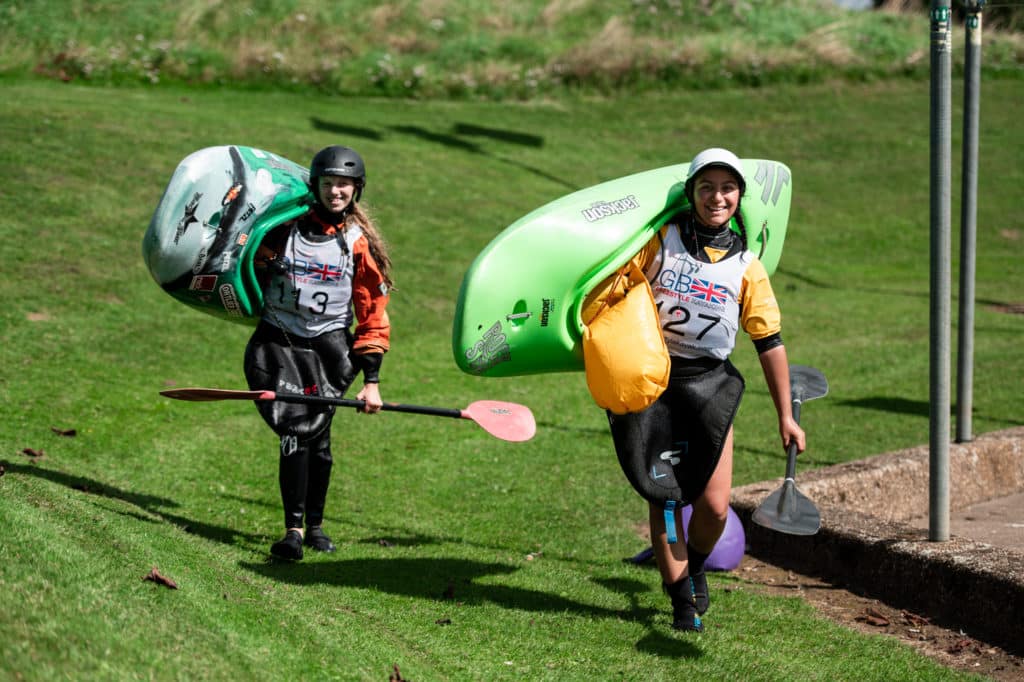 How did the paddlers get on the camp?
Paddlers who attended the camp had to be first nominated by their club and then selected by the freestyle committee in order to gain a place. Clubs had been invited to nominated any junior paddlers for the camp and in order to nominate a paddler, they had to answer two questions. What does this paddler do? And why would this paddler be a good fit for the academy?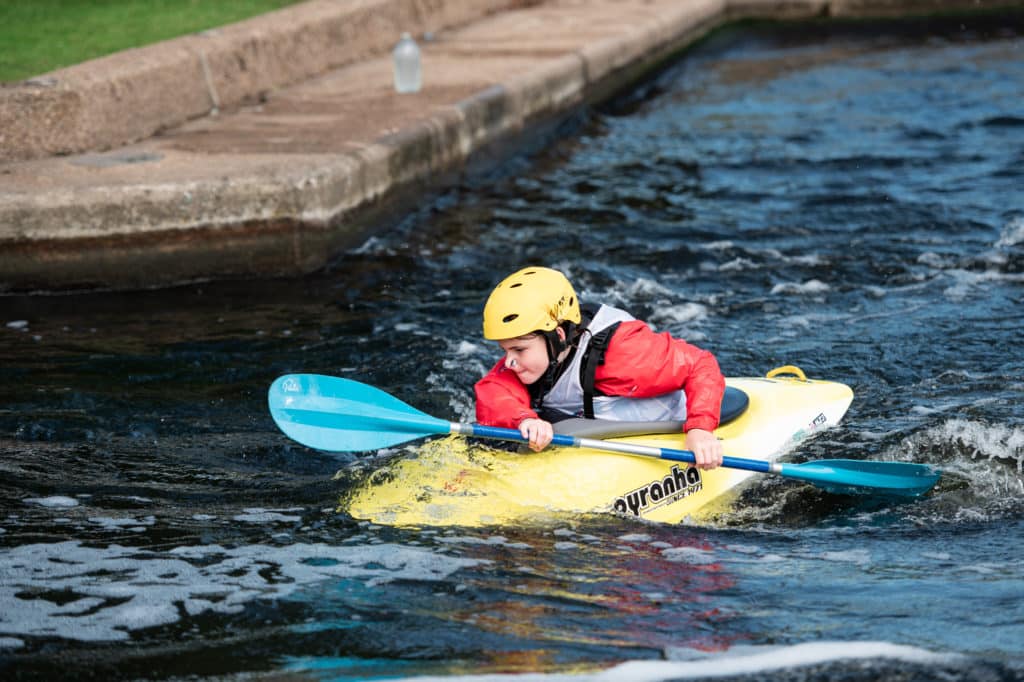 Paddlers who were selected needed to show that firstly that they were determined in their own paddling and a good attitude. Secondly and perhaps most importantly they had to show that they were willing to give back themselves in someway. Examples of this included helping other paddlers in their clubs, introducing their school or friends to kayaking or being an advocate for their sport.
The quality of applications was high and the freestyle committee were blown away by many of the applications, making it a tough choice. Ultimately 30 paddlers were invited to attend the camp, plus some current junior team members who were invited to join in / help out with the coaching.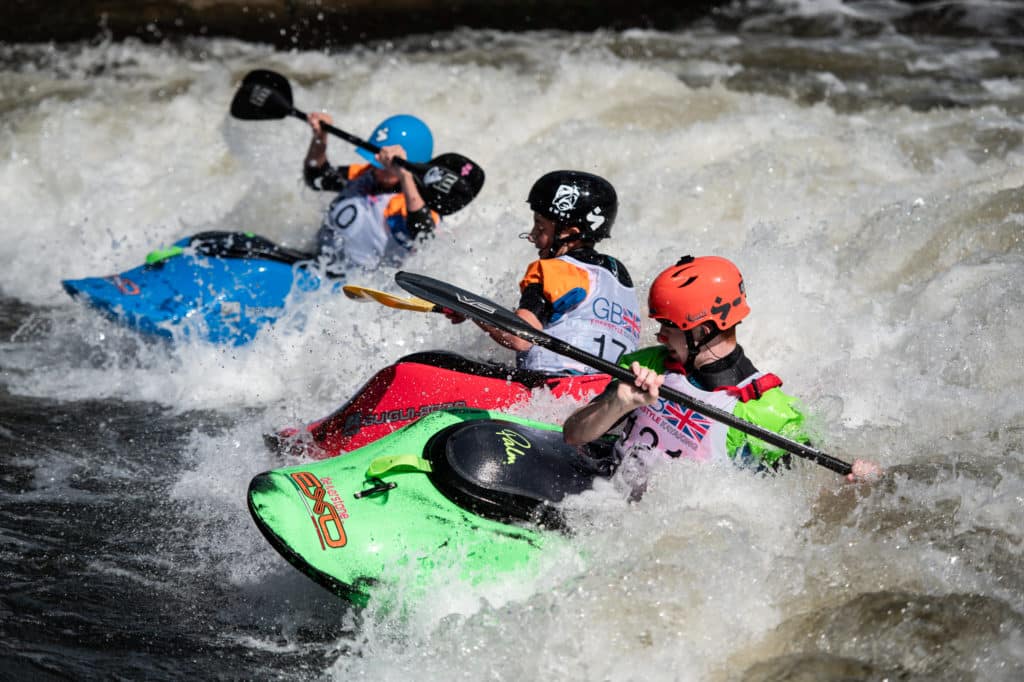 Who were the coaches and staff running the camp?
The camp would not have been possible without the volunteer coaches and staff who ran it so let me introduce you to them!
Dennis Newton was described to me once as the 'best technical freestyle in the coach in the world' and after a week of observing him coach, I think that is a fair statement to make! Den has a wealth of paddling and coaching experience both in river running and freestyle. When asked what Den's motivations are for his hard work and time spent volunteering his answer is, 'for the love of the sport and giving back what it gives to me'.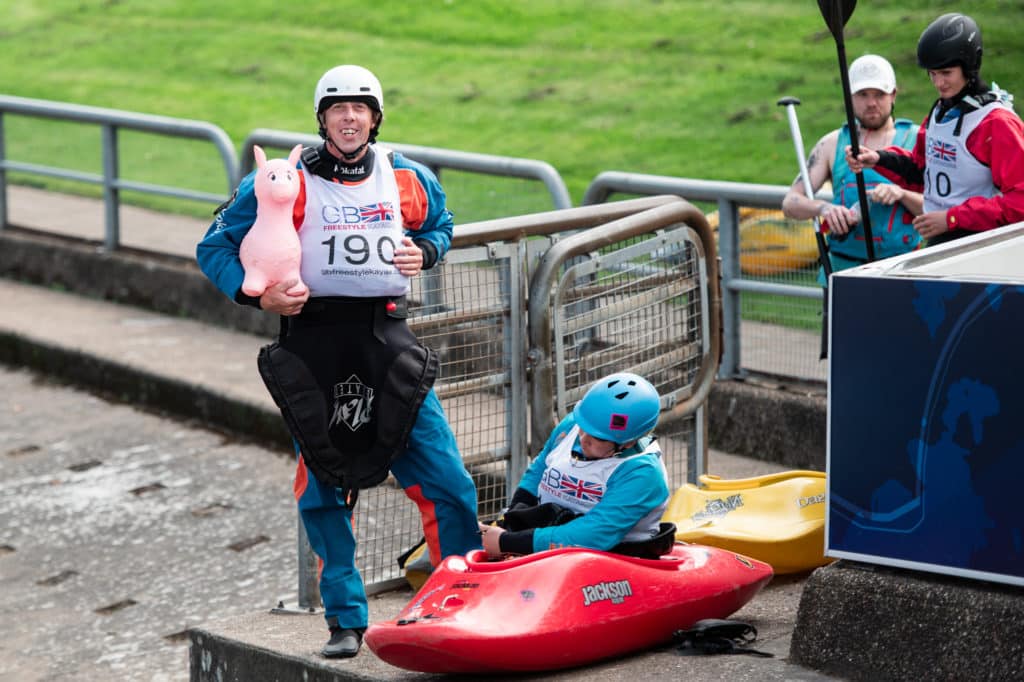 Mike Shaw has paddled for 25 years and got into it through the scouts. He started coaching at 15 and hasn't looked back since. Mike runs a centre, London Kayak School, and works with paddlers just starting their paddling journey as well as those competing at an international level. When asked about his motivation, Mike said 'I like kayaking and I enjoy helping others progress in a sport that brings me so much joy'.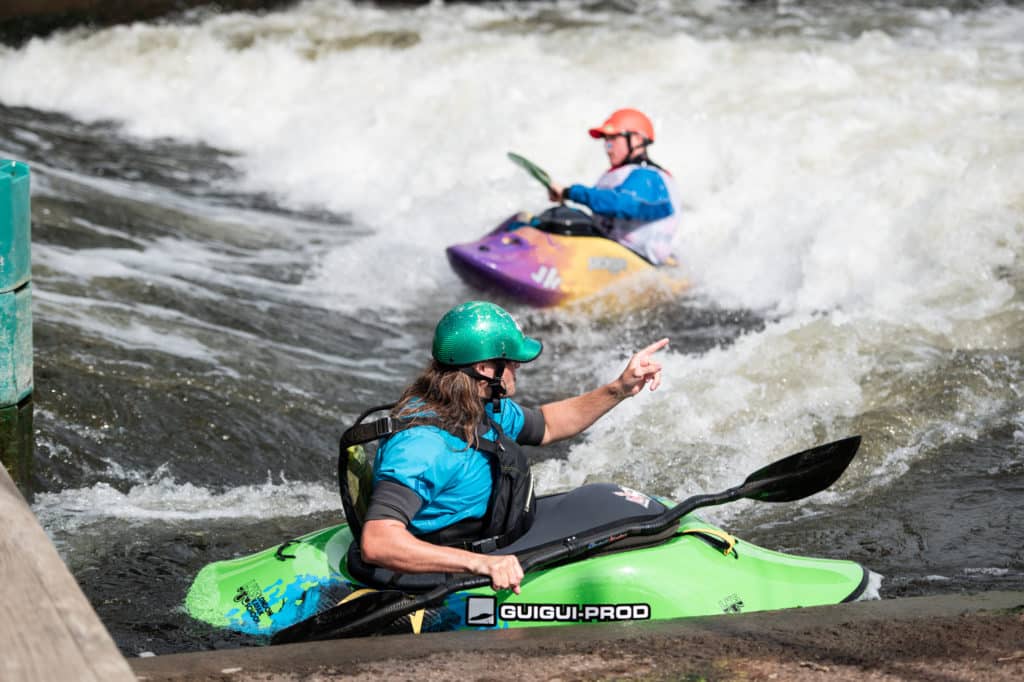 Matt Stephenson might just be the most enthusiastic paddler you will ever meet and is a master of all trades when it comes to paddling. Matt is an immensely talented and well-rounded paddler as well as just being a really friendly happy guy. He has paddled on class 5 rivers around the world, as well as competed in international competitions for freestyle. He is a phenomenal white water SUP paddler and a well-loved raft guide. When asked why for Matt's motivations he said 'I like helping others find the joy in our wonderful sport'.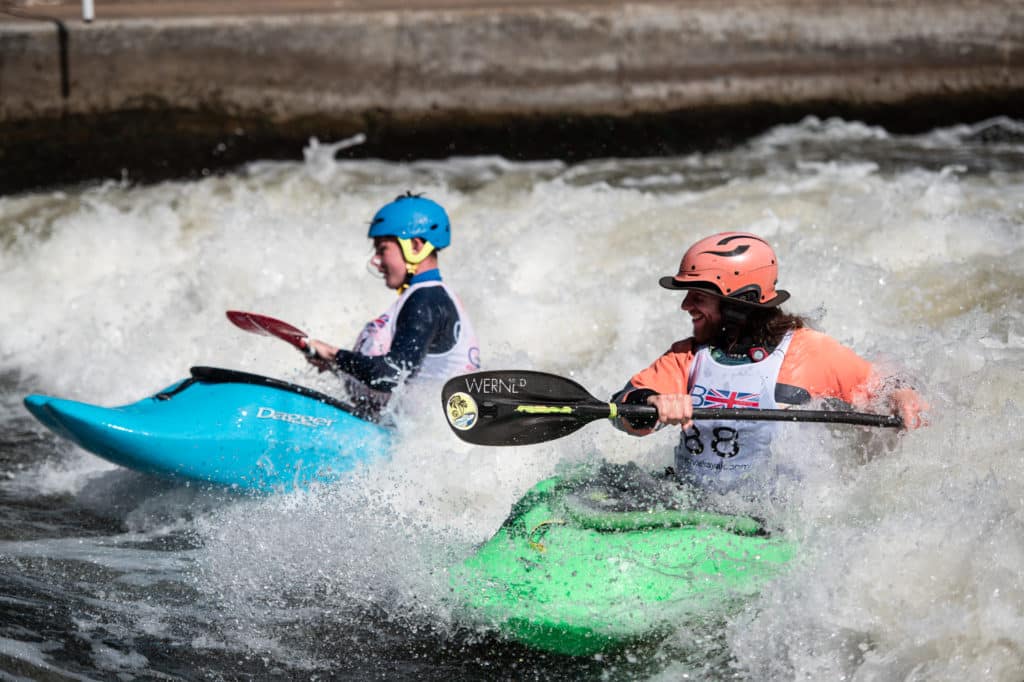 Tamsyn McConchie is a freestyle paddler who competes in c1, k1 and squirt boating. She won a silver medal in the last freestyle world championships and has recently set her own kayak coaching company and specialises in her coaching of both freestyle and junior paddlers – WetRock. When asked what her motivations were, Tamsyn said 'to facilitate others in their discovery and development of their passion for kayaking'.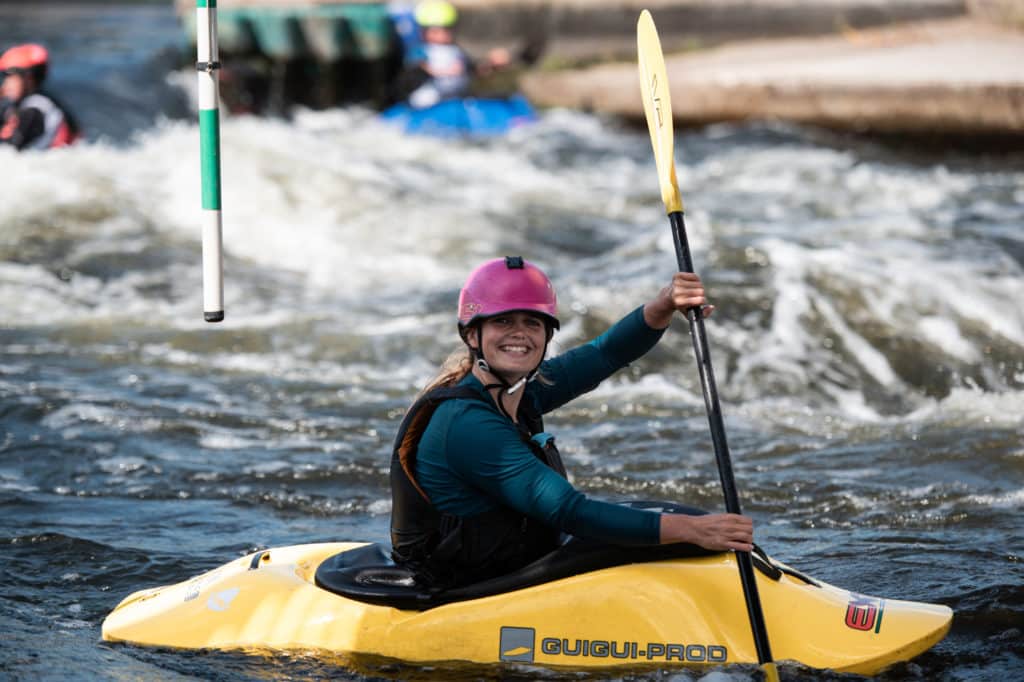 David Rogers has been kayaking for 15 years and is the current British Champion for squirt boating. David had dedicated much of his time to sharing his love for squirt boating with others and spent 2 days this week helping our junior kayakers to try and develop their squirt boating. When asked for his motivations, David replied 'I just enjoy getting people out on the water'.
Leo Rathburn is an absolute superstar. Leo is a coach at Manchester Canoe Club and had noticed a rise in junior paddlers asking about how to do freestyle. Determined to support these paddlers, Leo asked to join the camp for the week with the aim to learn how to coach in freestyle. As Leo said, his aim is to 'spread the freestyle obsession back to the Northern reaches of the UK.' Every club needs a Leo!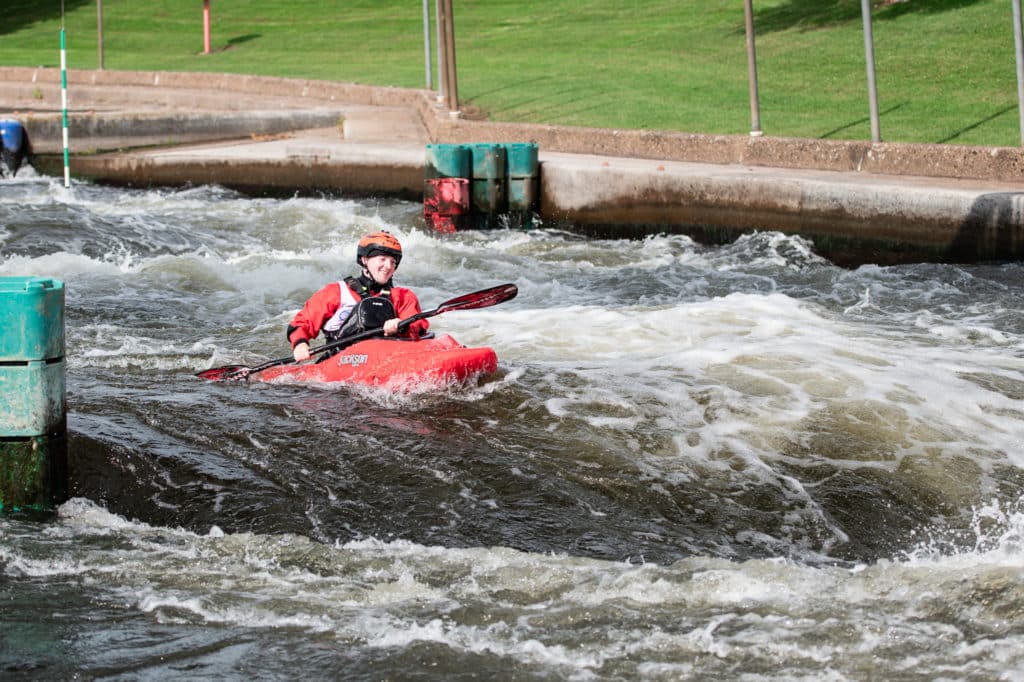 Tanya Neilson is the team manager for GB freestyle and a director for Canoe Wales. Tanya has been paddling for other 40 years and has been instrumental in driving freestyle kayaking in the UK for the last 3 years. She says 'I want to use my skills to enable others to take part in what they love'. And we thank you for it Tanya!
Em, Baz & Bella Walker are a brilliant kayaking family who kindly organised the food for the camp. Trying to feed 50 people 4 times a day is no mean feet and the Walkers have excelled this week. They have not stopped all week and I cannot express how grateful we all are to have them. As Em said 'something likes this needs volunteers to run it. And so we volunteered!' Em is a keen kayaker herself who has recently got into freestyle. She wanted to see how grassroots for freestyle works and hopefully take back some ideas to spread with her own club with the aim to increase freestyle participation, particularly within the female and junior members of the club. Thank you SO MUCH Em, Baz and Bella for all your hard work this week keeping everyone fed and happy! And thank you to Frome Canoe Club for the loan of all their kitchen equipment for the week!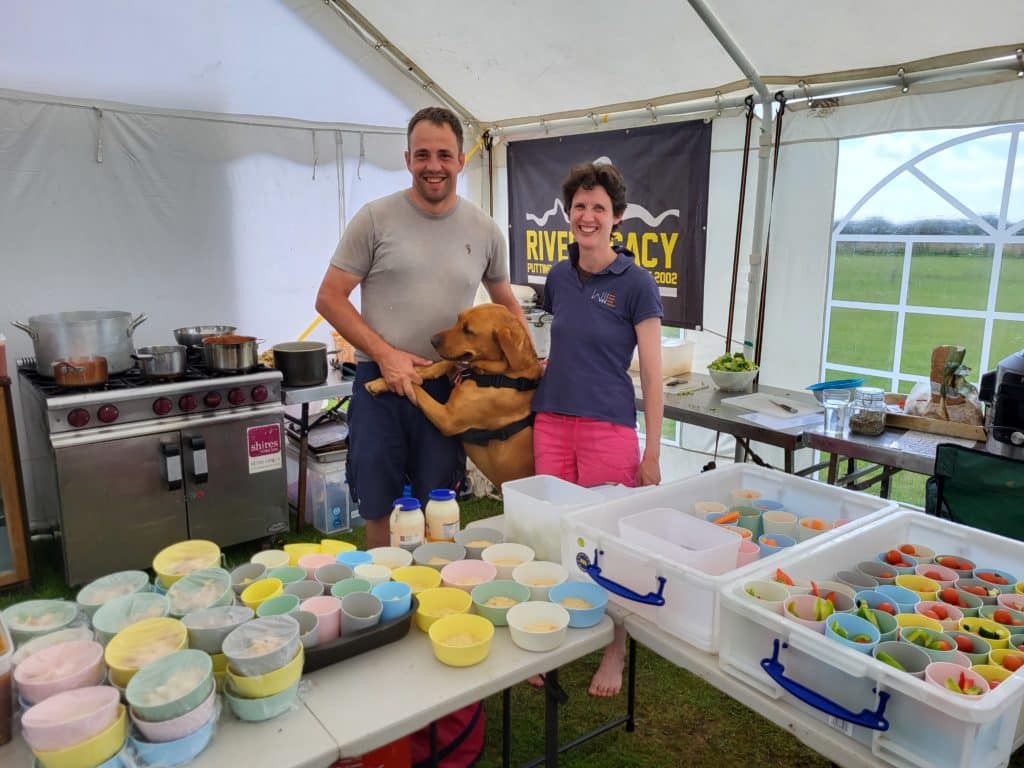 Finally, there is me! (Del Read) I bumped into Tanya a few months ago at HPP and she asked me if I would be keen to be involved with the camp pastorally as a 'camp mum'. I am a keen paddler who enjoys getting out on the water and sharing that passion with others. As a teacher, I also love working with young people. Their energy and enthusiasm is infectious! So combining that with paddling, it wasn't a hard sell to get me to say yes. It is been wonderful to see the kids grow over the week on and off the water and an absolute privilege to be a part of that.
The week of the camp
Camp officially started on Monday 21st August but things were already getting busy on the Sunday. River Legacy kindly lent and put up the camp's main marquee to be used as a mess tent. As paddlers started to arrive, more tents were put up and the feeling that something exciting was about to happen was growing.
Day 1: Monday morning saw a flurry of activity. Whilst half the paddlers had arrived on Sunday evening, the other half of the paddlers were due on Monday. In beautiful sunshine, the rest of the juniors arrived and the final tents were set up. Camp started with some introductions and an initial session looking at boat outfitting. Followed by a nutritious lunch, everyone geared up and we headed down to the white water course.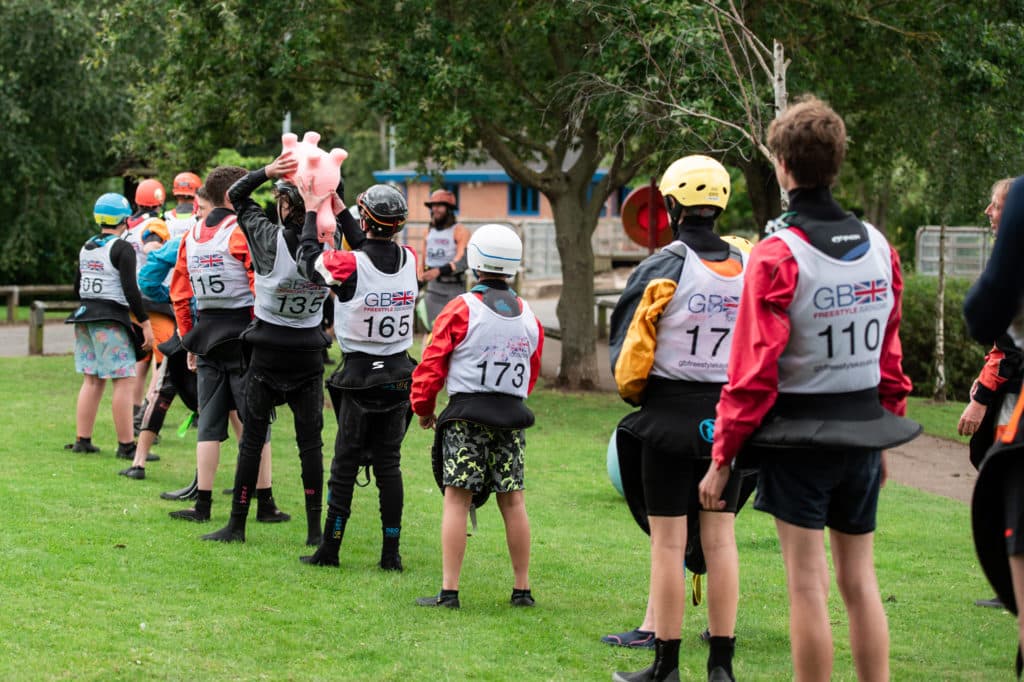 The afternoon was spent on the water with the paddlers split into two groups for two different sessions. With such a variety of paddlers in terms of age, experience and ability, it was important to ensure that everyone felt safe and could build some confidence before focussing on freestyle. The first session was with Mike and Tamsyn on the lake doing some roll practice. I hopped on the water with them and joined in. This session was finished with one run down the course just to catch a few eddys.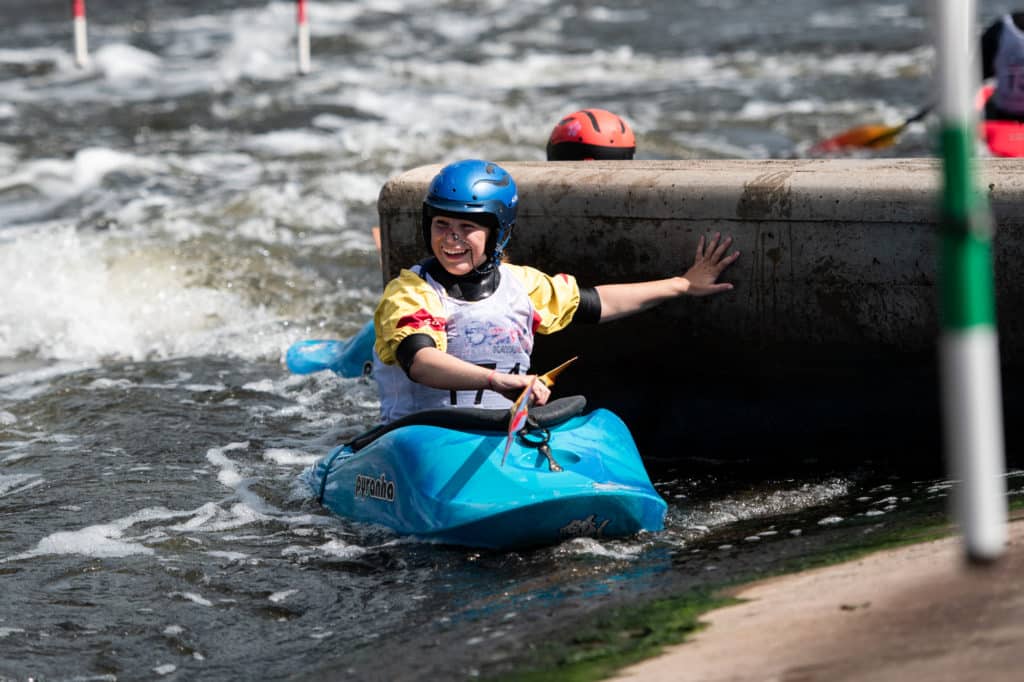 The groups then swapped and we met Den and Matt for a swim safety session. Looking at how to swim down the course safely. On such a hot day, no one minded jumping in for a quick swim! This session was also ended with a quick lap down the course.
Following this, it was back to the camp for food and some throwline practice games before a well deserved sleep!
Day 2: Tuesday morning came along with an pre breakfast yoga session run by Tamsyn. It was another sunny day and the paddlers were keen to get back on the water. Following a mass warm up on the bank, the paddler split into groups and got straight onto the white water course. After one day, it was beginning to become clear what each paddler wanted and needed to work on and so groups were roughly split to try and accommodate this. I swapped my boat for a camera and got to witness the sheer joy that was happening.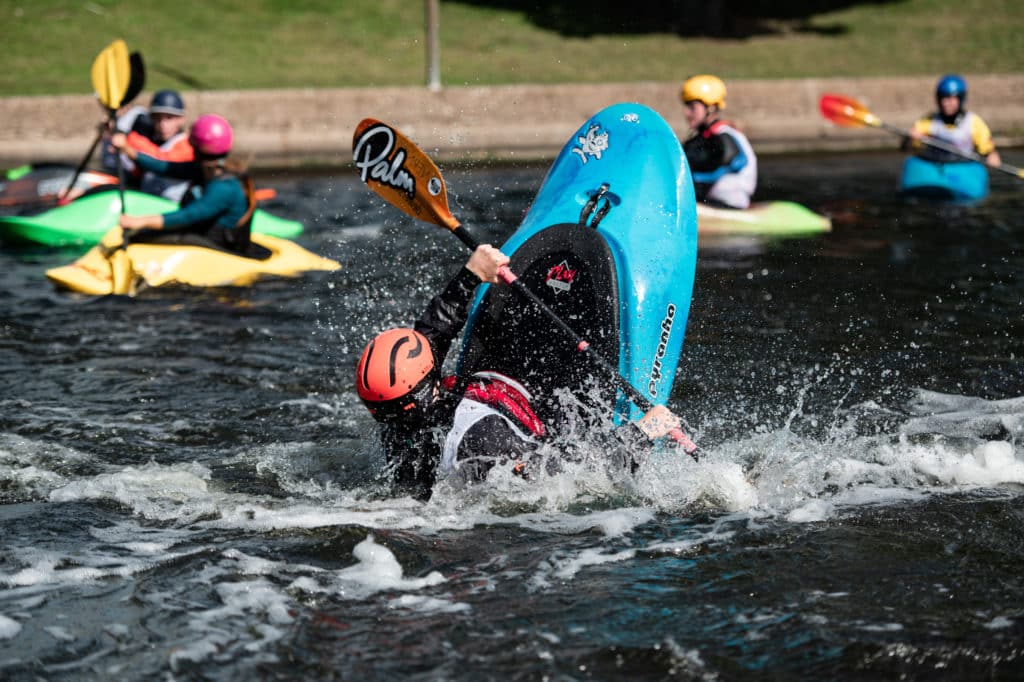 From surfing and working on river running skills to going straight into working on specific freestyle moves, each paddler had something to focus on and a coach to support. During lunch, the conversations were ones of shared excitement as they caught up on what each other had been doing. Everyone seemed happy and had a clear goal they were working towards.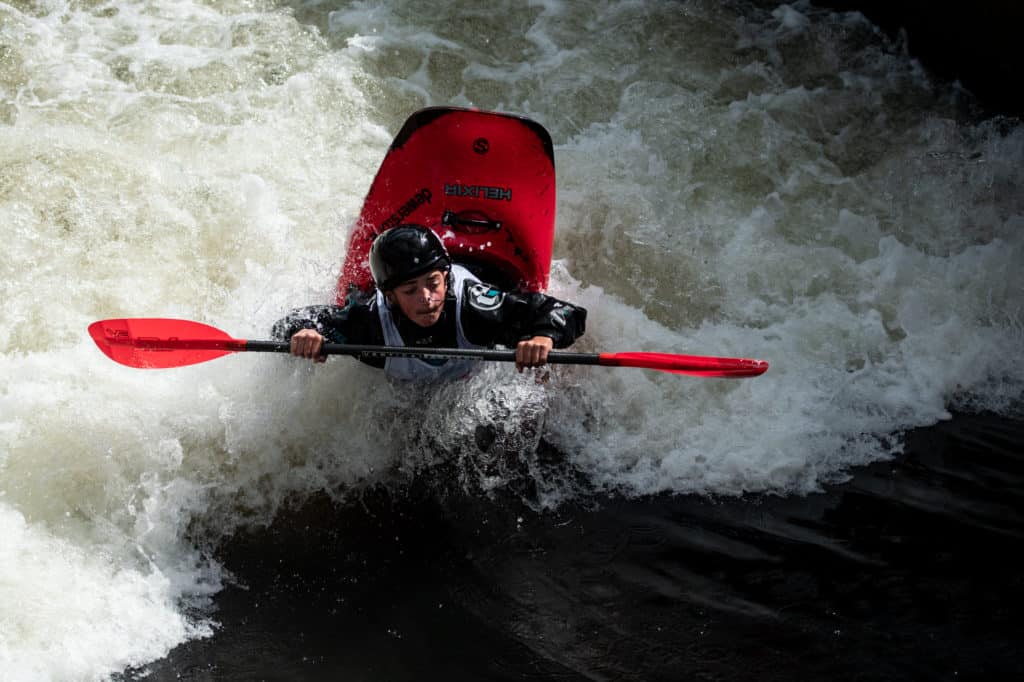 Post lunch there was the opportunity to have a go at an inflatable ball race. This involved working in teams to get a giant inflatable ball all the way down the course with the team completing it in the quickest time winning. Paddlers threw themselves into the challenge and it was great to see the competitive side of many of them come out. Who can be scared of going through the features when the aim is to win the race!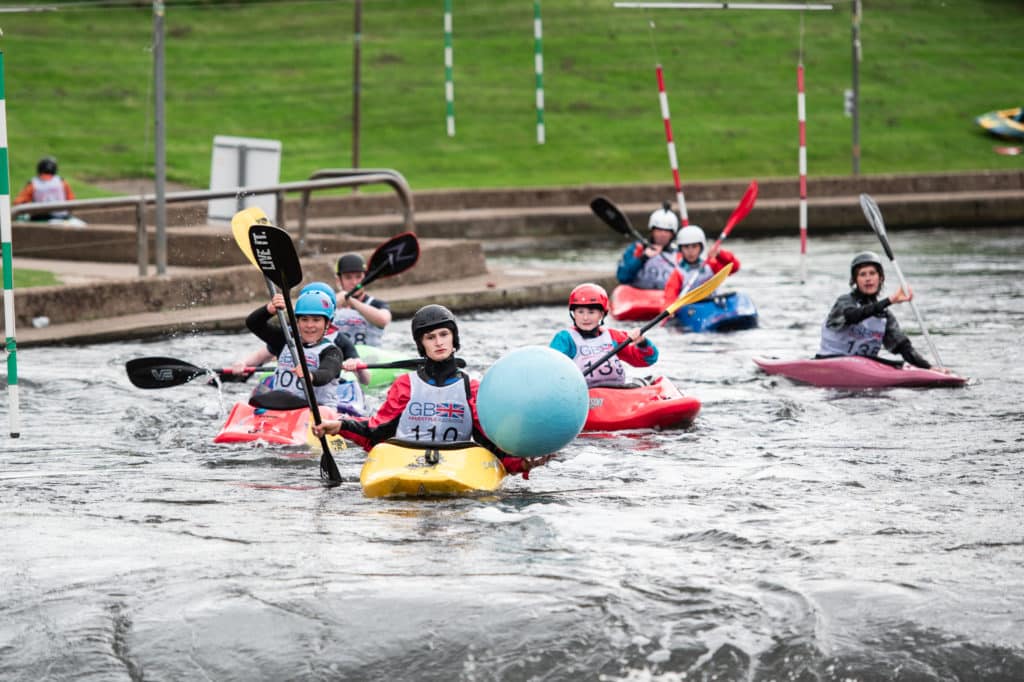 It was back to camp for another well received delicious dinner and some ball games before sleep.
Day 3: Wednesday brought with it more sunshine and some morning slacklining with Tamsyn and Matt. After breakfast, it was back to the course for some more paddling and coaching. David arrived to coach squirt boating for the day. This was met with an equal amount of excitement from some paddlers and confusion about how anyone could fit into a squirt boat from others. Quite a few paddlers wanted to have a go both at squirt boating and c1/oc1 and so their group started on the lake before heading down to an eddy line on the course.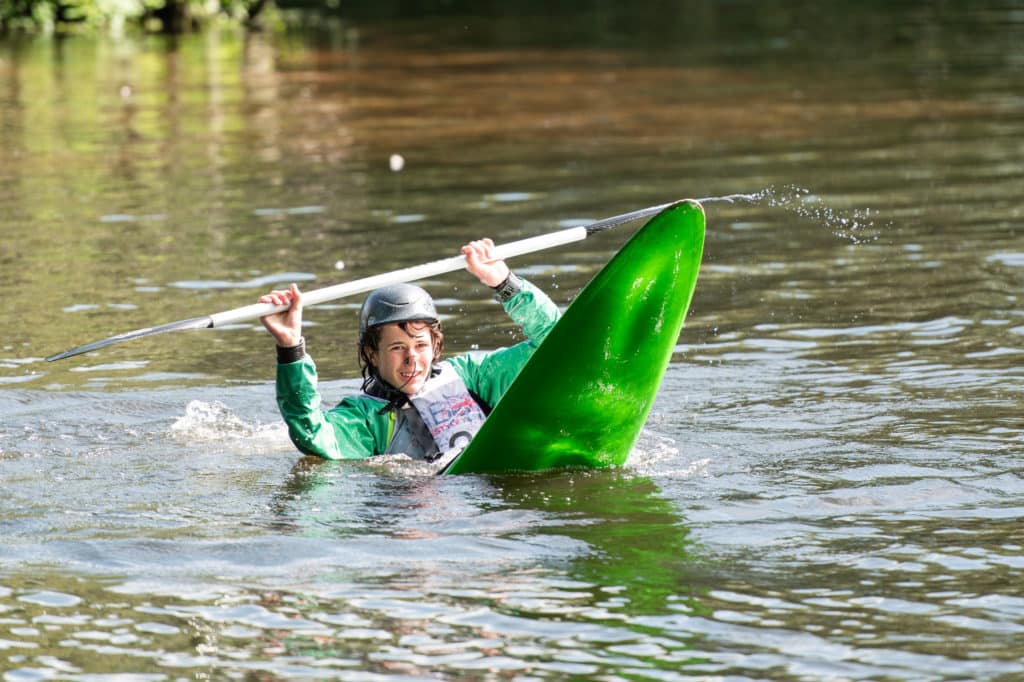 The other groups continued to work towards their goals. It was fabulous to see so many first loops, tailees and mcnasties happening. Lots of big smiles as the last few days of hard work brought the rewards. By the evening, the paddlers returned with a healthy trajectory to find food and sleep. Luckily Em and Baz were to the rescue and the post river / pre dinner snacks were quickly becoming everyone's favourite part of the day.
There were some more slacklining and ball games followed by yet another delicious and filling dinner followed by bedtime.
Day 4: Thursday morning brought with it some circuit training with Tamsyn followed by a well deserved breakfast. It was back over to the course for another fun day of paddling. By this point, everyone was into a routine but also beginning to feel the effects of so much activity. We had a longer lunch break to give everyone a bit more of a rest and then were back on for another afternoon of fun. Dinner at camp was followed by a mass game of volley ball with everyone heading off to bed by about 9pm. Much to my delight – this was pretty much led by the juniors who were as keen for sleep as the adults were!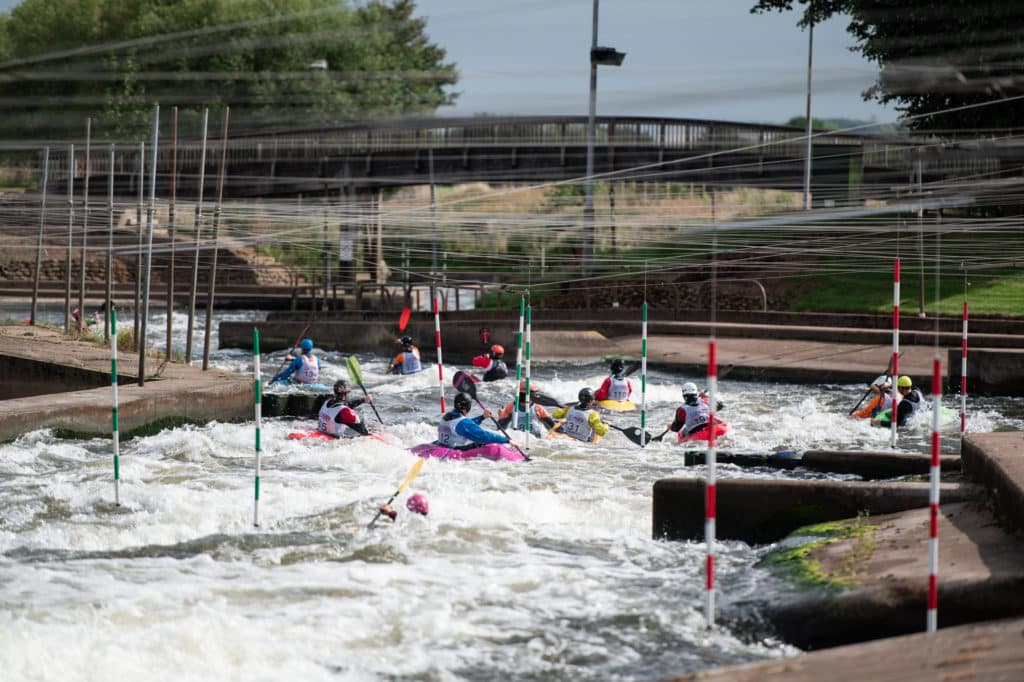 Day 5: Friday was our last official day of camp. Despite being exhausted after 4 days of paddling, our juniors found some hidden energy and threw themselves into their last day of paddling. The morning was spent in groups for their final coaching session before having a competition style session in the afternoon. For this final session, all the groups came together to showcase their progress from over the week. It was wonderful on Friday to see so many happy teenagers, each having made progress against their own personal goals. I had so many 'Del did you see my *insert awesome white water move*?!' It was great to share their excitement!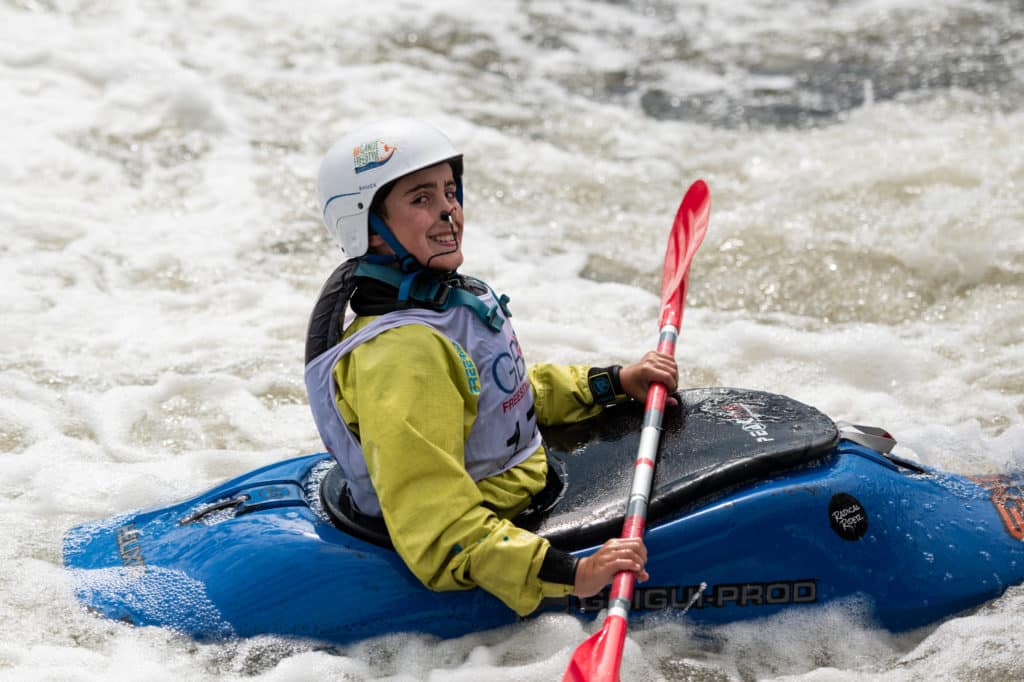 Many of the paddlers were then collected, although a few stayed at the camp over the weekend. Those who stayed and many who were collected then got involved in Euro Open over the weekend, which is a brilliant freestyle event hosted at HPP.
What happens next?
After 5 days of camp and most of the paddlers staying to compete in Euro Open, I imagine the next steps are lots of sleep and rest! However once the tiredness has eased, we hope that everyone involved in the camp will use the excitement of the week to motivate them to get back on it and out in their playboats.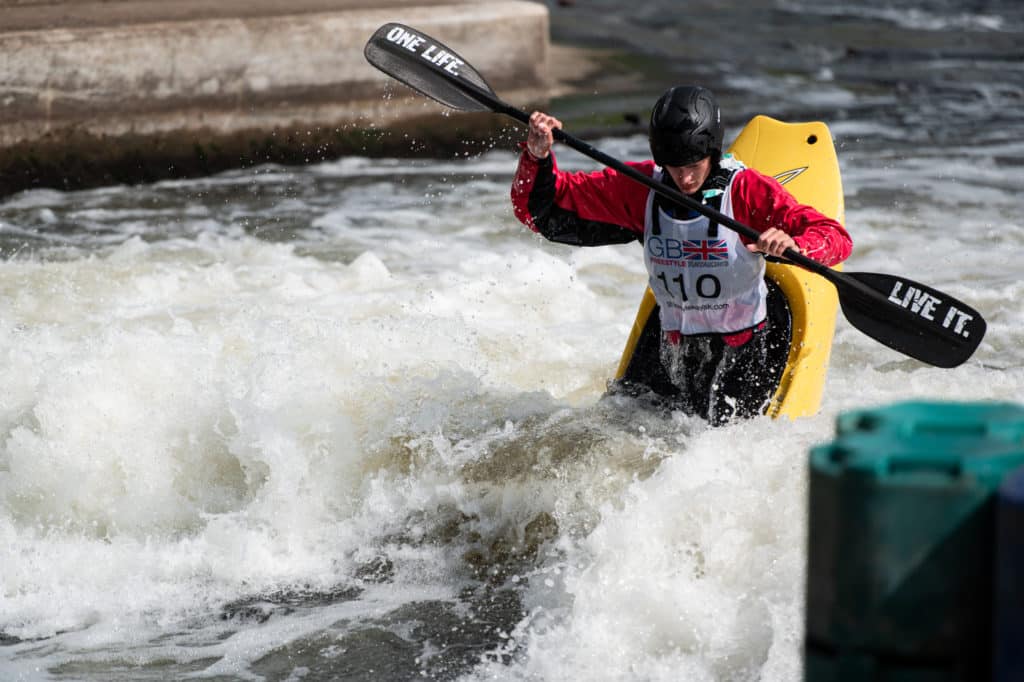 If you've been inspired by the juniors of this year's GB freestyle academy camp and are interesting in trying out some freestyle, do check out the GB Freestyle Instagram page and get in contact if you need some advice about next steps.
Happy freestyle paddling everyone!