Tryweryn Festival, lovingly known as T-fest by most paddlers, is without a doubt one of my favourite paddling events of the year! It has the perfect mixture of kayaking, competition and social time which makes it a truly enjoyable weekend. I wanted to share what a fun weekend T-fest is and so this article is an account of the 2023 event. Enjoy!
T-Fest this year was held on the weekend of the 22nd-23rd July at the Tryweryn in North Wales. I headed over from Nottingham after work with two friends David and Jack. Jack who is an Irish paddler, currently living in Nottingham, had never been to T-fest before and so we spent much of our journey telling him all about the different events that take place. He was of course very excited by our tales and eager to start the weekend.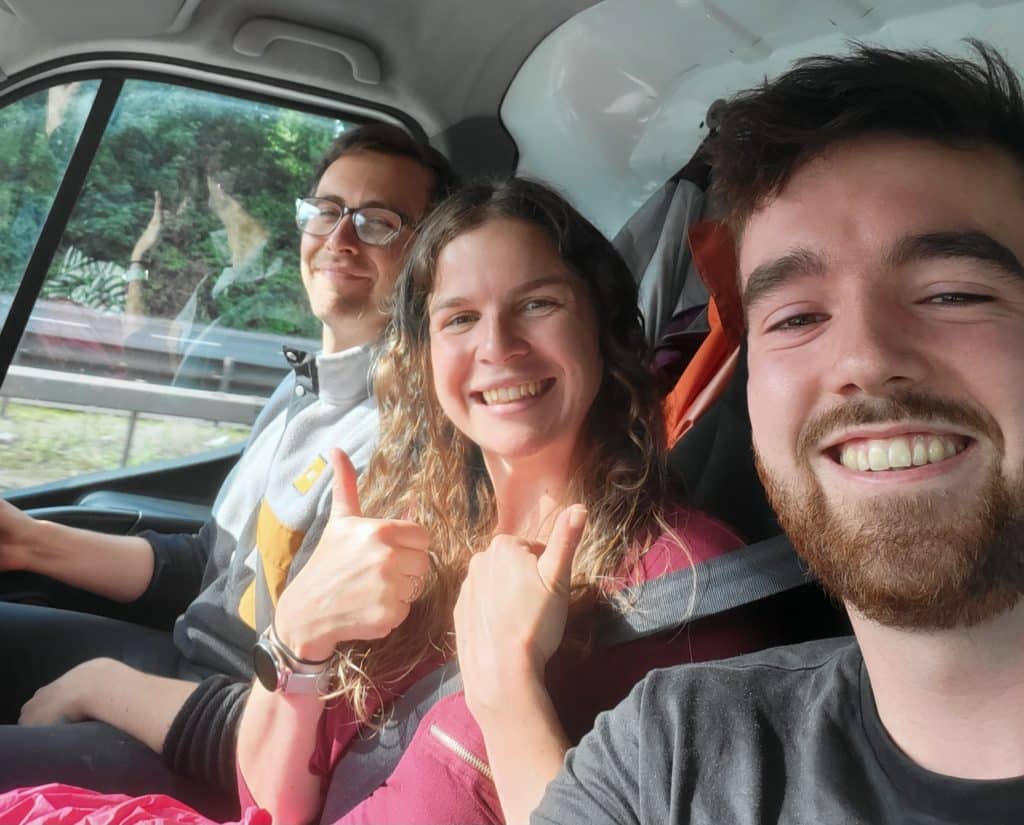 We arrived and found it was already very busy with paddlers setting up camp both in tents at the campsite and vans at the carpark. We headed over to the marquee where River Legacy had set up a bar and Dan Yates was just finishing a talk about Save Our Rivers. Luckily we were just in time for the paddlers quiz, although I confess I didn't know many of the answers. I think the questions were aimed more at paddlers who had been on the paddling scene for a lot longer than me! Once the quiz finished, the party got started and people enjoyed the opportunity to catch up with old friends. A combination of midges and rain made the marquee and the dance floor an appealing place to be!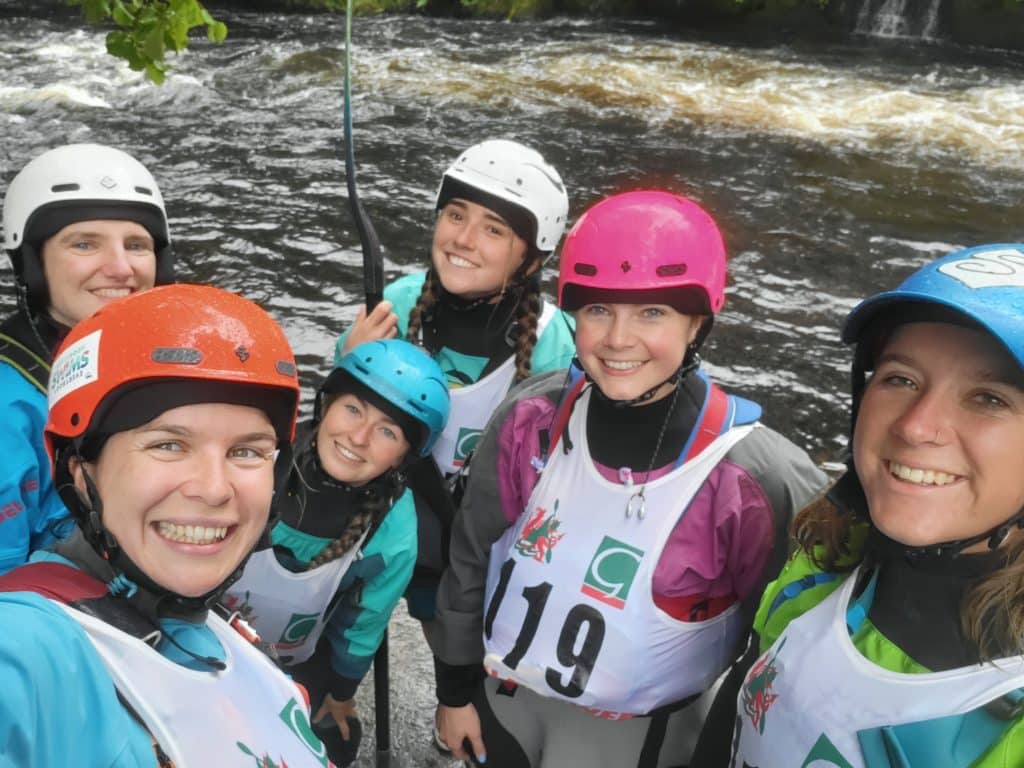 Boater-X – Mass Start & Ramp Heats
Saturday morning arrived and the events got started. My favourite event of the whole weekend is the mass start Boater-X run by NRS. Once signed up, all paddlers walk up the path by the river to the starting eddy (just below Ski Slope). This year, men went first. Around 50 paddlers in a mass start is a sight to behold!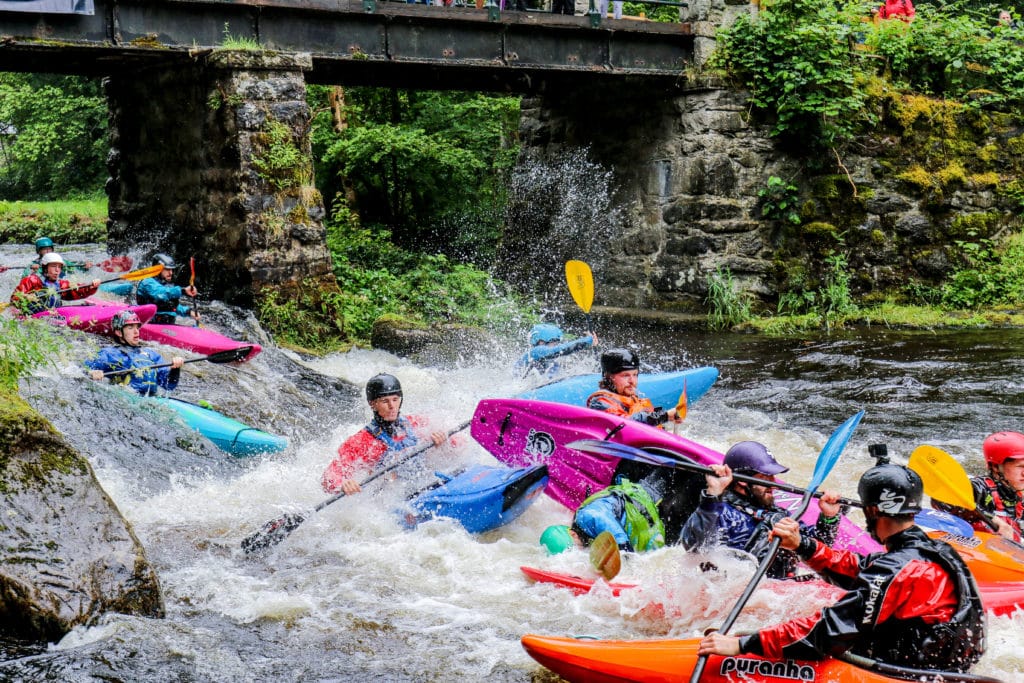 Us women followed shortly after. There was nearly 20 women who took part in the mass start this year which is awesome! I had a good starting line and managed to get out towards the front of the pack. As I raced through Cafe Wave, I heard Jack screaming for me from the bank – 'come on Del! You're flying!' I do love a bit of crowd support in a race! We finished at the rafting steps and I was pleased with my run, coming well within the top 10 women who go through to the next round.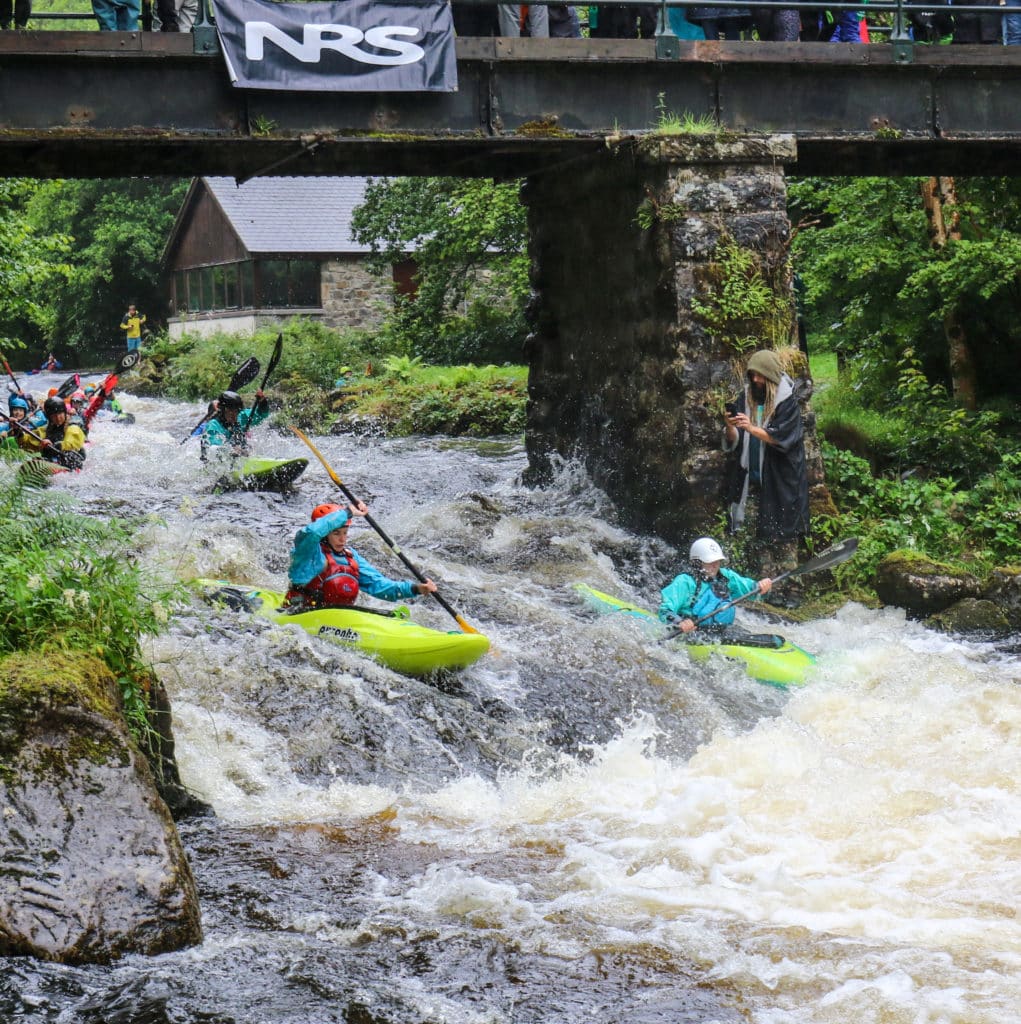 Following the mass start, the next rounds have a ramp start and are done in groups of three. Starting from a ramp can be an intimidating prospect but I had done it in previous years and knew it was more fun than it looked! I was lucky to be placed in a heat with two of my lovely friends – Alice Snook 'Snookie' and Gabi Bain. Gabi is insanely fast and myself and Snookie agreed she should go on the end to give her the best start to get ahead of us. Off we went!
Gabi of course fired off ahead whilst me and Snookie got very competitive with each other. Having nearly flipped Snookie as we landed off the ramp, I then got a good chance to try and elbow her out the way in the rock eddy. Yelling at her 'I love you Snookie, but I love winning more!' as I grabbed the nose of her boat to push in front. I looked up to see 'Little Dan' sat in the eddy laughing as he filmed the whole thing (see video below). As we finished our race, we were both laughing hysterically.
Cafe Wave Competition
The next event was the Cafe Wave competition run by Radical Rider. This happened at lunch time and was essentially a competition of who could stay on the wave the longest which generally required pushing everyone else off! I missed most of the competition as was busy at the Pyranha stall but what I did see was spectacular. Lots of laughter and lots of carnage! My lovely friend Jack even had a swim from it! (From a deck pop rather than deliberate but who cares about technicalities!) This event is always a great crowd pleaser!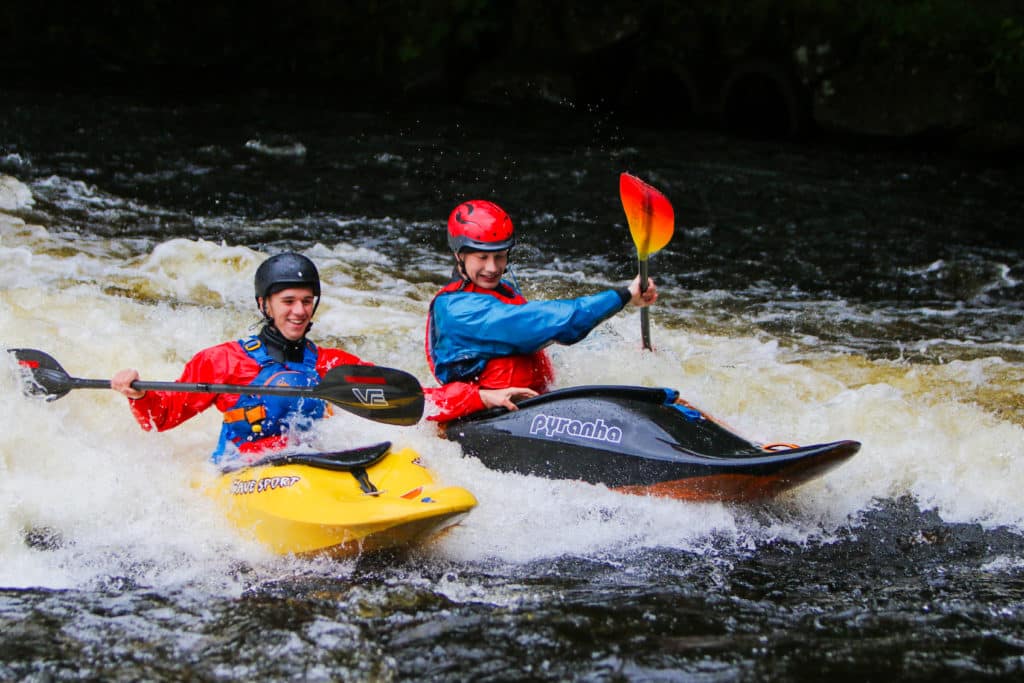 Epic Enduro Race
The next event was not one for the weak hearted. Palm's epic enduro race is essentially an event put on to remind all the ex slalom paddlers that they 'still got it'. A gruelling race which involves half an hour of paddling laps of the Graveyard and then running back up with your boat. The winner of this race is simply the person who completes the most laps. There were some paddlers who took this very seriously and others less so. Either way people seemed to have a lot of fun and all paddlers were exhausted by the end!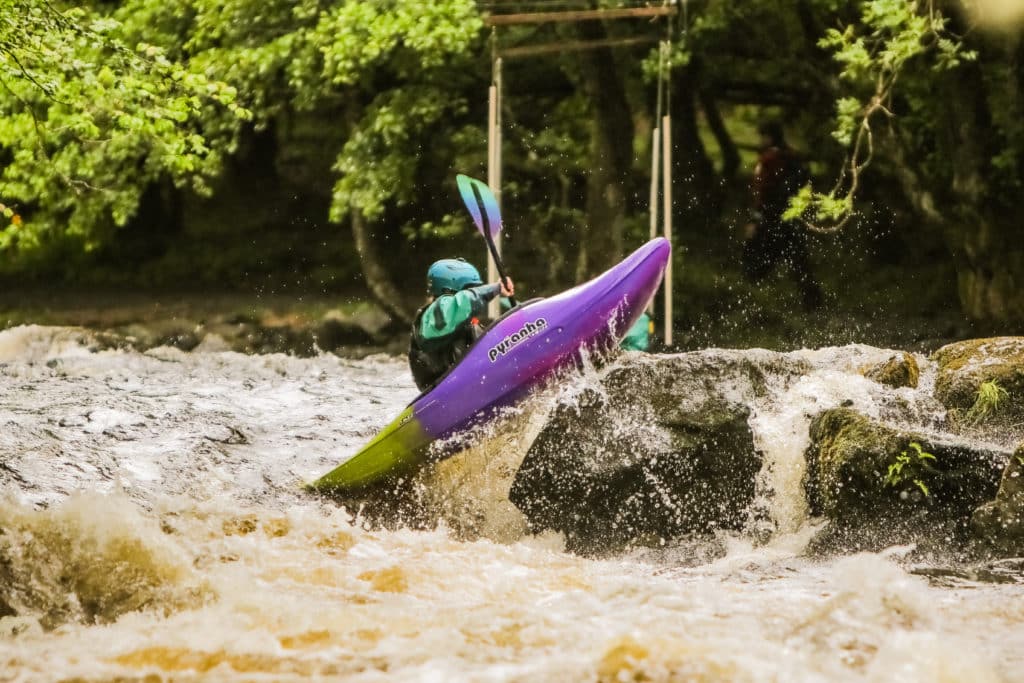 Tailee Time!
The Pyranha Kayaks tailee jam was held right at the top of the Upper Graveyard section and consisted of an hour of people messing around in a slicey boats and having a laugh! There were lots of boats being tested including the new Pyranha Firecracker. Whilst people were pretty tired from a big day of kayaking, there still seemed to always be energy for one more tailee! Lots of fun was had.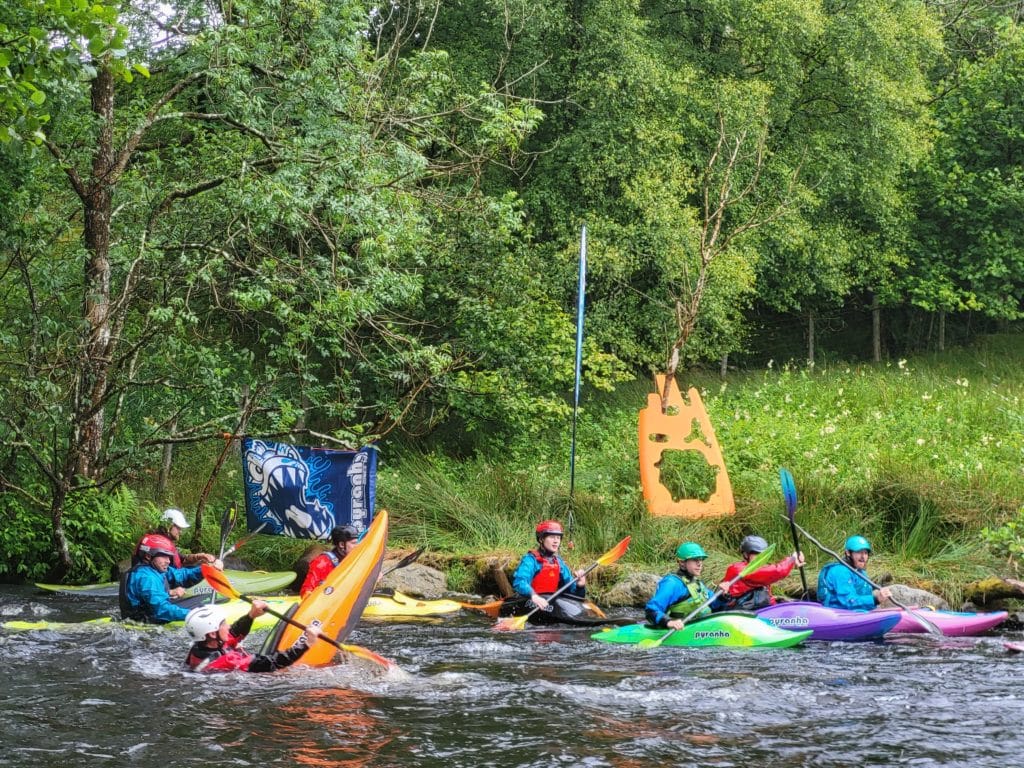 Raft Racing
The final event of Saturday was the team raft racing by NWWC. Paddlers could sign up to give rafting a go and race down the Tryweryn. If you have never rafted before, this was a great opportunity to try it out and get a little bit competitive at the same time. Lots of happy paddlers!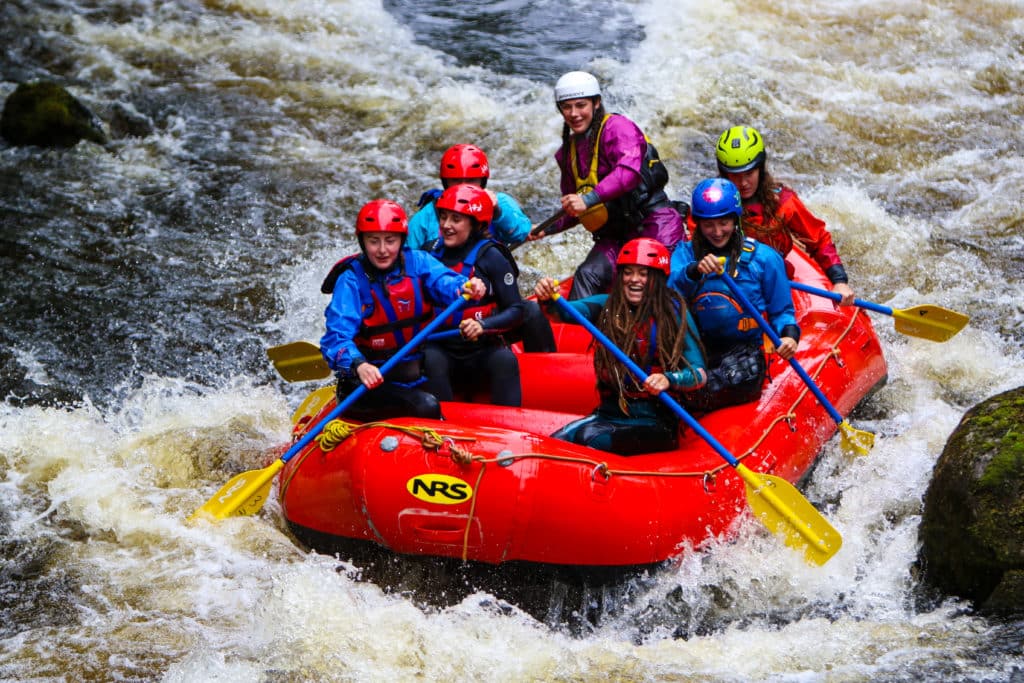 Food & Party
After a busy day on the water, dinner was gratefully received. The food was delicious and whilst people were tucking into dinner, the prizes for the day's competitions were given out. A fun night of music and dancing followed with the volunteers on the River Legacy bar doing a great job at keeping people hydrated.
If you've not heard of River Legacy, they are a charity which run events in order to raise money. That money is then used to support people in paddle sports. People can apply for grants on behalf of themselves or their clubs for specific causes, such as new gear for the club, money to build the path at an access point and so on. River Legacy have helped so many paddlers over the years and it was great to have them at T-fest again this year.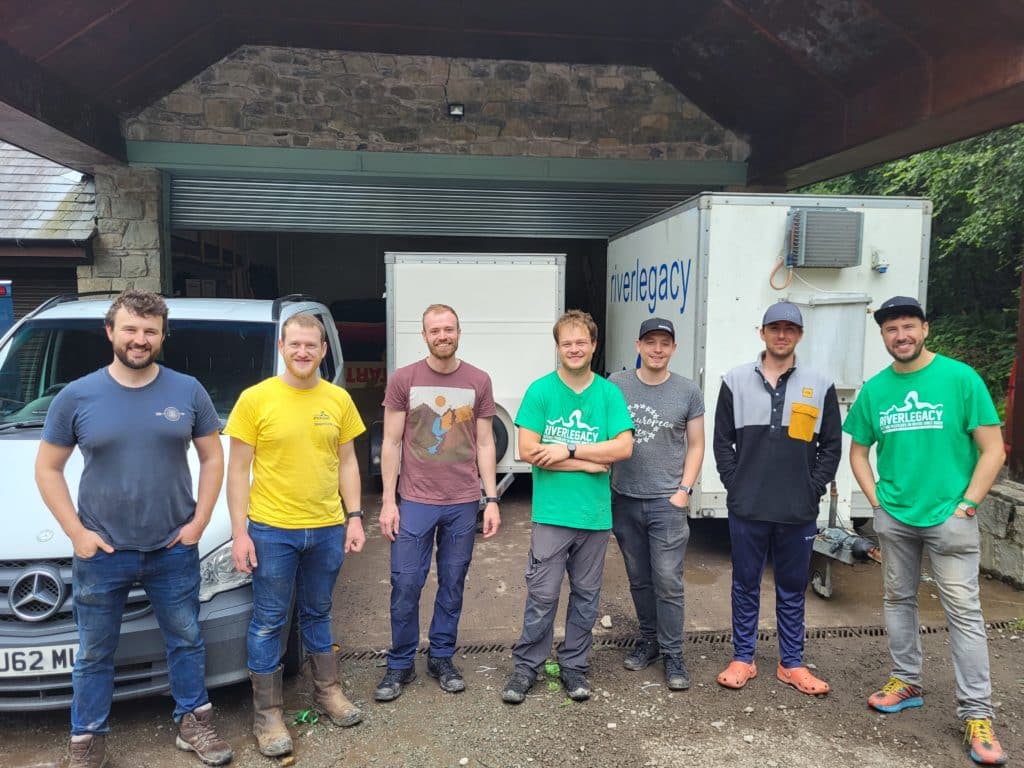 Sunday
Sunday was a quieter day. A few smaller events such as the Palm throw bag olympics and a beginners Boater-X took place. However, the majority of people just enjoyed laps on the Tryweryn with friends. It had been a busy Saturday and was nice to just enjoy some time on the water.
The kayaking community is such a friendly and social place. Events like T-fest is such a nice opportunity to catch up with old friends and people value that time to do so.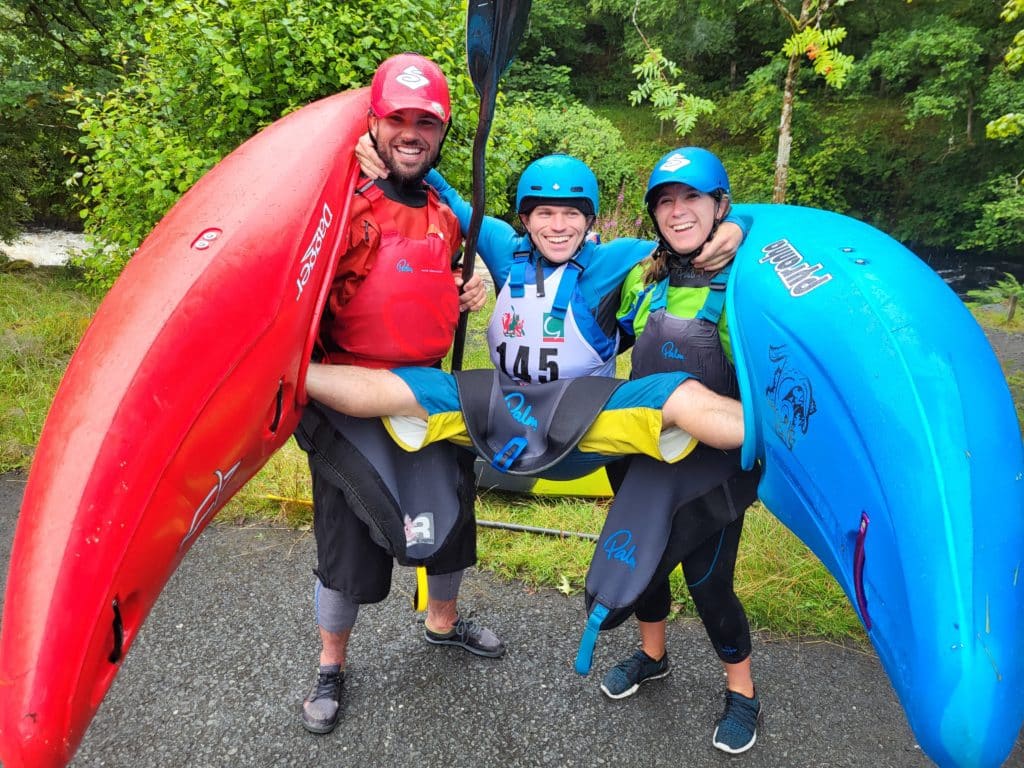 A special shout out to lovely paddlers I met in an eddy in the Upper Graveyard on the Saturday from Cardiff. I had a lovely chat to a nice man called Hugo (apologies if I have misremembered your name!) who told me he reads this blog. So shout out to Hugo and friends from Cardiff!
Big thank you to everyone who worked hard to make T-fest happen from the awesome Tryweryn staff, all of the sponsors who came with stands and to help run events, the volunteers at River Legacy and all of the awesome paddlers who made it such a fabulous weekend. Thank you everyone and see you next year!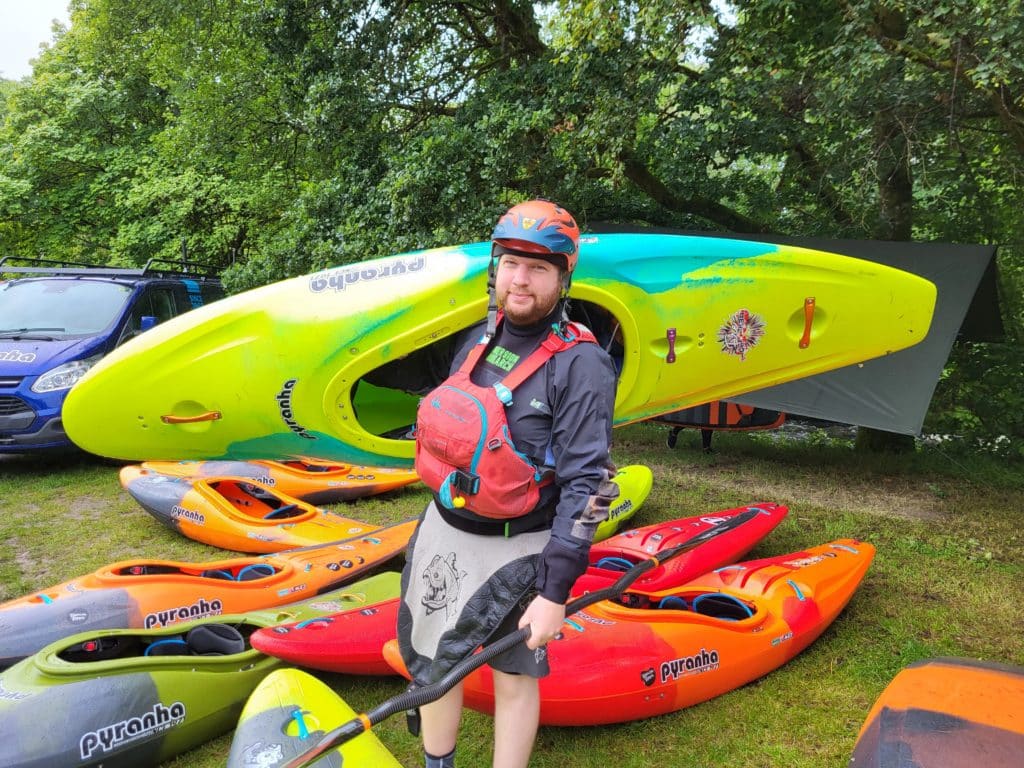 Another special thank you to Nick Wilson who kindly offered to let me use his fabulous photos in this article. Nick runs a Facebook page to share photos of the Tryweryn which you can find here.