Just over a year ago, I took a stand-up paddleboard (SUP) on white water for the first time. I had tried it on the flat twice and my paddling friends persuaded me that I had to try it on white water too! So, under the careful watch of my lovely friends Beth and Joe, I went down Holme Pierrepont (HPP) white water course on a SUP. Having kayaked for 6 years and being a local to HPP – I understand white water and the course well. Doing it on a SUP, however, was a different story. To say the least, it went rather swimmingly! (See video below)
I really enjoyed it however and decided I would start white water SUP once winter was over. Roll on spring and I finally invested in a white water SUP – a McConks beginner board, recommended by my friend Matt. Since then I have been taking my SUP down to HPP every week and absolutely loving it!
I thought I better dedicate a blog article to white water SUP seeing as I am doing so much of it currently. Along with the help of some friends, I started to write a beginner's guide to white water SUP.
I quickly realised however that to do a proper job I was going to need more than one article. So I've put together a series of SUP-focused articles. Each article has a different focus and a guest writer. Topics I will be covering include the different boards, safety considerations and how to achieve the basics moves on white water.
My first article is focused on the different boards you find in SUP and this is guest written by my lovely friend Beth Kirby.
Different SUPs and what they do – Beth Kirby
Beth Kirby is one of the UK's leading female SUP paddlers. She has travelled both the UK and Europe competing in SUP races and testing her skillset. More commonly she can be found living her best life surfing one of the waves at HPP. With so much variety when it comes to boards, Beth has shared her wisdom about how these boards differ.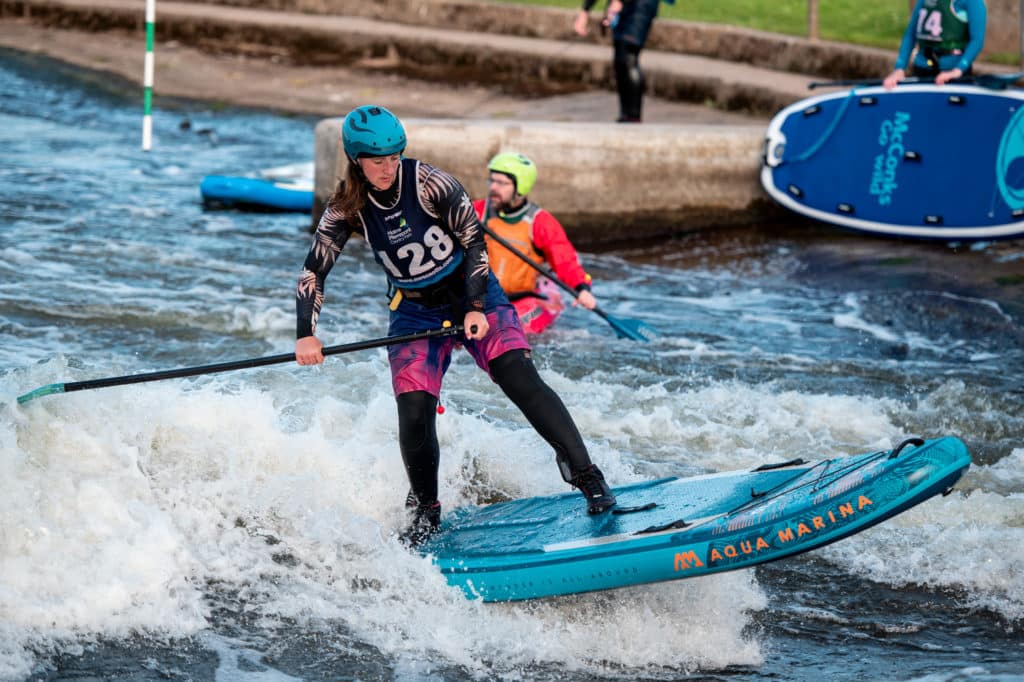 Like kayaks, there are lots of different boards out there depending on what you want from a board, your size, and the rivers you will be paddling. I'm going to talk through some of the key things you should consider.
Length: Boards for white water river running will vary in length, normally from around 9 to 11 feet. Shorter boards are often more manoeuvrable as in a lot of instances they are lighter than longer boards, however, they will often be harder to pick up and carry speed. The longer boards tend to be ideal for longer trips as you can carry gear on your board whilst running rapids. For river surfing, you may want try something that is 6-8 feet long, however, these boards are unlikely to be suitable for river running as they lack speed and stability.
Width: When running white water, a board that is 32" – 36" wide will give you the most stability. The narrower the board the more manoeuvrable it will be, but less stable.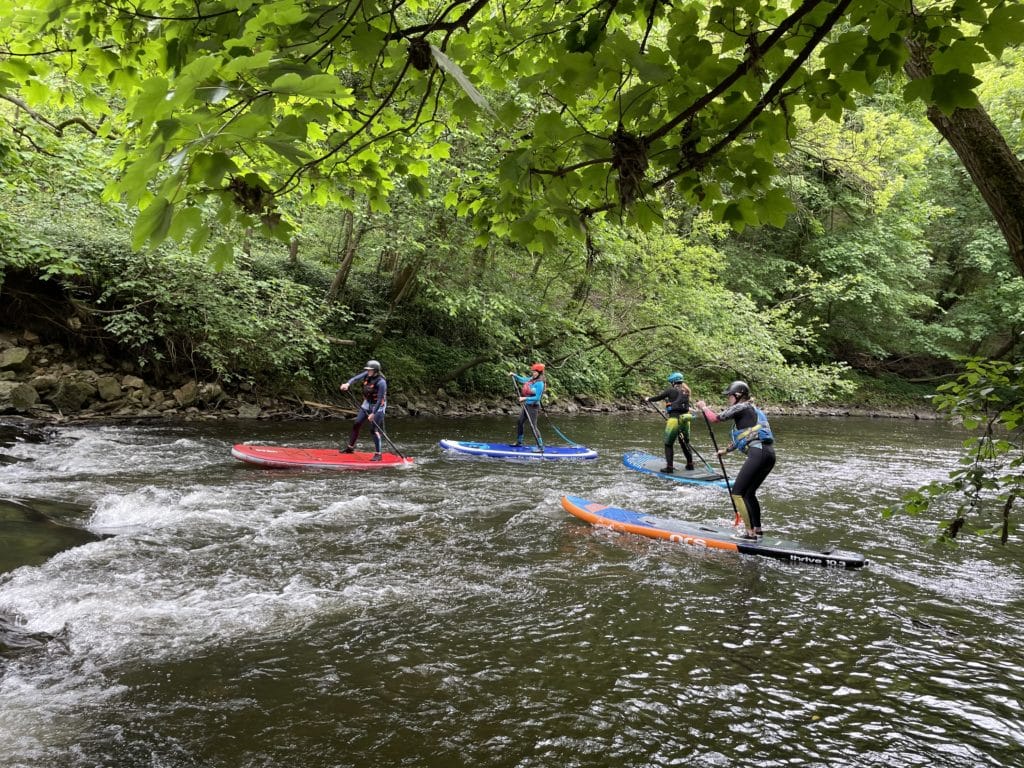 Thickness: Most white water boards are around 5-6 inches thick, which helps give more stability when running bigger rapids.
Fin set up: Fin set up is a very personal choice, but also something that is very important to consider. Whilst the ability to use a long center fin can be handy on long stretches of flat water when running rapids this is likely to be a hindrance due to the rocky nature of rivers (especially in the UK). Most white water boards will come with 2-5 fins and may be either fixed or removable.
Rocker: Depending on the type of paddling you are looking to do, the more/less rocker you will want. If you want something that can do some river surfing, or paddling big bouncy rivers, you may want to look for something with a bit more rocker than you would for tight technical rapids.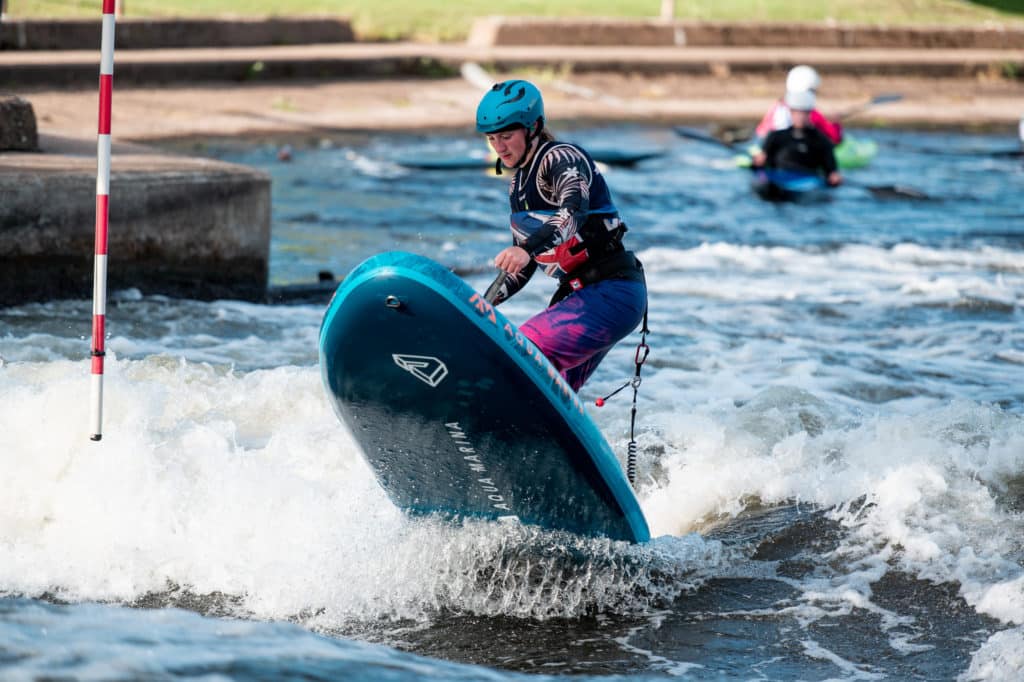 Thank you very much Beth for sharing your thoughts with us! Beth runs white water SUP coaching sessions at HPP – so do get in touch with her if you fancy giving it a go!
If you haven't ever had previous experience on white water – I would recommend getting some coaching with an experienced paddler to start with! Also (I will be going into more detail about this in the safety blog) – please wear an appropriate (waist) leash on white water! If you are new and not comfortable – please get someone to take you for your first time.
What is the best whitewater sup?
Personally, when choosing a SUP board, I decided that I was new to the sport and so wouldn't be to distinguish the finer differences between boards. With that in mind, I went for a beginner's board from McConks. I chose this board because it was a recommendation from a friend that I considered both affordable whilst also still meeting the requirements that I had for a white water SUP.
And I have loved this board so much! In time, I may choose to move on from my current board and onto something that challenges me more. For now, though, it is the perfect board for me to get to grips with white water! If I do choose to change boards in the future, I now have enough experience to be able to demo boards for myself and make a decision based off my own experiences.