There is no doubt that 2020 has been a very strange year and for many a very challenging year too. Every new year I like to reflect on how the previous year has gone and look to learn from it as I move into the new year. It would be easy to just write off 2020 but actually on reflection, I found so many positive things that I could take away from this year. This article is a reflection of my own positive 2020 experiences.
Assessments and qualifications
It is easy to forget that the first 2-3 months of 2020 were actually very normal. Although it now seems like a lifetime ago, in February I took and passed my white water river leader assessment. It was a lovely two days and felt more like a trip with friends rather than a formal assessment. It was very enjoyable and great to have such positive feedback from my assessors as well as things to work on!
A couple of weeks after this I spent another enjoyable weekend in North Wales, but this time doing an advanced white water, safety and rescue course. This was a last minute sign up on my part and I was very pleased to have done this. It meant that a few weeks later when we went into a national lockdown, I had plenty of rope work skills to be practicing in my garden!
Becoming a She Paddles ambassador
In the middle of the first lockdown it was a lovely surprise to receive an email saying that I had been chosen to be one of this year's British Canoeing She Paddles ambassadors. I had been undecided about applying for it but my lovely friends Janice and Jack had been quite insistent that I should. So I did! And what a great surprise to be accepted and also heartwarming to have so many well wishes from the paddling community when it was announced. It really made me treasure what a supportive community we are!
Whilst it has been sad that we have been unable to meet as a group in person, it has been lovely to get to know this year's other ambassadors. I am lucky that one of the other ambassadors (Emma) actually lives very near to me and so we have been able to meet in person quite a few times and become friends. Being an ambassador has opened the door to some great opportunities such as having articles published or being invited to give online talks. But it is the opportunity to make new friends, particularly other like minded paddlers, that I think I have valued the most.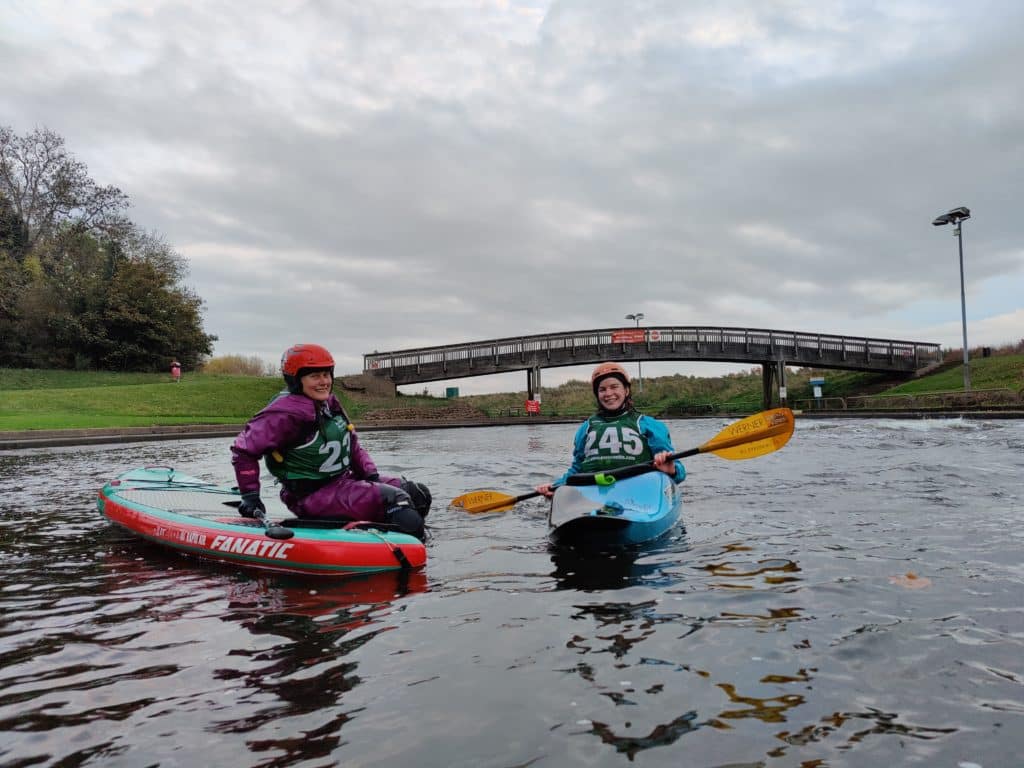 New rivers and time on the water!
When I looked through my kayaking log books at the end of this year I was pleasantly surprised to find I had clocked up 74 whitewater days – and only half of those were from HPP! This is a rare achievement from a Nottingham kayaker! An additional bonus was the 10 new sections of white water rivers completed. In Wales this was the Mellte, upper Mawddach and the Seiont. In England this was the Crake, the Sprint, the Leven and Hurley weir. And in Scotland this was the upper and lower Tummel and the Roy gorge.
Some of these rivers have been on my wish list for a while and some are UK classics that my friends could not believe I had not yet done! All of these days were spent in the company of good friends. A lot of these days were over the Summer and it was wonderful to be able to appreciate this time with friends when we had spent so many months unable to see one another.
So there you go – three of my biggest positives of 2020! There were things I couldn't do this year, my biggest being a cancelled paddling trip to New Zealand over Christmas. But there are also wonderful things that have happened anyway (this blog being one!) and so for that I choose to be grateful! I hope you can reflect and find the positives of your own 2020s. And if that proves challenging, I sincerely wish you a more positive 2021.
Looking forward into 2021
I have only one current goal to focus on for 2021 and it is a big one! If you want to find out more – click here!