On Saturday the 6th August at 10am, 6 of us will be setting off on a 24 hour kayaking challenge on the river Dee in Llangollen to raise money for three brilliant charities. This is a brief article to share the key details of our kayaking challenge. I will write a longer piece post challenge but I wanted to be able to share the key information prior to Saturday for anyone who wanted to come along and watch us or support in any way. Please do have a read and ask questions if you have any!
Who, where & when
There are 6 of us who will all be paddling for the full 24 hours. The team includes Lowri Davies, Aaron Kendall, Jake Boswell, Niamh Macken, James Ibbotson (Ibbo) and myself Del Read.
We will be paddling laps of the river Dee from Horseshoe falls down to Town falls and then back up the Llangollen canal. We shall be starting on the canal (at Llangollen wharf) at 10am on Saturday the 6th August and (fingers crossed we time it right) finishing on Town Falls at 10am on Sunday the 7th August. See the map below!
The charities we are paddling for
We have chosen three charities to support. The main donation page can be found here but each charity has it's own page as well which I will include.
Young Minds. This is a charity aimed at supporting the mental health of young people. It's donation page can be found here.
Rainbows Hospice. This is the only hospice in the East Midlands that provides care for children and young people. The charity helps children to have fun and provides the much needed support for their loved ones. It's donation page can be found here.
The Air Ambulance Service. This is a charity that provides emergency helicopter services for those in need of urgent medical attention. It's donation page can be found here.
We would love to support all three charities as equally as possible. If you are kind enough to donate – please do chose which of the charities you would like to support from the list above. It is easiest to click on the direct link but you can find them all through the main fundraising page as well.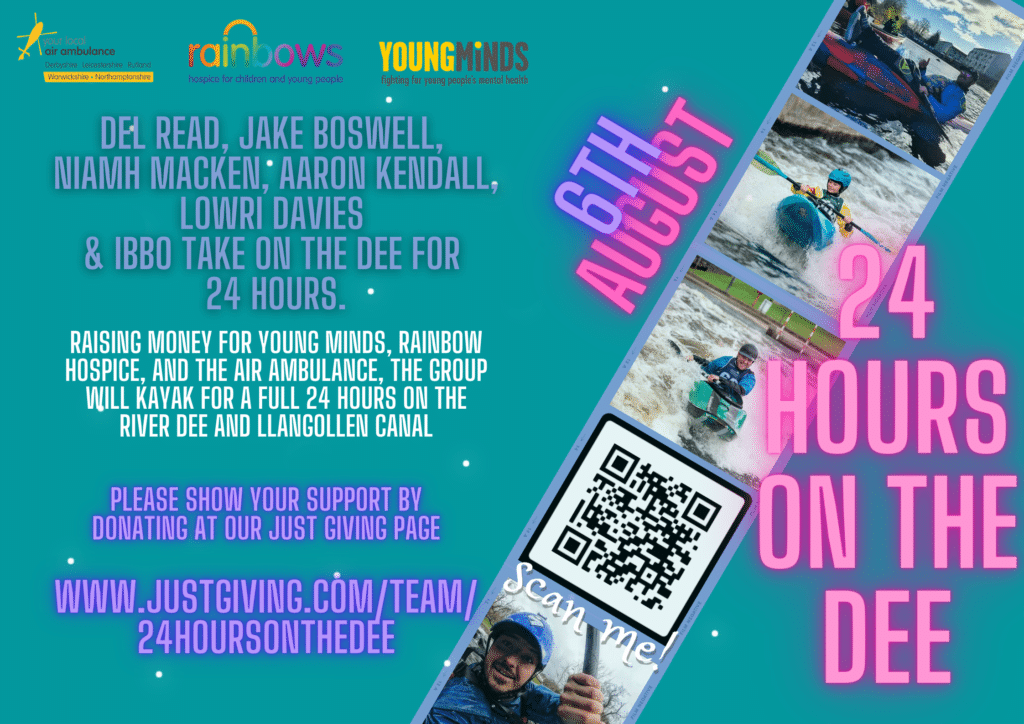 How to support us on the day
Supporting from the bank: Both the river and canal sections are pretty accessible and you can join some of our paddle on foot if you are following us on the path. If you are around Llangollen that weekend then please do look out for us on the water and give us a wave if you see us! A cheer from the bridge at Town Falls would also be appreciated! We have a few family members who will be helping with food etc so don't worry about that. But I am sure that any offers of help with carrying boats on the walk back up to the canal or offers of small snacks will be gladly taken!
Joining us on the water: We would love to have paddlers join us on the water. Whether this is on the river section, on the canal or both. We ask though that if you join us you are self-sufficient. We are going to be pretty exhausted and won't be able to look after you.
Supporting from afar: We appreciate that lots of people may wish to support us but not be available to be there in person. You can support us by spreading the word. Share our fundraising page and what we are doing. It really is appreciated!
We will try and post updates on social media channels in between laps but are unlikely to be able to respond to messages. We will aim to update our Facebook event page so please do look on there to see roughly where we are. If you see us and are able to please do post on the event page with where you saw us. This will help others to be able to locate us.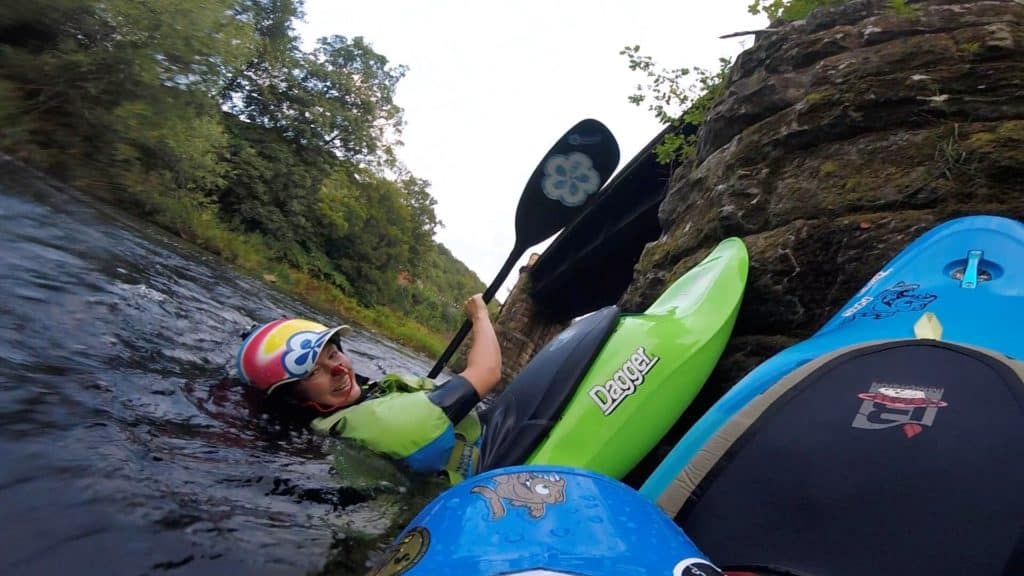 Final note
Finally, a big thank you to all for the support we have already been shown! It is really appreciated! This is my second 24 hour kayaking challenge and Ibbo's third! We know how tough it is going to be. But we also know that having those layers of support makes such a difference. So thank you in advance to anyone who is planning to join us on the water or from the path. And thank you so much for everyone who has already donated to those three brilliant charities. It is very appreciated!