Nobody told me when I started kayaking just how much gear is involved – especially when more than one person in your house paddles! A lot of people who start out in kayaking ask me what gear is worth investing in first or what my favourite bits of kit are. So this blog is dedicating to discussing 5 of my most favourite pieces of kit, from a woman's perspective.
First of all, everybody is different. And that is fabulous. But it does mean that what works for one person may not work for another. Kit is incredibly personal and items that work for me may not work for you. So if you can, try before you buy and make use of the expertise of the dealers who can provide that gear. For context for the following items, I am a UK women's size 10-12 and have a height of 5ft6.
1. Atom women's drysuit
If anyone ever tells you that it is not worth investing in a drysuit as a UK paddler – they are lying. As a beginner, I swam a lot. My first winter of paddling in the UK was hard. When I bought a drysuit after a year of paddling, I had people tell me that I shouldn't do so. That a drysuit was expensive and beginners shouldn't bother. I guess they assumed I would give up. But buying a drysuit was the BEST item of gear I ever bought. If anything it helped me to continue to pursue kayaking, in spite of all those chilly swims!
I really feel the cold and I find that is a common issue among my female paddling friends. A drysuit allows me to wear multiple warm layers underneath and keeps me snug even on the coldest days. Without a drysuit, a swim or even just awful weather conditions would mean that I would spend the rest of the day wet, cold and increasingly unhappy. A drysuit is like being in a bubble of warm happiness and allows you to actually focus on kayaking not just avoiding hypothermia!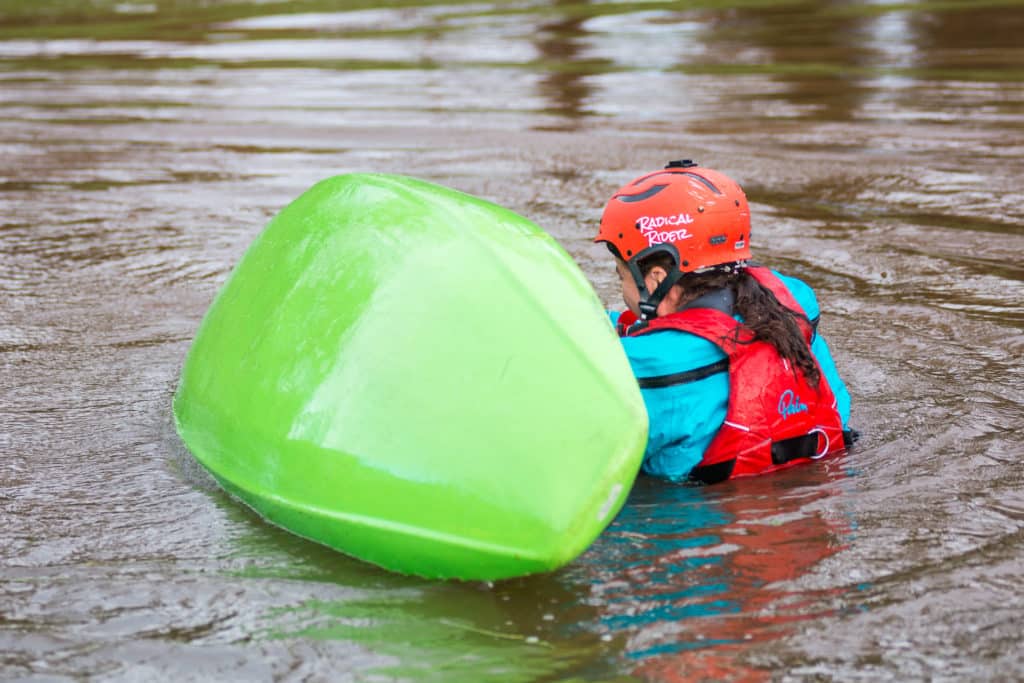 I particularly like the Palm Atom drysuit for women. The bum zip is a game changer and means you don't have to completely strip every time nature calls! I also really like that they got rid of the material flap that covers the zips. It makes opening the zips a lot easier and possible to zip up/down by yourself. I have a size small-relaxed which fits well but I can still get my 7 layers on underneath on the really cold days!
2. Thermal onesie base layer for women
The beauty of a drysuit is that you can wear nice thermals underneath it which will stay dry and therefore you can choose the best thermals based on how warm they keep you. I will alter the number of base leggings and tops I wear based on how cold it is. But these will always be worn along with one of my onesies. I really like warm things and so I actually have 2 onsies, the IR women's union suit and the Palm women's Tsangpo. They are both great but I do love in particular just how fluffy and cosy the Tsangpo is! They are both very warm but I do find that the Tsangpo dries out more quickly and seems to get less smelly which is great if you are using it daily.
If you have a women's drysuit, then you should make sure to invest in a women's onesie if you choose to get one. This is because, just like the drysuit, the onesie will have a drop seat. Both the union suit and the Tsanpgo have elasticated drop seats. These make it very easy to manoeuvre out of the way when needed. It takes a bit of practice if you haven't done it before but once you have experienced paddling days with the drop seats, you won't want to go back!
3. NeoFlex women's leggings
This year I added some NeoFlex women's leggings to my gear box. Over the Winter lockdown, I was doing a huge amount of flat water paddling training on my local river in preparation for a charity challenge. I was paddling hard and a drysuit was too warm to wear. So I started wearing the NeoFlex leggings along with a touring cag. I needed something that was flexible, warm and also breathable. I was surprised at how much I loved the NeoFlex leggings. They are SO comfortable and I found they were less restrictive than the thicker neoprene leggings I had had before.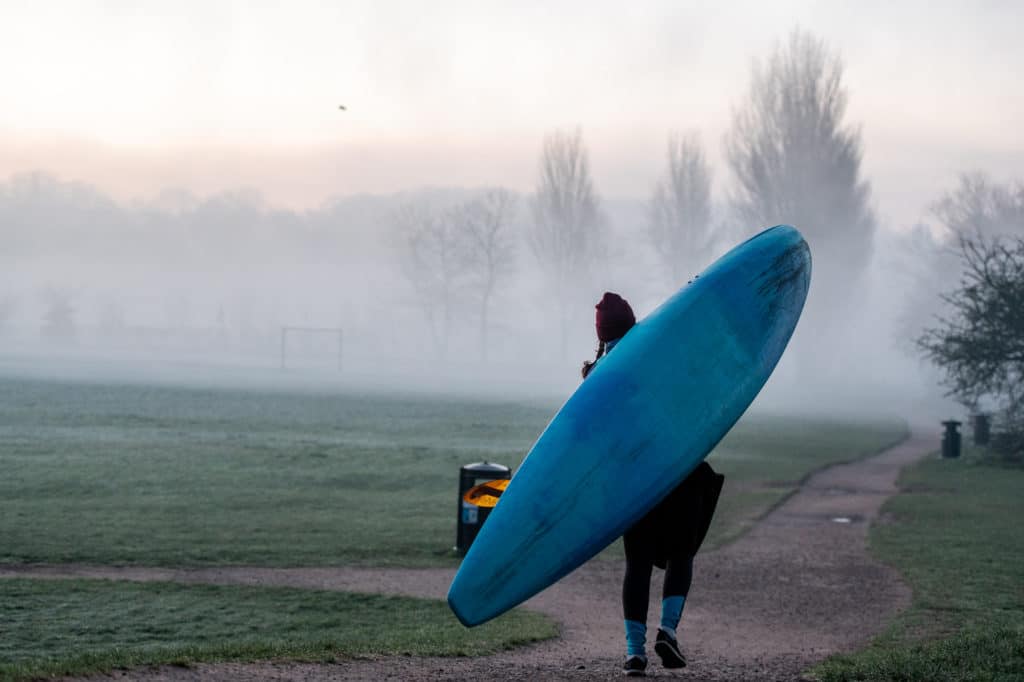 After I had completed the challenge, my flat water paddling sessions reduced massively. Luckily this was about the time that my local white water course reopened and I could get back in my playboat. Turns out the leggings were perfect for that too! I tend to get a long of bruising around my knees and hips when I spend time in my playboat. Wearing the leggings instead of my usual shorts has really helped to reduce this though. Which is of course a good thing!
4. A good dependable rash guard
A few years ago I got a women's specific long sleeved rashie and it has become one of my most dependable paddling items. I think this was in part because of just how well it fit me (size medium) but also because I found it to be multi-purpose.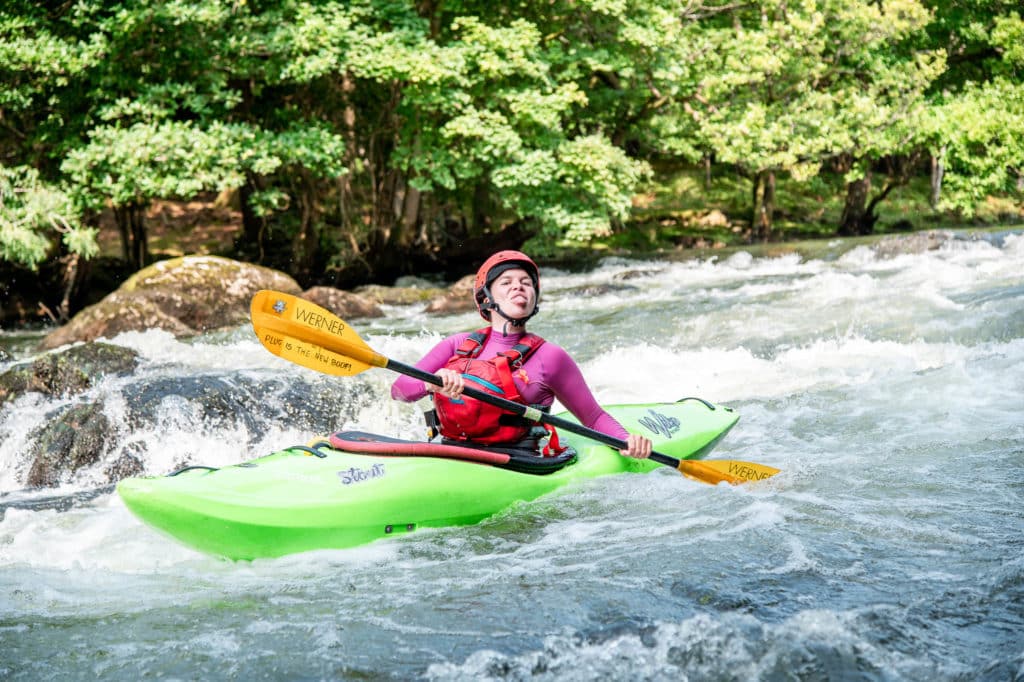 On hot Summer days I will generally wear this over a shorter rashie or a shorty-cag as it is better at preventing chafing as well as protection from UV. I'll wear the shorty-cag if I am playboating so that my boat does not fill up as much. In the winter, I use it as one of my base layers under the onesie because it fits so well and works great as an additional layer. As such, it is probably my most used kayaking item!
5. Terek jacket
This is the only item on my list which is not women's specific but a piece of kit I love anyway! I got the (small) Terek at the same time as the NeoFlex leggings. Having only ever really focused on white water kayaking, I had not really experienced a cag that was not specific to white water. I love it because it is just so comfortable! It was light and breathable but was great as a barrier to rain and more importantly wind. It doesn't have the latex neck seal that white water cags have which felt so refreshing. It does have a hood but I liked that you could roll it up and tuck it out of the way as I enjoy the feel of rain.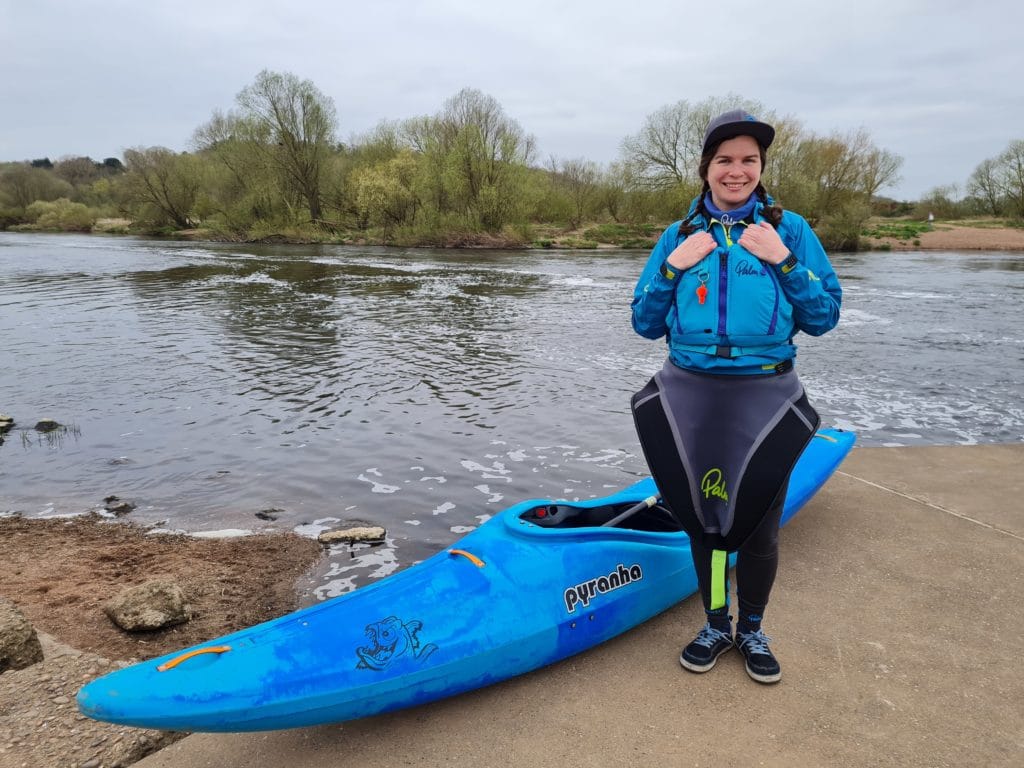 I also love that it is made out of 100% recycled fabric. It is great to see that companies are making a real effort to consider the ecological impacts of our industry and taking active positive steps.