Back in April in the middle of the first global lockdown, I wrote an article called 'Beating the Covid-19 blues'. This article looked at things you could be doing as a kayaker to keep you occupied during lockdown. Considering that England has now entered a second national lockdown and restrictions are tightening in other areas around the world, I wanted to write another article with a slightly different focus. This article is going to explore activities that you can engage in OFF the water which will help you once you are back ON the water. Hopefully some of these suggestions will be helpful for you and applicable to more sports than just kayaking!
I'm going to split my suggestions into two categories: Improving your physical condition and evaluating your technique.
Getting Physical: Fitness, flexibility and weight training
Fitness levels have a huge impact on performance in kayaking. Personally when I am very tired or am unfit, I really notice the negative effects that it has on my kayaking. I become sloppy with my technique and easily fall back into bad habits. On the positive side, during times when I have a high level of fitness, there are many benefits. Being fitter means that I can spend longer on the water and still enjoy it. It also means that I have more energy to try more moves on the water. I can make the most of the 'surf every wave, catch every eddy' ethos and this really improves technique. The more you practice, the better you will get! So whether you take up running, engage in online Zumba classes or any other activity, this will have a positive impact on your kayaking.
The benefits to yoga are endless. Even just a 15 minute yoga session once a day can make a difference. The mindfulness aspect of yoga is something we could all benefit from in these challenging times. The physical benefits of increased flexibility is something that will really help in kayaking. For freestyle kayakers, having an increased flexibility allows them to move their body in the necessary ways to achieve certain moves. Equally many creek boaters do yoga because it helps with their agility when forward paddling. They can stretch further to put their blade in the water and therefore get more power. It of course helps with rolling as it allows you to reach fully to the surface of the water when capsized. So go on, even if you have never tried it before, have a go and surprise yourself at what a difference it can make.
Weight training. When people start kayaking, they often find carrying a boat quite difficult. This means that they struggle with portages or the walk in/out of a river. They can also find putting a boat on the roof of a car difficult which is problematic if you need to do so on your own. The reason I personally do not have an issue carrying my boat is because I have practiced doing so most weekends for the last 5 years. I have built up my strength in that time and no longer find it difficult. This not only allows me to be independent but has also had a positive impact on my paddling. I am able to put in more power with each of my strokes which means I can get to where I want to be on the river. Weight training and increasing your strength is something you can do off the water which will have a very noticeable effect on your paddling once back on the water. If you do not have weights at home though do not worry, a kayak will do!
Technique: Observations, analysis and stepping back
I often go for walks around my local whitewater course so that I can observe others kayaking. In doing so, I can analyse their movements when engaging in certain moves. This has so many benefits as I am a very visual learner. When going on these walks, I might focus on one thing that I am currently working on. For example if I want to improve my surfing, I would watch people do this. Where do they try to get onto the wave? How do they move their body to move on the wave? What are they doing with their paddles? I'll then use my observations to help me improve my own technique. I appreciate not everyone will be able to go and watch other kayakers in person, but luckily YouTube has a wealth of videos that you can watch instead.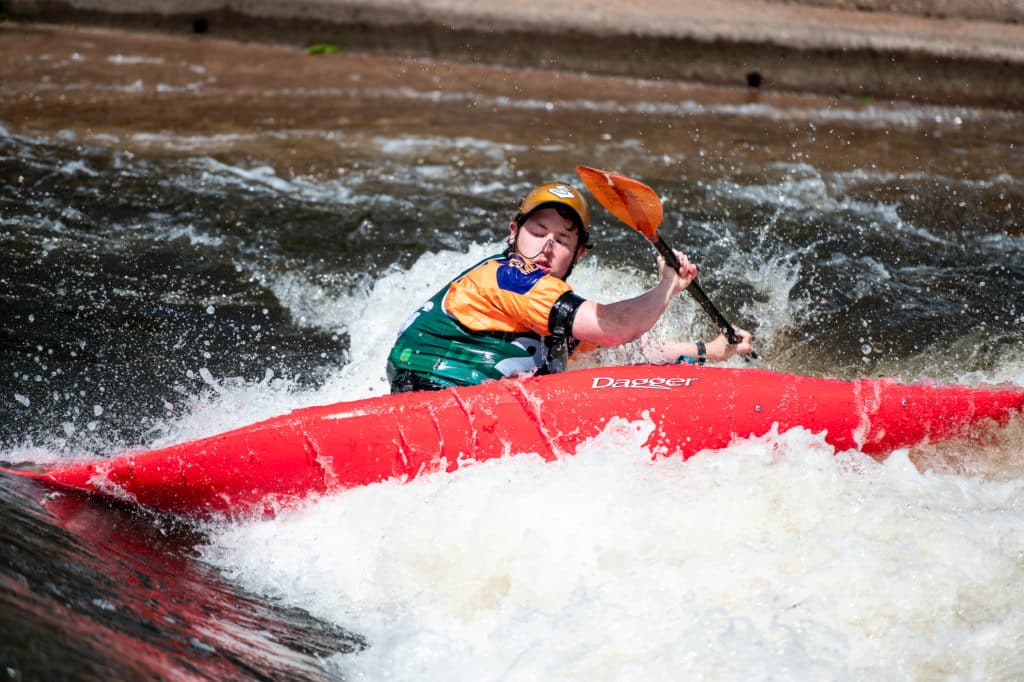 One of the best tools you can use to help assess your paddling technique is video analysis. Since buying a playboat, this is something that I have got more into myself. Whilst videos are great for sharing any successes with friends, they are also an excellent tool for you to be able to critique your own technique. Watching yourself on camera may feel awkward but it allows you to see exactly what you are doing. I often watch myself and say 'why did I do that?' Video allows me to spot bad habits or technique when I might have been completely unaware otherwise. I then try to focus on this when I have another go. The video below was to help me identify what I'm doing wrong with my tailees. So dig out those old videos from trips before lockdown and have another look with a critical eye. Hopefully you can spot some things you want to refocus on and if not, at least it should bring back some happy memories.
My final point is to encourage you to use this time to really THINK about your kayaking. Life is busy and rivers days often go quickly. Watch videos of whitewater and try to visualise the lines that you would take. I do love it when I'm watching a David Attenborough documentary and this opportunity presents itself. Having an opportunity to step back and reassess your own paddling, goals and technique is something that could actually be really beneficial. So if you are limited in being able to paddle in the coming months, use this as an opportunity for some quality reflection instead.